Disclosure of Material Connection: Some of the links in this post may be "affiliate links." This means if you click on the link and purchase an item, I will receive an affiliate commission. Disclosure in accordance with the Federal Trade Commission's 16 CFR, Part 255. This site is a participant in the Amazon Services LLC Associates Program, an affiliate advertising program designed to provide a means for sites to earn advertising fees by advertising and linking to Amazon.
One of the things that struck me about getting into running later in life, unlike in school when you just changed into your cotton gym shirt and shorts, is the amount of gear that's out there. As it turns out, serious running where you log miles – and that's miles, PLURAL – takes a bit more than tossing on yesterday's tee and lacing up some old shoes.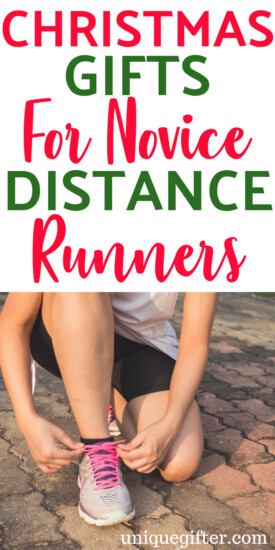 Even if your distance runner is just starting out, it's just the nature of the sport that they will inevitably need to replace all their basics when they log enough miles, so a few repeats of each are generally welcomed.
Sport Themed Christmas Gifts for Novice Distance Runners
Performance Socks
It feels like you can't ever get enough of the perfect comfortable socks when you're going to be together for 5, 10, 15, 20 long miles. We keep a steady supply of them on rotation because no one's trying to be a hero running in holey socks.
Women's Distance Shoe
Unless they're a barefoot runner, a solid running shoe with the right support is important to protect your feet and your knees from the road work.
Men's Distance Shoe
It's a great idea to have a stride evaluation to know what kind of shoe is best for the runner's foot for the proper support.
Women's Short Sleeve Shirt
Technical shirts do a lot more for a runner these days than just keeping their bodies covered – the fabrics wick the sweat away and keep a runner's temperature regulated.
Men's Short Sleeve Shirt
Another thing you might not notice about normal shirts until you wear a technical shirt: the seams are flat so you aren't chafed all up and down your seams, and some shirts provide compression as well.
Women's Running Visor
Physical sun protection is as important as sunblock when out for a run where the runner may well sweat off or run for longer than the sunblock's protection lasts.
Men's Running Visor
Some runners will opt for the visor to serve as a sunshade and a physical sweat barrier instead of a headband. Having a few spares is a good idea in case they don't get around to washing them often enough!
Women's Long Sleeve Shirt
On cold days, layers are a runner's friend, starting with a long sleeve to keep their arms and torsos warm.
Men's Long Sleeve Shirt
This long sleeve protects against the sun and serves as a base layer for longer training days.
Foam Roller
Runners swear by this deceptively simple twin of the baking implement for rolling out stiff, tense muscles and heading off a really bad morning after a long run.
Road ID
Lots of people run without their wallets, they're bulky, but they should still have some kind of ID in case of an accident or emergency where they lose consciousness and can't identify themselves. This goes double for people who have any medical conditions!
Phone Arm Band
Whether they want it to have a playlist going or just to have a phone on hand, this armband lets your runner keep their hands free for more important things, like water!
Fanny Pack
People who find the armband annoying, or have a few more things to stash like a bit of cash and ID, might prefer the fanny pack. Get a good snug fit so that it doesn't chafe!
Water Bottle
Proper hydration on the road or the trails is so important for actually surviving training regimens.
Gel Packs
Honestly these seem a little gross if you think about it too hard, but runners swear by them on long distance training runs. Lightweight and quick to access, they get a little shot of energy in gel form.
Cold Pack
It's just about inevitable that a long distance runner is going to get injured at one point of training or another. They might be overtraining, or a klutz who looks one way and steps another. No matter the reason, a cold pack is invaluable.
Cooling Towels
After any real distance, the sweat starts pouring and one of these towels at the end of the run is a relief when it feels like you're standing under Niagara Falls of your own sweat.
Women's Headband
The headband may feel a little 80s but it's actually amazing for keeping stray hairs out of your runner's face and soaking up the sweat on the road.
Men's Headband
Men no less than women benefit from keeping longer hair awar of their face, and sopping up sweat before it runs all down their face. Yuck.
Heart Rate Monitor Watch
This watch doesn't just help with the running basics (pulse, heart rate, distances) for their workouts, it keeps track of sleep time and quality of sleep.
What's your favorite gear for a long workout or run? Is there anything that helps you log extra miles?