Disclosure of Material Connection: Some of the links in this post may be "affiliate links." This means if you click on the link and purchase an item, I will receive an affiliate commission. Disclosure in accordance with the Federal Trade Commission's 16 CFR, Part 255. This site is a participant in the Amazon Services LLC Associates Program, an affiliate advertising program designed to provide a means for sites to earn advertising fees by advertising and linking to Amazon.
Kids have as much to occupy them indoors as they do outdoors these days and that can lead to a very sedentary childhood. We love encouraging kids to get outdoors, play with their hands, and learn about the world. What better way to do all that than to learn how to grow a small garden of their own?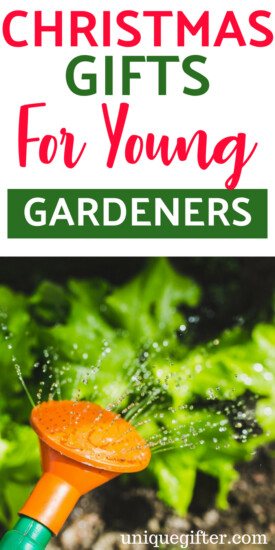 I grew up planting little pansies and tomato plants in our tiny apartment backyard which were always dwarfed by my parents' food plants. I took a temperate climate for granted – everything you planted would grow and bear fruit or vegetables no matter the season! These days growing a real garden takes a bit more work, including things like pH and lead testing, but the joy of gardening is the same. It can start small with little runner beans in a cup on your windowsill or a planter box, or you can throw caution to the winds and give the kids seeds and free rein in their garden plot to do what they want.
Wonderful Christmas Gifts for Young Gardeners
The Little Gardener, by Jan Gerardi
A lift the flaps board book that teaches kids all the basics of growing their own garden.
My First Garden
This little garden planter lets the young kid plant herbs and veggies either indoors or outdoors. Perfect if they don't have much space or a yard.
Garden Tool Kit
This clever heavy duty tote in includes a small watering can, shovel, rake, and trowel – all kid safe without sharp edges. Made of durable metalheads and plastic hands, these are built to last.
My First Garden in a Box
A full set of seed packets for the kids to grow their own vegetables: onion, lettuce, cucumber, tomato, cherry tomato, chili Pepper, radish, carrot, red pepper, and courgette. Fresh veggies grown and plucked from your own garden will often win over even the pickiest of eaters.
Gardening Gloves
A 3 pack of gloves for ages 3-5 or 6-8, share these with siblings, cousins, or friends. Have a gardening party where everyone can pull on some gloves and dig in.
Up in the Garden and Down in the Dirt by Kate Messner and Christopher Silas Neal
For older readers, 5 and up, this book teaches kids about the gardening world both aboveground and underground.
Big Gardening Tool Set
Best for kids 5 and up, these larger tools let them dig into the dirt and clear up the yard without having to be on hands and knees.
Garden Kneeler
Young knees don't typically tire out like old ones but they might as well be comfortable if they're going to be digging in dirt and taking care of their own plants.
Lola Plants a Garden Paperback by Anna McQuinn, Rosalind Beardshaw
Lola starts to grow her own flower garden and learns patience while waiting for them to grow. She whiles away the time by making her own flower book so she ends up with a lovely garden of flowers and a book to share.
Children's Wheelbarrow
It's a big job gathering up all the weeds and bracken in a garden or yard, young children will love getting to run the wheelbarrow to and fro while the adults do the heavy work!
Green Green: A Community Gardening Story by Marie Lamba, Baldev Lamba and Sonia Sanchez
For ages 2-5, this community gardening story features a group of children who inspire the adults around them to transform an overgrown city lot.
Green Bean! Green Bean! by Patricia Thomas and Trina L. Hunner
For ages 5 and up, this story about a girl planting a green bean and watching it grown includes lessons about the life cycle of plants and other learning activities.
Spray Bottle
Perfect for little hands and unsteady feet, kids as young as 2 and 3 can join in the fun of watering plants without drowning them by using a small spray bottle to create a gentle shower.
Peppa Pig and the Vegetable Garden
Peppa Pig is hugely popular with the preschool set and they want to do everything that Peppa does.
Exotic Vegetables Growing Kit
For the adventurous gardener and palate, this seed starter kit sends kids off into the world of color: purple carrot, romanesco broccoli, yellow cucumber, black corn, and rainbow swiss chard.
Gardening Apron
Help them protect their clothes while they're mucking about in the dirt with this machine washable apron.
Children's Sun Hat
Sun protection is always important! The strap helps keep the hat on even in windy conditions.
The Language of Flowers Coloring Book
For the botanically inclined, this beautiful coloring book contains accurate illustrations of 30 flowers.
Garden Activity Book
For those winter months when no one is growing anything, this book with stickers will keep a young one occupied and connected with their garden.
Two Little Gardeners by Margaret Wise Brown, Edith Thacher Hurd, Gertrude Elliott
Good for kids starting as young as 3, this story of a pair of siblings and their garden teaches kids that patience will yield bounty.
What do you love to have on hand when you head out to the garden? What is your most useful tool?