Disclosure of Material Connection: Some of the links in this post may be "affiliate links." This means if you click on the link and purchase an item, I will receive an affiliate commission. Disclosure in accordance with the Federal Trade Commission's 16 CFR, Part 255. This site is a participant in the Amazon Services LLC Associates Program, an affiliate advertising program designed to provide a means for sites to earn advertising fees by advertising and linking to Amazon.
Christmas shopping is fun, but it can also be stressful too. So many people to buy for, and sometimes you simply have no clue what to get them. Well, worry no more! You came to just the right place to find Christmas present ideas for the 12-year-old girl in your life. Think about what she likes and what she wants, and approach it with an open mind.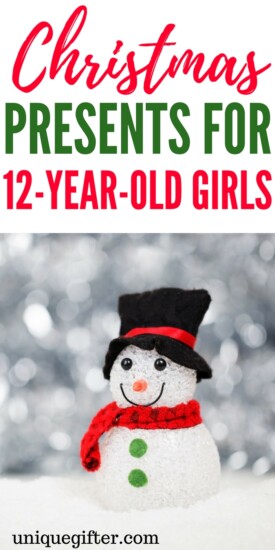 Christmas Presents for 12 Year Old Girls
"Be unique, be beautiful, be you" Necklace
Remind that preteen girl to be unique, be beautiful (like she is already), and to be herself, with a beautiful necklace.
Doodle Diary: Art Journaling for Girls
With this doodle diary, she can let the creative juices flow and journal her thoughts and feelings too. Coloring and doodling is meditative and can help her work through things that are troubling her as well, so it's a double whammy.
Small Sea Turtle Earrings
Adorable and small sea turtle earrings will look super nice on her ears, wherever she goes.
Unicorn Band Bookmark
Especially if she is a bookworm, she needs a unicorn band bookmark to keep her place.
"Good vibes" Throw Pillow Cover
Preteen girls always need "good vibes!" Their new throw pillow cover will look nicely on a pillow on their bed, a seat in their room, or wherever they choose to put it.
"Go away, I'm introverting" Shirt
If she is an introvert, she may just want to be alone. "Go away, I'm introverting" is a fun way to put that desire to be alone.
Personalized Christmas Tree Mug
Everyone needs a Christmas-themed mug, right? She will really enjoy drinking her hot cocoa from this Christmas tree mug with her name on it.
Wooden Beagle Ring
If she loves dogs and rings, she will love this unique wooden Beagle ring.
Unicorn Eye Mask
Help her sleep more peacefully with her special unicorn eye mask!
Personalized "Shine Bright" Keychain
She needs the constant reminder to shine bright, and with her name on this keychain, she'll never forget.
"Born to dance" Wall Print
Does she dance a lot, whether in a class or just on her own? Then she was meant to have this "Born to dance" wall print. Frame it in a gold frame and it will make a nice piece of decor.
Cat Shoulder Bag
Every girl needs a shoulder bag to carry her wallet, lip balm, and more! If she loves cats, this will be doubly perfect.
"I'm not weird, I'm limited edition" Mustache iPhone Case
She may get called weird a lot, by friends, family, or other kids, but she is really a limited edition. Help her show off that asset with this case!
"I'm snow cute" Snowman Mug
She is cute and she knows it!
3D Printing Art Pen
If she is the least bit artistic, she will have fun creating 3D objects with her new 3D printing art pen.
Bear Light Up Headphones
Let her listen to music, play games, or watch videos in style with her light up bear headphones.
Claires Gift Card
Every girl loves accessories and Claires is probably her favorite place to get those clothes, give her the gift of her own style choices with a Claires gift card.
Eau De Fragrance Perfume Set for Girls
If she is interested in starting to use perfume, then this Eau De Fragrance perfume set that is specifically for girls is a great place for her to start.
Emoji Hair Pins
Emoji hair pins will help her keep her hair out of her eyes, or to pin it up in cute hair styles.
Wonder Woman Tiara
Wonder Woman is a great role model. She can celebrate that with her new tiara!
Take the stress out of shopping for your twelve-year-old by shopping online with this list of wonderful present ideas!