Pisces women are often mysterious, sensual, and intuitive, and they should be spoiled with gift ideas that respect their dual nature. They are the dreamer of the zodiac signs.
Pisces season runs February 19th to March 20th. If the woman you're shopping for has a birthday that falls within this span, she'll love these Pisces themed gifts!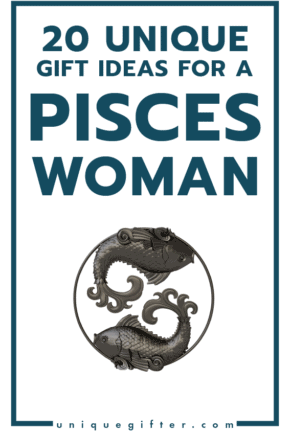 Spiritual, imaginative and idealistic are also qualities that can be used to describe her. Just because she's mysterious, though, doesn't mean finding the perfect gift has to be a mystery too.
Gift Ideas for a Pisces Woman
Here is a list of gift ideas you can spoil her with and show your appreciation, whether it's for your friend, for your wife or for your girlfriend, she'll love these horoscope inspired ideas so you can show her you care. 
Shopping for a guy? Here's some gifts for a Pisces man you might like too!
Pisces women are emotional (in a good way!) and creative, and need gift ideas that are adventurous as they are. One great thing about this water sign's romantic nature is that when you do give thoughtful gifts to a Pisces woman she'll sincerely appreciate the thought and gesture.