Disclosure of Material Connection: Some of the links in this post may be "affiliate links." This means if you click on the link and purchase an item, I will receive an affiliate commission. Disclosure in accordance with the Federal Trade Commission's 16 CFR, Part 255. This site is a participant in the Amazon Services LLC Associates Program, an affiliate advertising program designed to provide a means for sites to earn advertising fees by advertising and linking to Amazon.
Are you feeling stuck trying to figure out what to get a young man for Christmas? Finding Christmas presents for 17-year-old boys can be tough, but these gift ideas will help you along.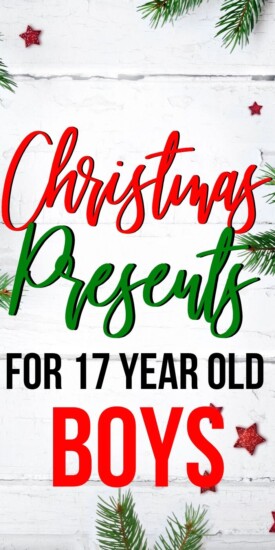 Christmas presents for 17-year-old boys
The thing to remember when shopping for a 17-year-old is that he might be almost an adult, but that doesn't mean he's completely grown up and doesn't want to have fun too. Don't just get him things he needs!
"Adult" Board Games
You might not want your 17-year-old boy playing Cards Against Humanity but there's plenty of "mature" games that are more suitable that he can play with his friends. (Or family!)
Collectible Lego Sets
Buy Now
If you're looking for "fun" Christmas presents for 17-year-old boys Lego has you covered. They have all kinds of sets designed for older teens and adults to choose from.
Hot Sauce Kit
Buy Now
Who says 17 is too old for "craft" kits? It has everything they need to make gourmet hot sauce including a Scoville chart.
Spikeball Kit
Buy Now
For a sporty 17-year-old, this is a fun game to gift. If you don't know, spikeball is a new sport that's gaining traction – it's basically a combination of volleyball and four square.
97 Things to do Before You Finish High School
Buy Now
Time's ticking away for a 17-year-old boy! This book is full of stuff you don't learn in school like how to plan a road trip.
Puzzle Money Box
Buy Now
The absolute best way to gift money to a 17-year-old boy for Christmas! If he wants it he'll have to solve the puzzle first.
Punching Bag
Buy Now
Great for the exercise enthusiast and perfect for getting out all that pent up teen rage.
A Nice Watch
Buy Now
If he doesn't already have one, 17 is a perfect time to get a nice watch. He needs something he can wear on dates or out to special occasions.
Cool Christmas Hoodie
Buy Now
Well it is Christmas, after all! Help him get into the Christmas spirit.
Long Board
Buy Now
Kind of like a skateboard, a longboard is great for getting around quickly and in style. Great if he doesn't drive or have access to a vehicle all the time.
Norse Myths Book
Buy Now
Talk about a cool subject to learn about. Even if he's never been interested before, Norse myths are super cool and 17-year-old boys will also enjoy the steller art found in this book.
Personalized Ice Cream Bowl
Buy Now
To make this a really fun gift idea have some ice cream in the freezer so he can use it right away.
Hammock
Buy Now
Great for camping, the beach, or just to string up in the yard. Hammocks are a great way to relax and unwind from the stress of being a teenager.
Paintball Gun
Most teen boys delight in being able to shoot their friends. Pick him up a paintball gun for Christmas so he can get in on this exciting game.
Grow Up Book
This slightly offensively titled book is perfect for older teens and young adults to figure out just what it takes to be an adult. It's full of life lessons like how to write a resume or use a credit card.
Complex Board Games
European style board games are perfect for older teens because it's something they can do with friends that still requires a lot of mature thinking. They're also great to play as a family.
Star Wars Waffle Maker
I mean who doesn't want Millennium Falcon shaped waffles? You can get waffle makers in all kinds of fun shapes. The best part is he can take it when he moves out, whenever that will be.
Gas Powered RC Car
He's not a little kid anymore so don't get him a kid's RC car. They make high powered gas RC cards which he will have a tonne of fun driving around.
Shocking Game
This game is fun and crazy when you are 17! Each player will need to grab a handle and find out who gets shocked!
3d Mechanical Puzzle
This 3D puzzle is a great way to work his brain while experiencing something really cool too. He will love this gift!
So what kind of Christmas presents for 17-year-old boys will you buy? There's plenty out there, so don't just give cash or a gift card this year!