Disclosure of Material Connection: Some of the links in this post may be "affiliate links." This means if you click on the link and purchase an item, I will receive an affiliate commission. Disclosure in accordance with the Federal Trade Commission's 16 CFR, Part 255. This site is a participant in the Amazon Services LLC Associates Program, an affiliate advertising program designed to provide a means for sites to earn advertising fees by advertising and linking to Amazon.
Sure, these animals may not be the most ideal pet for some people. I get that. But some of them really do love the creepy crawlies and snakes! If you have someone you're buying a gift for that has a scaly zoo bigger than you're comfortable with, then this one's for you!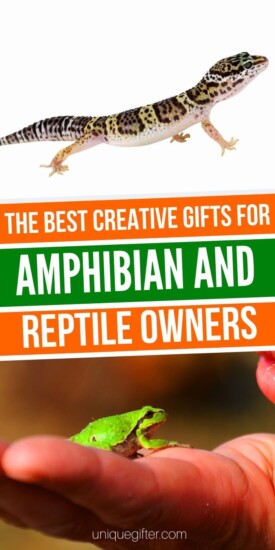 Slither Into The Heart Of A Reptile Lover With These Gifts
Are you ready? Let'sssss get sssstarted!
Terrarium Bedding
Practical gifts are just as good as fun ones! This terrarium bedding will help them and their scaly friends out!
Orange Cubes With Crickets
Give their little lizard friends a delicious treat with these nutritious orange crickets!
Lizard Lounger
Okay, so. This gift is more for their adorable bearded dragon. But I'm 100% sure they'll love it too!
Shale Rock Den
Give their reptile a nice place to hide and cool off with this natural-looking rock hide!
Hobbit Hole Shelter
If your reptile lover also loves Lord of the Rings, then they need one of these cute hobbit holes for their scaly little pals!
Magnificent Book Of Reptiles And Amphibians
Written by a man with more than 20 years of experience in dealing with reptiles and amphibians, this book is packed full of interesting knowledge your enthusiast will love to learn!
Ball Python Blvd Sign
This street sign is something not only they will love, but their visitors will also appreciate it!
Reptile Lover T-Shirt
This adorable shirt will definitely be their new favorite piece of clothing! It features all kinds of different reptiles so everyone can feel included!
Set of Four Watercolor Prints
These adorable watercolor prints would be a perfect and slightly feminine touch to a reptile room!
A New Terrarium
Every reptile/amphibian lover needs more terrariums! That just means another spot for something new! You can't go wrong with this as a gift!
Habitat Heating And Lighting Power Center
Add a higher quality of care for their pets with this awesome piece of equipment! They'll definitely be thankful for this!
Bearded Dragon Mug
Is the super cute bearded dragon your reptile lover's favorite pet? I can't blame them! This mug will make their mornings drag on (hehe) a little quicker!
Custom Art
Get a Simpsons inspired custom art commission of them and their zoo!
Aristocratic Bearded Dragon Magnet
This hilarious magnet is exactly what any reptile fanatic needs on their fridge!
Cute Green Snake Pillow
Vinny the snake just wants you to know that he's friendly! Look at that adorable little face!
Turtle Keychain
This keychain is for turtle lovers! And what's not to love?! They're probably the most adorable not furry animal there is!
Reptile Phone Case
Protect their iPhone with this case that does two things: advertises their love for cold-blooded creatures and the fact that they're antisocial.
Chameleon Badge/ID Holder
This badge/ID holder is perfect for nurses and teachers! The face on this chameleon is so hilarious! There's no way they won't be tickled!
Skateboard For Reptiles
This skateboard is the most awesome gift you could ever get a lizard owner. Please send videos/pictures if you get this one!
Python Skin Necklace
This necklace is a really really cool idea. This artist takes the skin her own personal pet sheds and puts it into pendants! They look amazing and I think any snake lover would love one of these.
And that's the game! All of these items are beautiful and unique and I hope you found something good for your gift! If you did, hit Unique Gifter up over on Twitter (@ugifter) or Instagram (@uniquegifter) and let us know what you got!