Disclosure of Material Connection: Some of the links in this post may be "affiliate links." This means if you click on the link and purchase an item, I will receive an affiliate commission. Disclosure in accordance with the Federal Trade Commission's 16 CFR, Part 255. This site is a participant in the Amazon Services LLC Associates Program, an affiliate advertising program designed to provide a means for sites to earn advertising fees by advertising and linking to Amazon.
As a gift giver, do you love surprising people with an unexpected and lovely gift? Do you shy away from the ordinary and traditional? While it is gaining in popularity, giving a honeymoon gift basket is still an uncommon gift. This could also be considered a wedding gift basket or a bridal shower gift basket.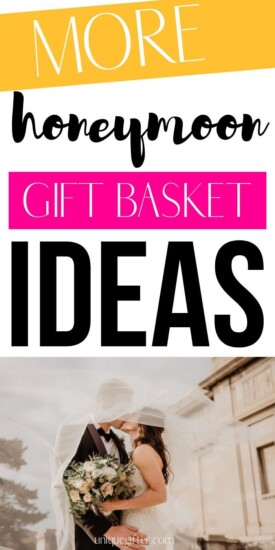 Honeymoon Gift Basket Ideas
The most important thing to remember here is when and how the newlyweds will be traveling. If they are flying, what you gift them should take that into consideration.
If you are giving them something on the home end, you want to make sure that it won't overfill their luggage, contain things that shouldn't be on airplanes, or cause them to have to check luggage when they are used to flying carry-on only.
The same applies if you are calling ahead to have a gift basket made or left for the couple, you do not want them to be stuck figuring out how to bring things home. Your options are a lot wider when the couple will be driving to their honeymoon destination.
If you are giving any risqué, keep the recipients in mind. Also take note of your relationship to the couple. If you're a parent, grandparent, old family friend, etc, it is likely inappropriate.
The couple will have to transport this basket and its contents, at least partially. Do not give them so many activities and gift certificates (unless they were requested) that they will be unable to plan their own time while away!
Think about which gifts are most suited to the honeymoon location when you are putting together the honeymoon gift basket; hot chocolate at a tropical and sunny resort doesn't make as much sense as it does at a ski resort or at a cabin. Carting your possessions through Italy probably means you do not want wine glasses with you. I know, most of those examples are tongue in cheek, but you get the idea: pause to think about them!
Without further ado, here is the list to get some ideas percolating:
Collapsible Basket
Collapsible Basket
or Picnic Basket
If you are going to create a basket – start with one that will be useful in the future!
Beach Bag or Tote
Beach Bag
or Tote Bag
– consider having it personalized
. A bag makes a perfect base for a tropical honeymoon.
Luggage
Luggage
– This works best if they have it on their registry and you give it to them well in advance! Surprise them by not only getting them the luggage they'd love, get them extras, too!
Sock Monkey Kama Sutra
Kama Sutra
– It's not a secret what they'll be getting up to on the honeymoon, add some spice in a fun way with this book.
Deck of Cards
Deck of Cards
– To hang out spending time with each other, give them a deck of cards. They're also great for hanging out at airports and waiting for buses, particularly in foreign countries where they might not have wifi or cell coverage. Also great if a cabin in the woods is their honeymoon plan!
2 Person Game
Small 2 Person Game (ie Cribbage
, Chess
)
Just like with a deck of cards, they'll be spending all of their time together!
Champagne or Sparkling Wine
Champagne
or Wine
(Full size or individual bottles)
Bubbles are for celebrations! A wedding is an excellent reason to drink some. :-)
Gourmet Snacks
Fun and/or Gourmet Snacks
Treat them to luxury with some high quality, delicious snacks, so they don't have to leave their hotel room.
Buy Now
Napkins
Napkins or Wet Ones
to go with the Snack Food
Pair of Wine Glasses
Pair of Wine Glasses
– from their registry, of course.
They need something classier than a hotel water glass to use to drink their bubbly!
Massage Oil or Massage Bar
Massage Oil
, Massage Bar

or Massage Candle
Massage oil comes in many forms and has the benefit of being nice and small, so it packs into bags easily!
---
Gift Certificate for a Local Activity
Here is a post full of honeymoon activity ideas!
Horse Drawn Carriage Ride
City Tour
Scuba Diving
Skydiving
Luxury Car Rental
Wine Tasting
Gift Certificate for a Local Restaurant (or Room Service)
Gift Certificate for Spa Treatments or Massage
Gift Certificate for Professional Photograph (ie on a Cruise or at an All Inclusive)
---
Bubble Bath
Bubble Bath
or Bath Salts
Help them relax in style with some luxurious bubble bath.
Bath Robes

Pair of Bath Robes
Printed Love Poem
Printed Love Poem

Tuck an adorable, gushing poem into the gift basket.
Magazines
Magazines
or Light Reading (ie Chicken Soup Books
)
Everyone needs beach reading, whether you're exploring NYC for your honeymoon, or actually sitting on a beach.
Sunscreen or Bug Spray
Sunscreen
and/or Bug Spray
– depending on the destination! Maybe you want to give hand warmer packs
instead!
Photobook Gift Certificate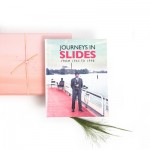 Gift Certificate for a Photobook
Get them started on creating albums full of memories with a gift certificate.
Gift Certificate for Photo Printing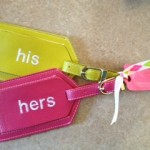 There are many gorgeous luggage tags available out there, which make it easier to identify your bags, too!
Gum or Mints
Gum or Mints – Check out these cute heart covered mint tins
!
Manicure Set
Manicure Set
and/or Nailpolish (most brides will have done their nails for the wedding, but may want to keep them looking great for the honeymoon)
Chapstick
Chapstick
– whether it's from having too much fun or too much sun, it's useful!
Scented Candles


Scented Candle(s) – especially in a tin
so it is easy to bring home
Perrier and Soft Drinks
Perrier
and Soft Drinks
– Nice drinks for a nice time. Beverages are a great addition to gift baskets, as you know they will be consumed, they are affordable, and they fill up the basket nicely!
Do Not Disturb Sign
Just Married/Do Not Disturb Door Hanger
This is an adorable and hilarious addition to a honeymoon basket!
Chocolate
Chocolate!
Aphrodisiac foods are a great thing to add.
Tea or Hot Chocolate
Tea and/or Hot Chocolate Packets
are a great thing to give so they can curl up and relax in bed. They are especially perfect for skiing honeymoons!
Mugs
Coffee or Tea Mugs
from the registry are a great way to make your gift basket play off of things that you know they really want.
Passport Covers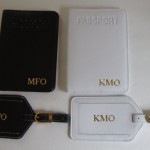 Passport Covers – you could even get matching couple's ones
! New Passport covers also feature RFID blocking technology.
A Postcard to Write to Themselves
Help the newlyweds create more memories of their marriage by giving them a Postcard
to write to themselves – complete with their mailing address and a stamp!
A Feather Boa
A Boa
– select a higher quality one so that it doesn't shed quite so much.
GPS for Navigation
A Handheld GPS
– for the big spender and the gear-hounds!
Sudoku or Crossword Puzzles
Sudoku
or Crossword
Puzzles are another great way to spend time hanging out.
Travel Guide
How about a travel guide for their honeymoon destination? Honeymoon Gift Basket Ideas
Travel Guide for the Area
Lonely Planets are a great way to discover more about the area you are visiting, for those times when they'll venture outside.
Waterproof Camera
Disposable Underwater Camera
If you're not ready to spring for a waterproof point and shoot camera, you can still get a disposable waterproof film camera for a few dollars. Underwater picture are always fun!
Rose Petals
Rose Petals (real or fake
)
Add some romance to their time away.
Flowers
Flowers
are always a nice touch.
Matching Flasks
Flasks
– plain silver, a couple's set or a cute and fun pattern
Just Married Flips Flops
"Just Married" Flip Flops
for Ladies
or for Men
Beach Wrap
Stay comfortable and stylish with a Beach Wrap
.
After Sun Gel
Aloe Vera Gel
– I'm one of those people that burns all the time.
Monogram Necklace
Necklace with New Monogram
(if there's a name change and the recipient would wear it!) – Etsy is a great place to find these.
Table Topics – Honeymoon Set
Table Topics are a fun way to spark conversation and there's even a Travel Honeymoon Set
More Honeymoon Gift Basket Ideas
Local currency
Upgrade their rental car
If you are after more activity based ideas, click to read a post of honeymoon activity and upgrade gift ideas.
For even more fantastic honeymoon gift basket ideas, head to Christina's blog Carolina Charm and take a look at her awesome list of honeymoon basket items, plus a heap of pictures. Here's a sneak peak-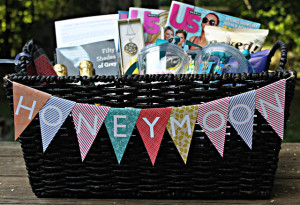 If you are after something other than a honeymoon gift basket, we have lots of things to suggest! Take a look at the creative cash gift ideas page, full of ways to spice up a cash gift for any occasion, or check out our holiday gift ideas section.
More Honeymoon Gift Basket Ideas
Everyone always gets the bride and groom gifts for their homes, but what about gifts for their upcoming honeymoon?
A gift basket is a sweet and a creative idea for newlyweds. Check out these sweet and naughty gift ideas for the honeymooners!
Passport Holders
If the lovely couple just so happens to be leaving the country, these cute, little passport holders are just the right gift idea to keep their passports nice and safe!
Mr. and Mrs. Luggage Tags
Prevent the newly Mr. and Mrs. from wasting time, looking for their luggage. These wooden luggage tags will make it easier to spot their bags from afar! And let's be honest, the Mrs. is going to have more than one bag, so this is certainly one of the better sets!.
Bottle Coolies
These simple bottle coolies are great at keeping bottles insulated, and they will easily fit into any luggage.
Mr. and Mrs. Devotionals
There will be plenty of small moments throughout the honeymoon in which the newlywed couple can strengthen their relationship with God and each other by reading these lovely devotionals.
Honeymoonin' Cosmetic Bag
How cute is this Honeymoonin' cosmetic bag? The new bride is going to love stuffing this bag full of her essentials for the trip.
Waterproof Phone Bags
These may not be screaming, "Newlyweds!!" However, they are a wonderful gift idea for newlyweds who plan to be spending an upcoming week near the water.
Lovers Vouchers
These aren't exactly naughty, however they are fun gift for both the bride and groom
Sex Coupons
Nothing says "honeymoon" like coupon book full of naughty fun!
Honeymoon Door Hanger
This honeymoon door hanger pairs perfectly with gift idea #10! And it is sure to stand out better than the generic hanger at the hotel.
Scratch Off Map
This scratch off travel map is sure to be a hit with both the bride and the groom! As they travel to new states they will scratch them off to reveal new colors!
Poo-Pourri
Don't let untimely odors kill the mood. This bottle of Poo-Pourri may just save the night, or at least provide a laugh or two!
Honeymoonin' Frame
The only problem with this gift is that the newlyweds may have a difficult time choosing only one photo to put inside the frame.
Bride and Groom Flip Flops
Flip Flops are an essential before heading out to the beach, or down to the pool!
Selfie Stick/Tripod
There may not always be someone around to shoot a quick photo of the two lovebirds. That's when this selfie stick and tripod will come in handy.
Do you have any other suggestions? Have you ever received an unexpected gift basket?