Disclosure of Material Connection: Some of the links in this post may be "affiliate links." This means if you click on the link and purchase an item, I will receive an affiliate commission. Disclosure in accordance with the Federal Trade Commission's 16 CFR, Part 255. This site is a participant in the Amazon Services LLC Associates Program, an affiliate advertising program designed to provide a means for sites to earn advertising fees by advertising and linking to Amazon.
St. Patricks Day is right around the corner! It will be here before we know it, and it's a wonderful time to start planning ahead a little bit. These delicious St. Patrick's Day Pancakes are so simple to make and are the perfect way to start the day! There is just something so much fun about eating rainbow-colored food. Especially, these rainbow pancakes. Now, if only there was a pot of gold at the bottom of the stack on pancakes, we would be even happier!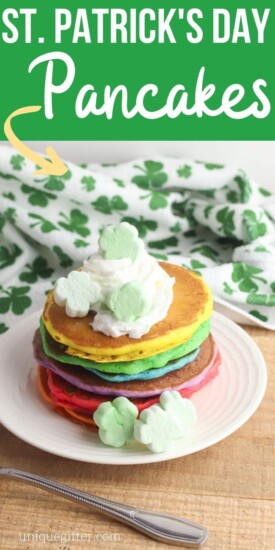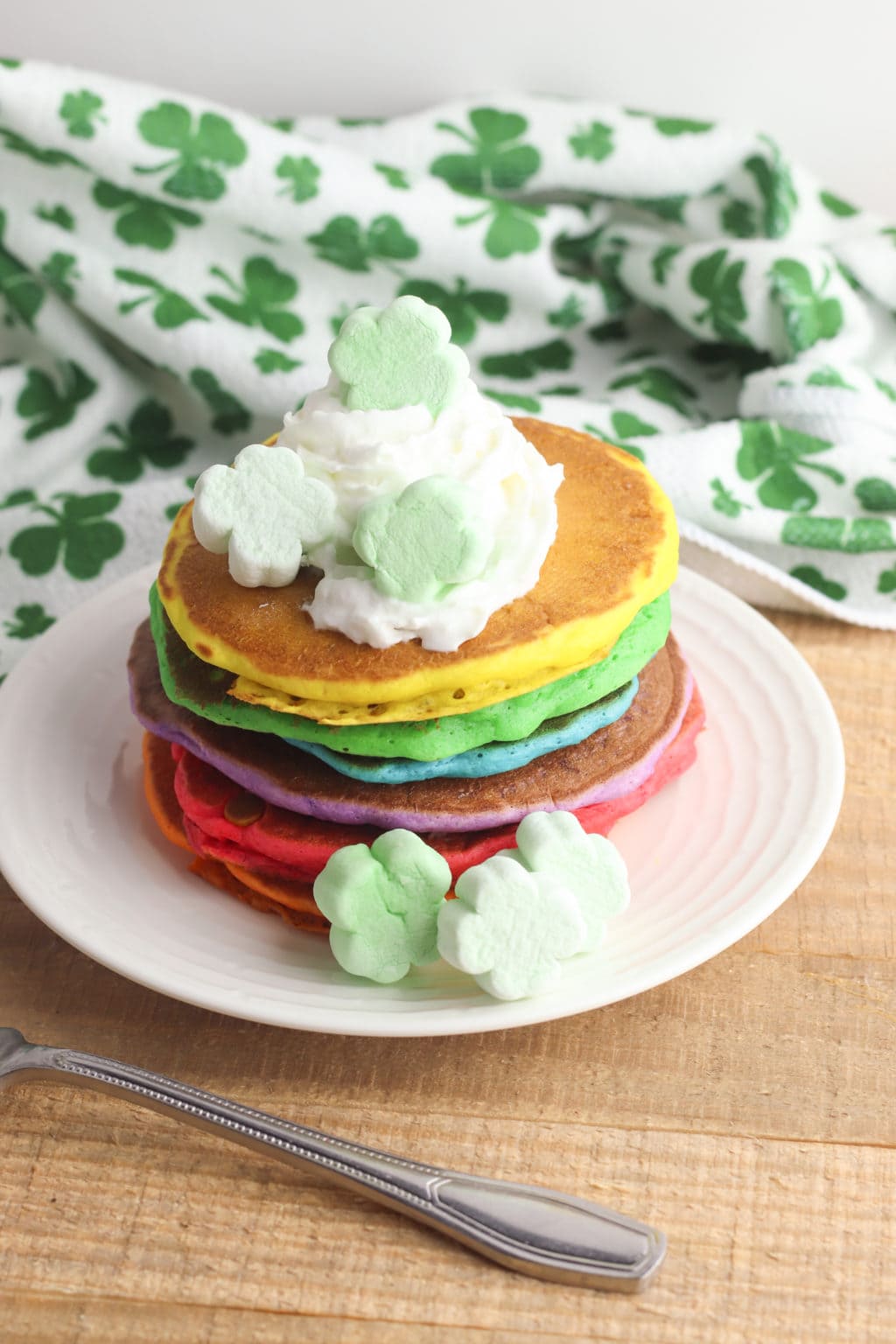 Delicious St. Patrick's Day Pancakes Recipe
I love making all sorts of pancakes for each holiday. It's just a cute little family tradition that the kids adore, and I just enjoy doing. Besides how adorable they are, the best part is that these St. Patrick's Day pancakes are seriously so simple to make. So, if you happen to be feeding a hungry crowd, this is a great recipe to work with.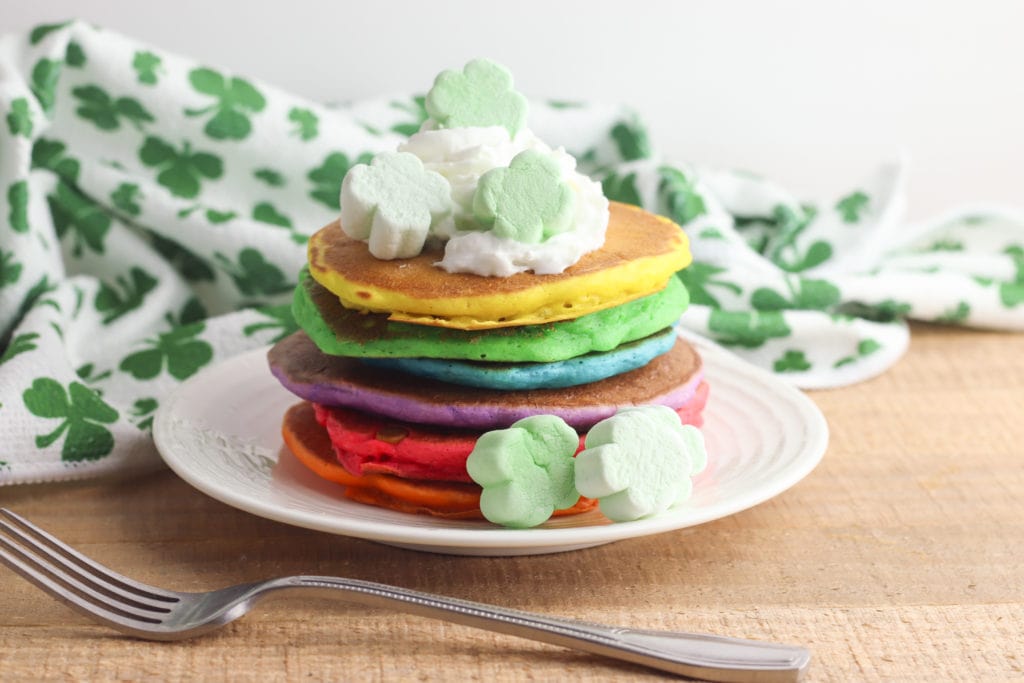 Ingredients:
Boxed pancake mix, prepared according to package instructions
Gel food coloring (red, orange, yellow, green, blue, and purple)
Icing, sprinkles, and whipped cream for topping (optional)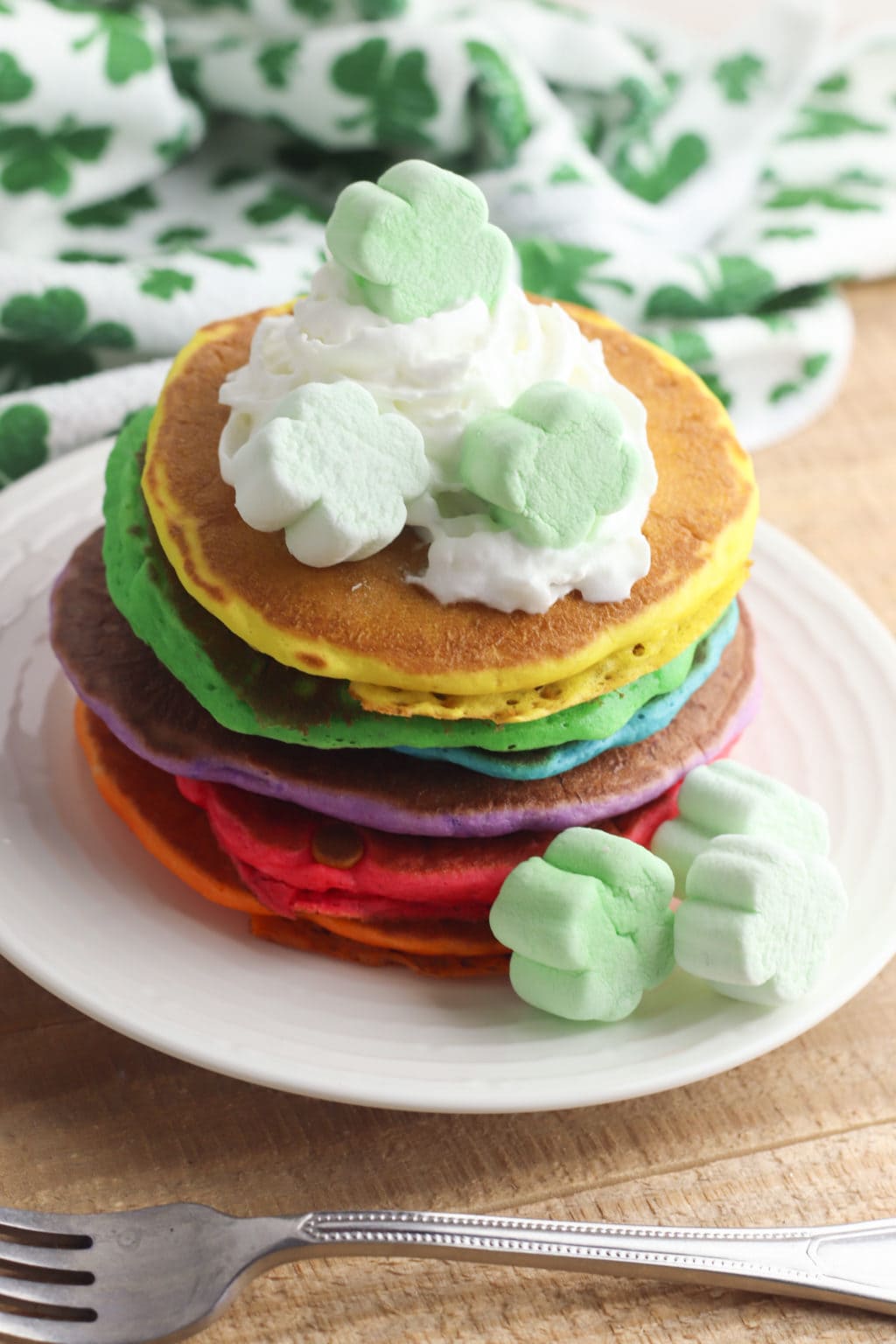 Items Needed To Make St. Patricks Day Pancakes
There isn't much you need, just a griddle or skillet that's non-stick, spatula, and whatever toppings you like. Here are a few of my go-to favorites that I think you will love.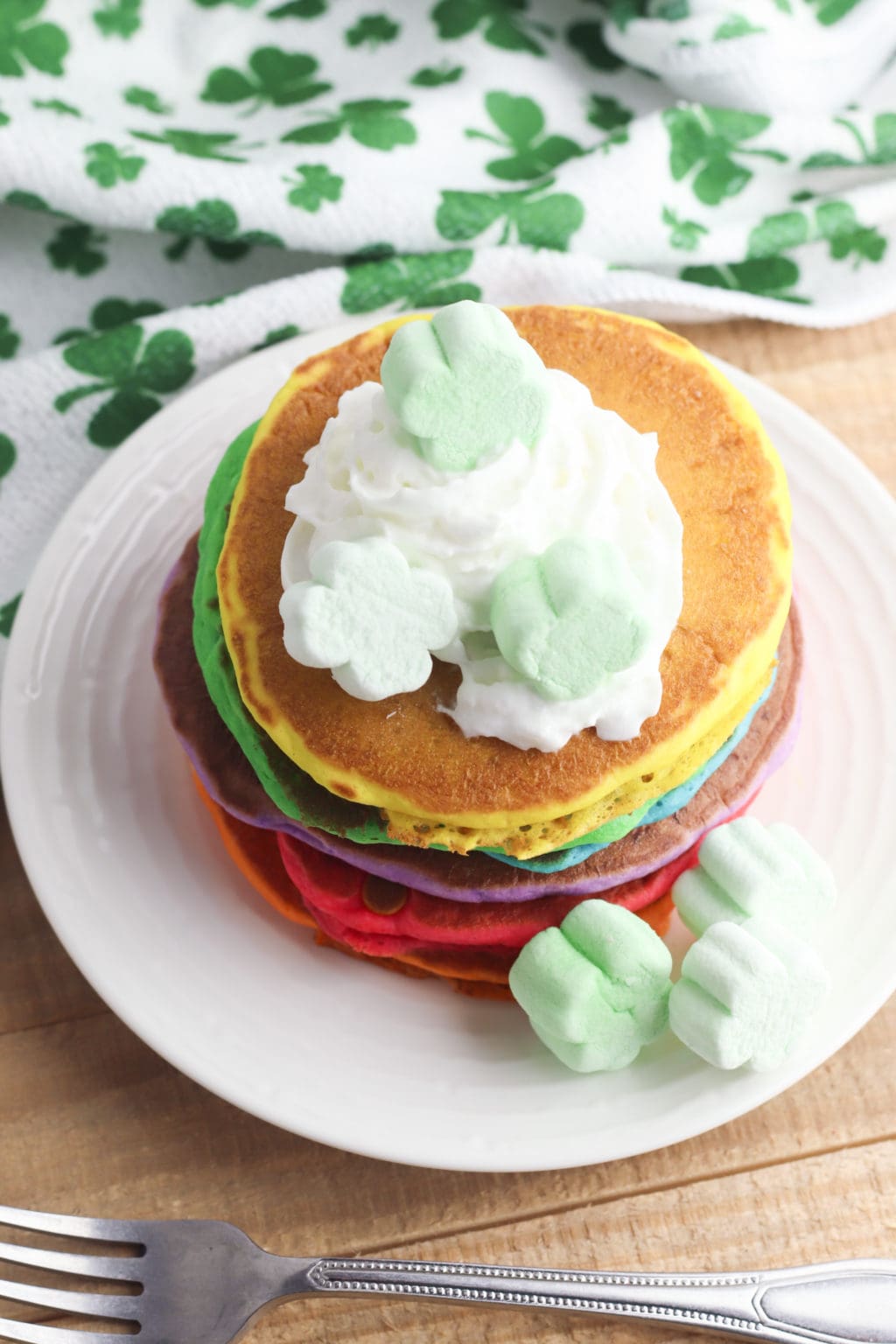 How To Make St. Patrick's Day Pancakes
Don't worry, these are genuinely so easy to make, and the kids will LOVE helping you! Serve them with a side of sausage or bacon and a tall glass of milk! My apologies, I'm sure reading this is making you so hungry right now. Let's get to it.
Instructions:
Prepare pancake mix according to package instructions for the number of servings you need. Each pancake stack will need six pancakes.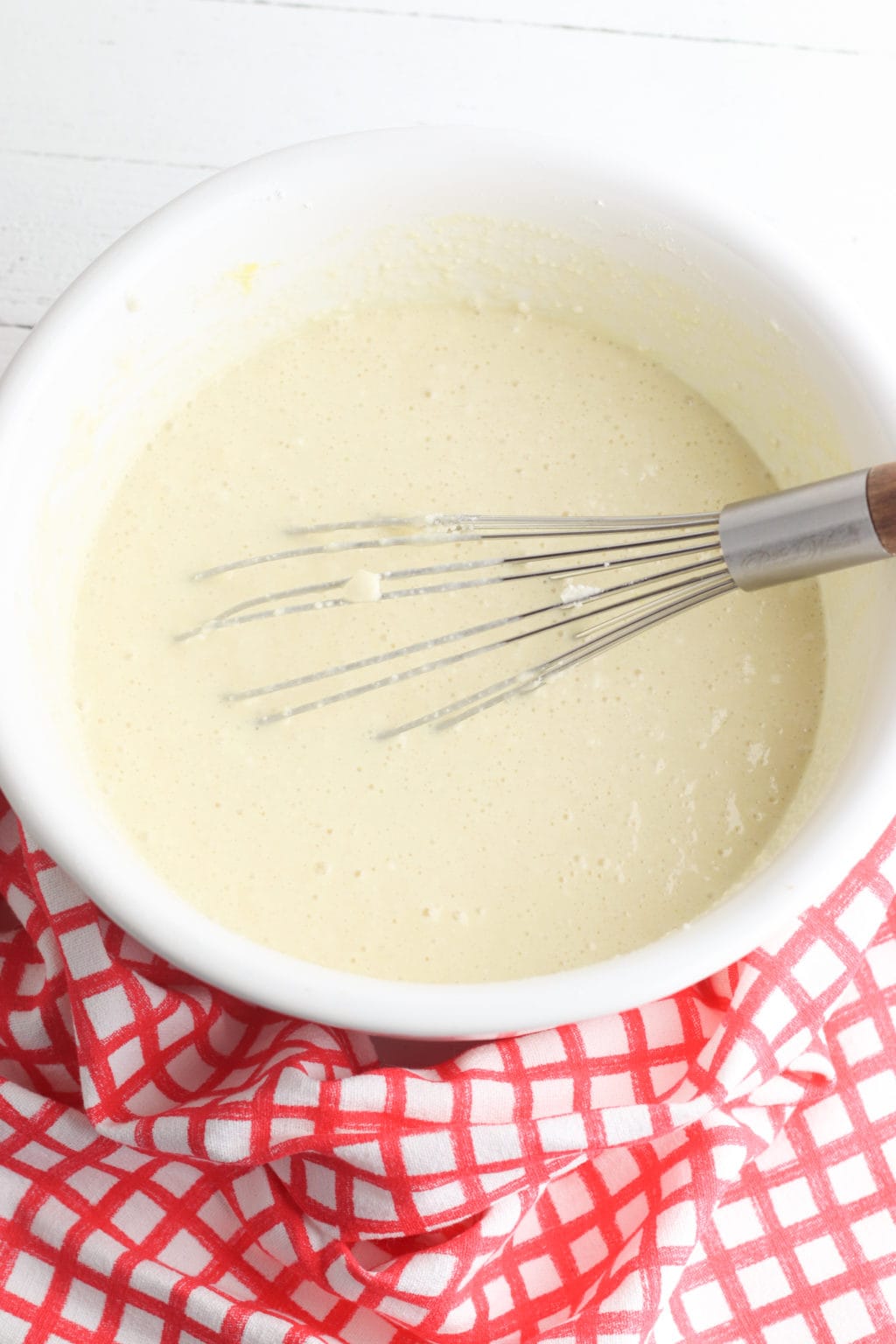 Separate the pancake batter into six small bowls. Add a different color of gel food coloring to each bowl and stir until the food coloring is thoroughly mixed into the batter.
Scoop ¼ cup of each color of pancake batter onto a warm griddle or skillet. And cook until bubbles begin to form. Flip the pancake and cook the other side.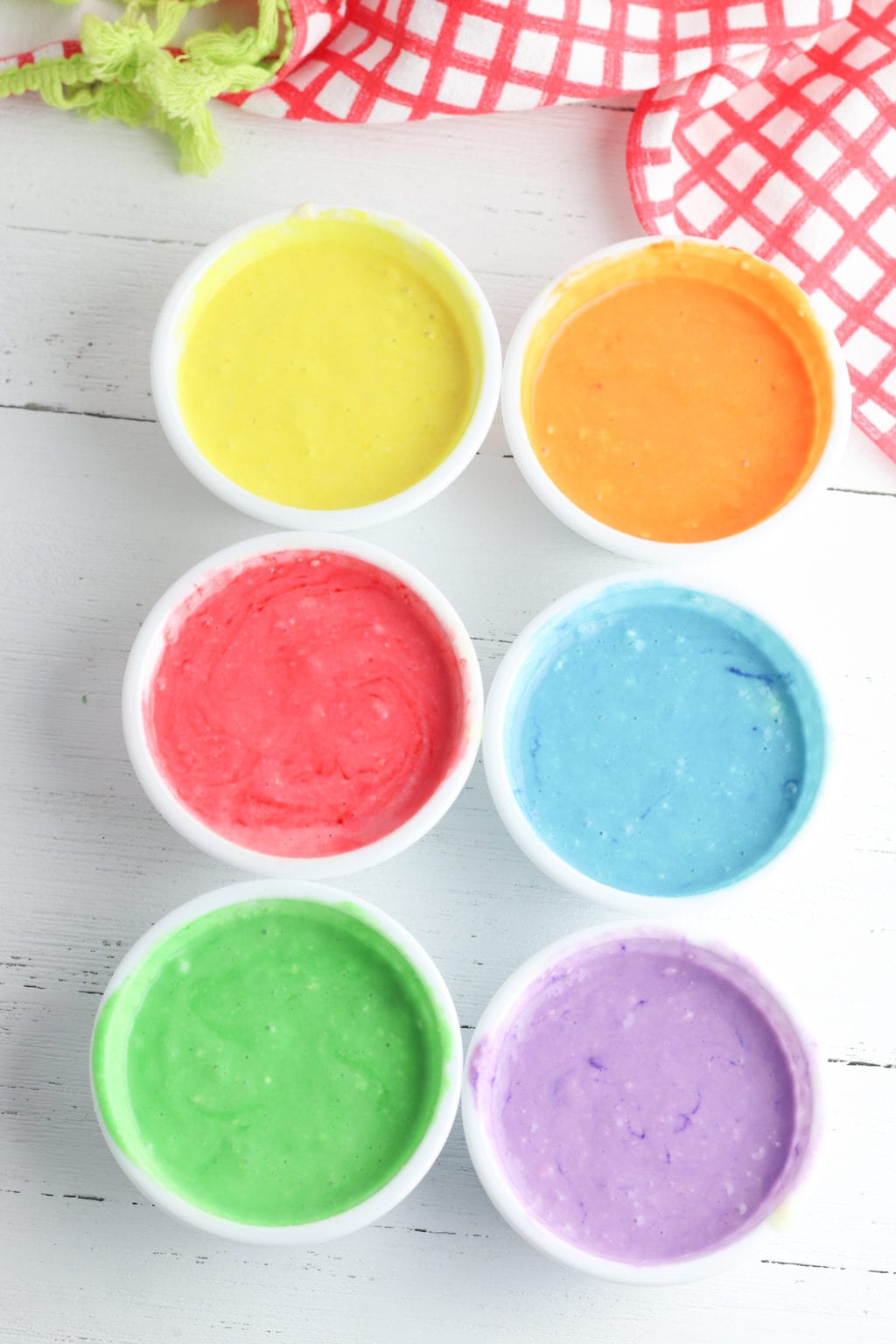 Form the rainbow pancake stack by stacking one of each color pancake on top of each other.
To create a syrup out of icing, microwave a container of premade white icing for 20 seconds. Spoon the melted icing over the top of the pancake stack.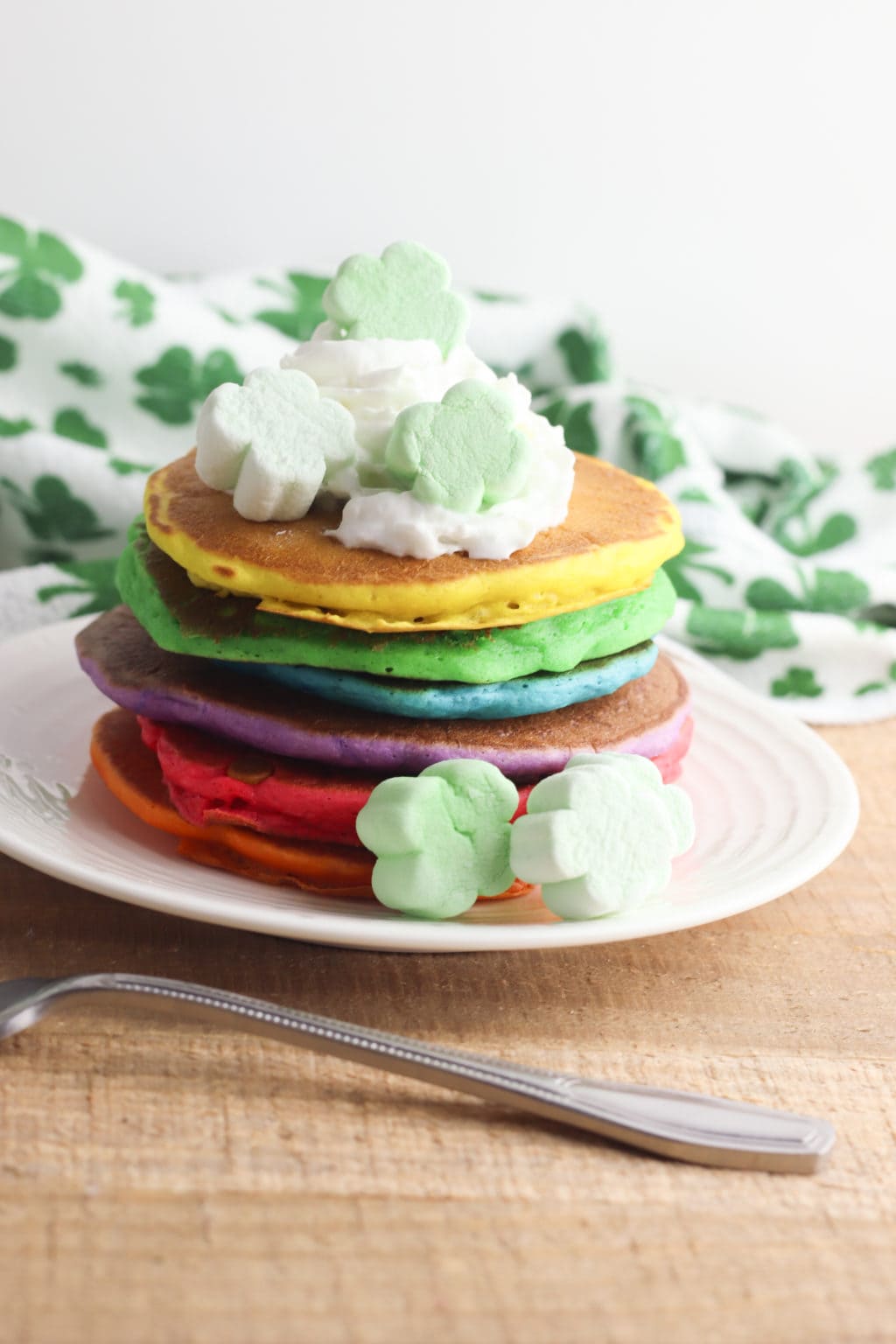 How Do You Store Leftover Pancakes
If you end up with leftover pancakes, that's not a problem! Allow them to cool all the way, then place them in a container with a tight-fitting lid. They will last up to 3 days in the fridge. It's nice to make a larger batch when you are cooking them, and then you'll have a quick breakfast on those mornings when you are in a huge hurry.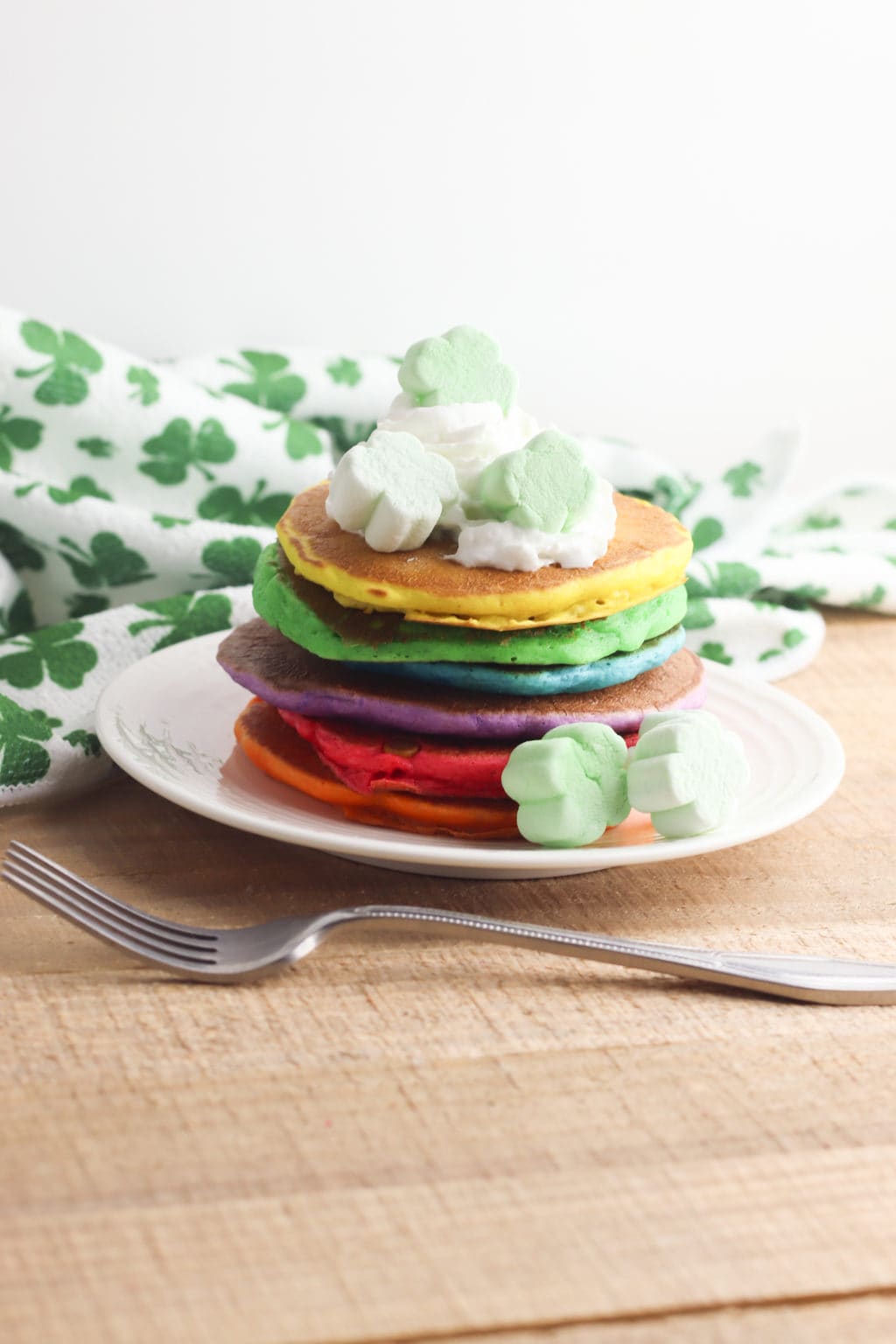 Can You Freeze Pancakes?
Yes, you can easily freeze pancakes. Lay them out on a baking sheet and put them in the freezer for 2-3 hours. After they have frozen, then pop them off the baking sheet and put them into a freezer-safe ziplock bag or storage container. Flash freezing keeps them from sticking to each other. They will keep for around 2 months in the freezer. Perfect for meal prepping!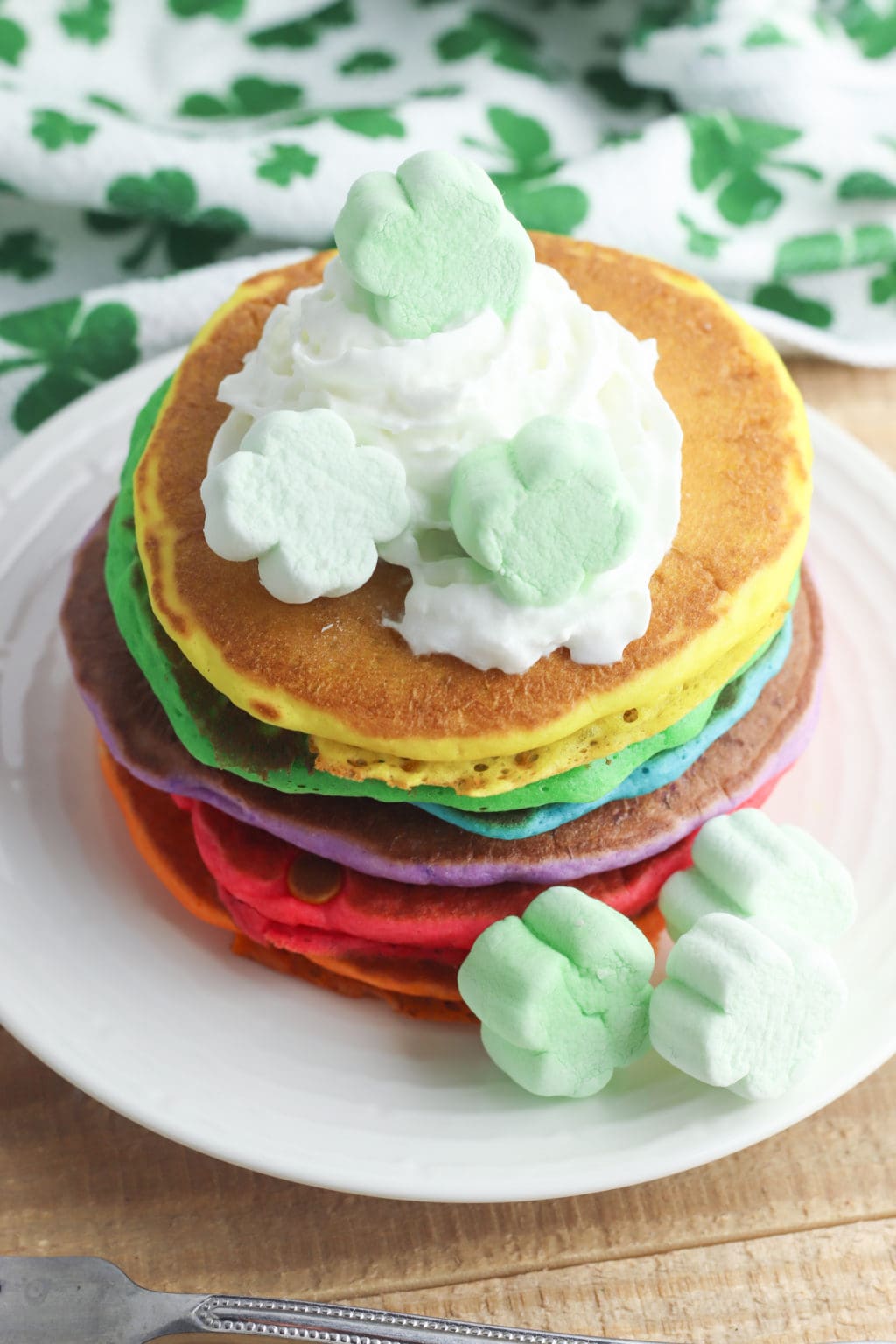 How Do I Reheat St. Patrick's Day Pancakes?
Place the pancakes on a microwave-safe plate and warm them up for 20-30 seconds if they are thawed from frozen heat them for 1 minute. Check them and repeat the process if they aren't all the way hot. Don't warm them too long, or they will end up hard and not edible.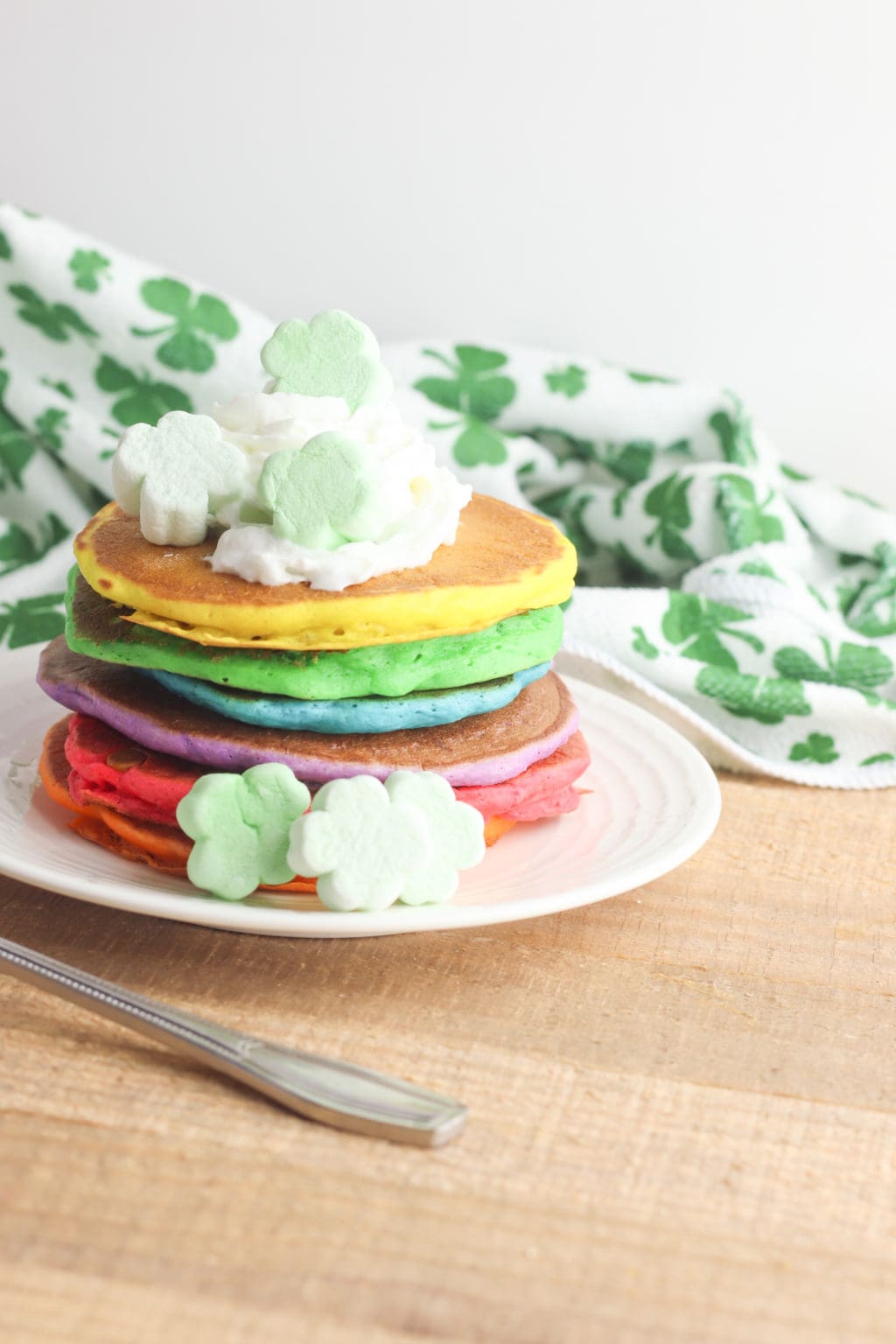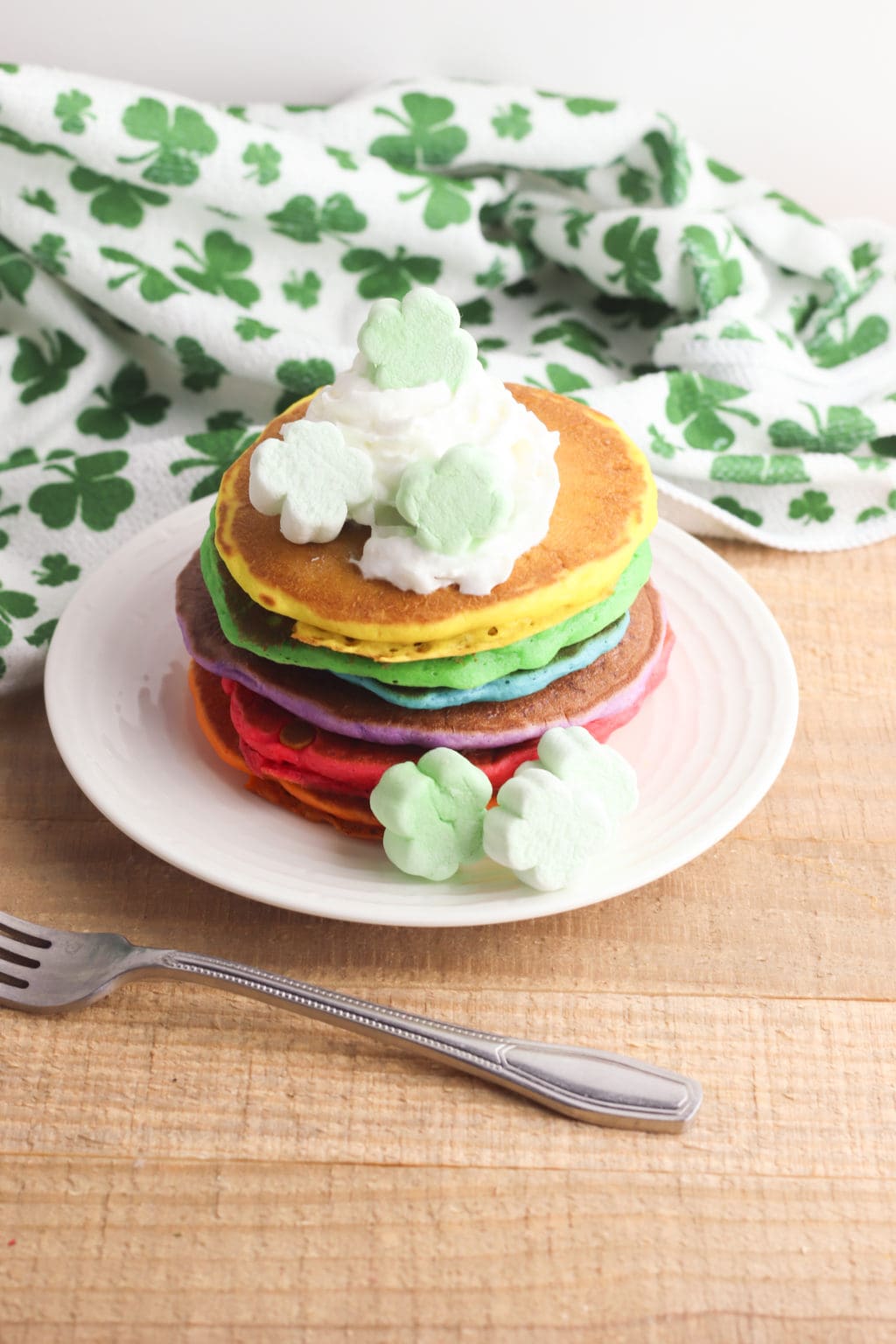 When Should I Serve St. Patrick's Day Pancakes?
Okay, I know that they have the name "St. Patrick's Day" in the title, but you can actually make these pancakes for other occasions as well. Just switch out what toppings or sprinkles you want, and they will be good to go. Here some times that these beautiful pancakes may come in handy!
Birthdays – What a fun way to celebrate someone's birthday! When they wake up to the aroma of freshly cooked pancakes and see how adorable they are, it's impossible not to be happy.
Easter – The colors would be perfect for Easter, and you can even tone back the food coloring, so they are more pastel. You might even want to add in some chocolate chips for a sweet surprise.
Parties – If you're hosting a party and breakfast is on the menu, it just makes sense to make a batch of these beauties!
The list really goes on and on! Try them anytime, and you'll be glad you did!