Disclosure of Material Connection: Some of the links in this post may be "affiliate links." This means if you click on the link and purchase an item, I will receive an affiliate commission. Disclosure in accordance with the Federal Trade Commission's 16 CFR, Part 255. This site is a participant in the Amazon Services LLC Associates Program, an affiliate advertising program designed to provide a means for sites to earn advertising fees by advertising and linking to Amazon.
Bike Commuters are very health conscious and fit people. They are also eco friendly and they are more interested in more natural stuff. Many are minimalists and want to get more done with fewer things. For those of us that don't know much about those things it can get overwhelming looking for that perfect gift that your bike commuter friend, family or coworker would love to get as a gift. There are so many things available, so what exactly can a bike commuter use? Checkout this list of possibilities.

Gift Ideas For Bike Commuters
Paracord Bike Cargo Bag, Bike Basket With Reflective Strip
One of the items bike commuters really need is something that they can easily hold a few items. They need both hands to steer their bike so they can really use a bag for their bike. Roomy enough to hold what they need and as an added safety measure it has a reflective section too. Being a handmade item this paracord bike bag also supports small business owners, made with quality materials, and this can be customized. Everyone likes to be unique, a custom bike bag is the way to go.
Bicycle necktie
This bike themed silkscreened necktie allows him to display one of his most favorite activities while dressing with style. A fun way to show what you do, how your lifestyle looks like and what you support.
GoPro® Chest Mount Harness
What a great way for the bike commuter to journal and document their bike adventures. Even while they bike to work, every ride is an adventure. Help them capture it in the best first person view possible.
USB Rechargeable Bike Light
Bike riders need all the help they can get when it comes to safety. They need proper lighting and reflectors to help them stay safe. Being a USB compatible and rechargable light means it can be charged anywhere their phone can. Long lasting bright shine for dark roads and trails too.
KEEN Men's Commuter 4 Cycling Shoe
I know this says men's, but women also need to wear footwear that are made specifcally for frequent riders. For the health of their feet and the safety of riding their bike, and these embrace everything needed for the rider. Safety measures being reflective, comfort designed for bike commuters, and easy to get on and off.
Women's Bicycle Commuter Pedal Pusher Capris
This says women's but they also have some for men. Bike commuting is more enjoyable when we are comfortable. These capri's are perfect for comfort and they also have multiple pockets to easily store the riders small items so they don't get lost. Has reflective spots to ensure rider is safe in darker areas. Also has a spot to place a small light too.
Bike Wall Decal
A bike commute involves daily discoveries, as the seasons change so do the intricacies of nature. You also notice the nuances of construction and changes in the city.
Gourmet Dried Fruit
Gift some tasty dried fruit to make sure your commuter friend or family member eats something. Comes in convenient easy to carry anywhere and close pouches.
Bike Tool Roll
Every bike commuter needs to carry some tools just in case their bike has any problems. Choose their favorite colors to give it that unique touch. Add some bike tools including that spare tire tube and they are all set. They will be grateful that you helped them with making sure they are fully stocked for their next bike commute.
Bell Stowaway 400 Top Mount Bike Bag
A small but roomy bag that sits in the perfect spot for the rider to hold their phone, cash, keys, and other smaller items. They can easily see their phone's screen to view incoming calls in case they need to take a specific call, listen to music and even track their commute.
Life Behind Bars
Funny shirt for that frequent commuter. Let's them show off their love for riding bikes even when not on one. Fun way to display what their hobby and passion is, never know they can meet more enthusiasts like them.
Cast Iron Wires and Screws Statue/figurine Bicycle Rider
Cool desk decor to show off a love of bike riding. Fun yet simple and doesn't take up lots of space. Gift this to show how you have noticed their passion or hobby as a bike commuter.
Metal Bicycle Bookend Pair
A fun way to keep books organized and standing straight so they don't fall over. Bicycle bookends functions as not just as a way to hold books but to also show off a love and passion of bike riding.
Bike Pulse T-SHIRT
Show off a love and passion for bike riding while sending the message of how it keeps our heart healthy. Bike riding creates the pulse of life. They can have fun with their passion both physically and with style too.
Orange Pop Coffee Mug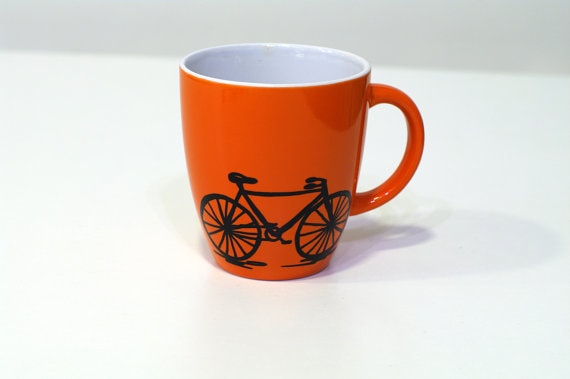 A fun unique coffee cup just for the bike riding enthusiast. Handmade coffee cup shows off their fun side, uniqueness and fun way to display their love of bike riding.
Life is like a riding bicycle wall art
What a very moving piece of wall art to look forward to seeing everyday. A bike as part of the motivational quote is perfect because bike rides are a journey so isn't life.
Cycling Parking Only
Funny gift for bike commuters, give them their own parking spot. A fun way to keep their parking spot, which is reserved specially for the bike commuter.
Cycologist Cyclist T shirt
Now the passionate cyclist can show off their expert abilities. Funny cyclist T-shirt will surely get some giggles along the way. This cycologist will have lots to talk about after all the rides they have been on.
Bike Riding Car Decal
Show off the love and passion even when not riding two wheels. This car window decal nicely displays their enthusiasm for riding bikes. It reminds you that bike riding is relaxing and shows off some nature love.
Bike Bits Mug
There will be no questions about whose cup this is. Bicycle bits all around this cup is a nice visually appealing way to show off a love of riding bikes.
Show the bike commuter enthusiast in your life that you see their love and passion for riding bikes. Whether you want to gift them something practical or something fun they will really enjoy that you noticed that they enjoy bike riding.