Disclosure of Material Connection: Some of the links in this post may be "affiliate links." This means if you click on the link and purchase an item, I will receive an affiliate commission. Disclosure in accordance with the Federal Trade Commission's 16 CFR, Part 255. This site is a participant in the Amazon Services LLC Associates Program, an affiliate advertising program designed to provide a means for sites to earn advertising fees by advertising and linking to Amazon.
Here are some really fun kid-friendly Easter classroom gift ideas for you all. If you are needing to buy gifts for your child's classmates you might find the perfect little gift below. Easter is always full of chocolate bunnies, pastel and bright colors, little chicks, and what isn't to love? If you are wanting to do more than just a bag of candy, you will find 20 awesome options below.

Bunny Egg Holders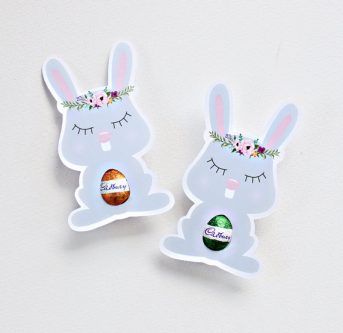 Dress up that plain Cadbury egg with a fun egg holder. It takes a plain piece of candy and makes it egg-stra special and now you have a complete gift that didn't cost much at all to do.
Mini Chalkboards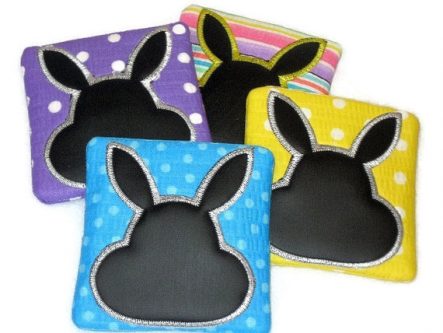 If you don't have a ton of kids to buy for, this could be a fun option. They are little silhouettes of bunnies and are chalkboards. The kids can draw, practice letters and more on them.
Percussion Eggs
Shake, shake, shake, your eggs! These eggs make fun noise when they are shaken as a little musical instrument for the little ones.
Rubber Bracelets
These rubber bracelets are fun, they say no greater love and come in a variety of bold colors. Toss this in a little gift bag with goodies for a complete gift.
Bulk Party Pack
This is a bulk of fun Easter and party items that you can toss in little bags or baskets to give to each classmate. I love the variety of toys so it makes it easy to give each kid a variety of items.
Rubber Duckies
These are so cute, and I love the fun colors. What young child doesn't love a rubber ducky? Ducks are considered a decor item for Easter, so why not.
Slinky Pack
Slinky's are not a thing of the past! They are a fun toy that each child can move back and forth, let it climb down the stairs and spend hours playing with this!
Clarinet Whistles
Another non-candy option that will let them make their own music. This toy will last long after the Easter holiday!
Egg Soaps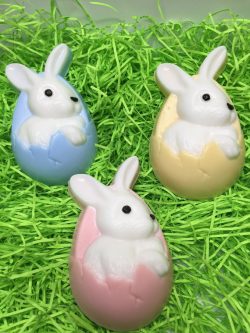 These are handmade soaps that are in the shape on an Easter egg. I thought they were really fun and I am sure any kid would love soap to wash their hands that is a fun egg shape.
Easter Lollipops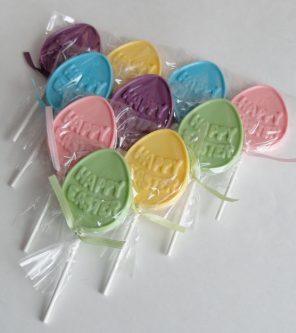 Okay, these are a chocolate lollipop that is just precious. I love the idea of a fun chocolate on a stick, it would make a complete gift on its own.
Coloring Bookmarks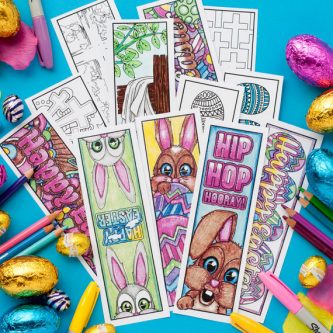 Let your child give bookmarks to their classmates. They can color them, and then use them to keep track of the page they are on in a book. A really neat gift they can use for a long time! Plus the pictures on the bookmarks are so fun.
Slime Eggs
This is a set of six eggs and inside is soft slime. I am not sure there is a kid on this planet that isn't in love with slime at the moment!
Stampers
I remember being little and getting little stamps like this, and how fun they were. We would stamp our arms, pieces of paper and more. They are a blast, and kids love them.
Sunglasses
Protect the kiddo's eyes with these fun animal print sunglasses. This comes with 24 so great to give to each classmate! The kids will love these!
Stickers
These rolls are awesome, 100 stickers per roll and it comes with 5 rolls. That is over 500 stickers. Cut them up and give each student a handful of stickers and maybe some other gift whether it is a little candy or another item I posted here.
Easter Party Pack
Another fun party pack that has pencils, yo-yo, stampers and then a bonus item. This is a great pack to buy for creating little goodie bags for each student in your kids class.
Easter Tattoos
Okay, these are one I am sure each kid will love. They are little Easter themed tattoos that can be washed off! It comes with 72 tattoos so you can give each child a handful of them.
Silly Face Bendables
These bendable silly face people are fun. Move them in all different ways and watch them bend and transform. These are a great filler as a gift for Easter for each student.
Kiddy Dough
This is a bulk option where you buy little kiddy dough, that they can shape and mold into animals, objects, and more. Lots of fun and hours of playtime.
Bubble Wands
What child doesn't go gaga over bubbles? These bubbles are in a fun wand shape with bold and bright colors. I am sure their eyes will light up when they see it.