Disclosure of Material Connection: Some of the links in this post may be "affiliate links." This means if you click on the link and purchase an item, I will receive an affiliate commission. Disclosure in accordance with the Federal Trade Commission's 16 CFR, Part 255. This site is a participant in the Amazon Services LLC Associates Program, an affiliate advertising program designed to provide a means for sites to earn advertising fees by advertising and linking to Amazon.
Unique and meaningful father's day gift ideas for church congregations that you should see. If you are looking for Father's Day gifts for your church congregation that will please the multitude, then you have come to the right place. Each gift idea is creative and is sure to bring a smile to the recipients face. Check out some of these super neat ideas for the fathers in your church congregation.
Thoughtful Father's Day Gift Ideas For Church Congregations
Give any of these presents to show the dad's in the church that you appreciate them. 
Bible Verse Card Set
These Bible verse cards are great for helping them study, or give them a break here and there to read God's word.
"Blessed daddy" Shirt
They are all blessed daddies; there is no doubt about that. Show how much you value the dads in your church congregation with custom father's day t-shirts.
Cross Necklace
A simple cross necklace goes a long way in showing how passionate about their faith they are, and they can wear it anywhere.
Bible Verse Glass Magnets
These Bible verse glass magnets can be put up on the fridge, and each time they go to open it, they will be able to read them.
"Man of God" Pen Set
Help them take better notes of the sermon with their "Man of God" pen at hand. This is a great gift idea if you want to hand it out to all the dads at church on father's day.
Cross Cord Bracelet
If you don't think most of them would enjoy a cross necklace, perhaps a cross-cord bracelet will be more fun.
Printable Psalm 11 Printable Art
Blessed is the man who fears the Lord printable will be nice for them to frame and hang up on the wall to remind them how blessed they are to have a family to love and grow.
Prayer Men's Journal
Journaling for men might be more challenging than for women, especially Bible journaling, but it won't be as hard with this "My faithful year" men's journal for them to use.
"Blessed is the man who trusts in the Lord" Mug
Not only is the man who fears the Lord blessed, but so is the man who trusts the Lord no matter what and leans on him in times of difficulty.
"Amen" Bar Necklace
Sometimes a simple "Amen" goes a long way.
"Blessed grandpa" Shirt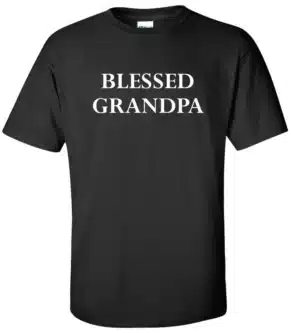 Chances are that you have quite a few grandpas in the congregation, so you could mix and match these "blessed grandpa" shirts with the "blessed daddy" ones above.
"Hope" Anchor Bracelet
Anchors give them stability; hope keeps them going.
Mountain Tie Clip with Quote on Package: "The sacred title of FATHER is shared with the ALMIGHTY. -Ezra Taft Benson"
The name "Father" is shared with God, our Father, which means that it is sacred. Their role as a father is vital in their family, just as God's purpose is important.
"Children are a gift from the Lord Psalm 127:3" Printable
As if there was any doubt in his mind that children were a gift from the Lord. Great last-minute father's day gift idea for church going men.
Silver Rhinestone Cross Bookmark
Help him keep his place in his Bible when he is reading, with this silver rhinestone cross bookmark.
Cross Tie Bar
His tie will never go flying anymore, with this cross tie bar to hold it in place. Great for wearing to church or work and pairs wonderfully with a traditional father's day tie from the kids.
"Jesus since forever" Shirt
Jesus has always been in his life!
Angel Keychain with Initial Charm
Angels watch over us and keep us safe and protected. Now he will have a physical one to carry with him wherever he takes his keys.
Scripture Mug, Inspirational Mug, Bible Verse Mug
This "Give Me Jesus" coffee mug is the perfect way to start your day! It makes an excellent gift for a friend, co-worker, or even yourself! 
John 3:16 Cross Necklace
John 3:16 says, "For God so loved the world that he gave His one and only Son." He sacrificed his Son so that we could all have a chance at eternal life. That is the most essential thing that the cross symbolizes.
Shirts, mugs, necklaces, bracelets, and more. The choice is up to you, but they will love whatever you gave them because they will appreciate being appreciated. These Father's Day gifts for church congregations are undoubtedly impressive.