Disclosure of Material Connection: Some of the links in this post may be "affiliate links." This means if you click on the link and purchase an item, I will receive an affiliate commission. Disclosure in accordance with the Federal Trade Commission's 16 CFR, Part 255. This site is a participant in the Amazon Services LLC Associates Program, an affiliate advertising program designed to provide a means for sites to earn advertising fees by advertising and linking to Amazon.
When you are invited to an Easter gathering with family and friends, you need to be thoughtful about your Easter gifts.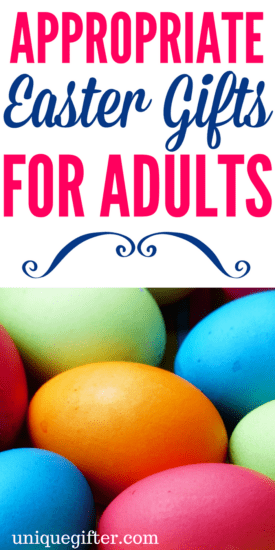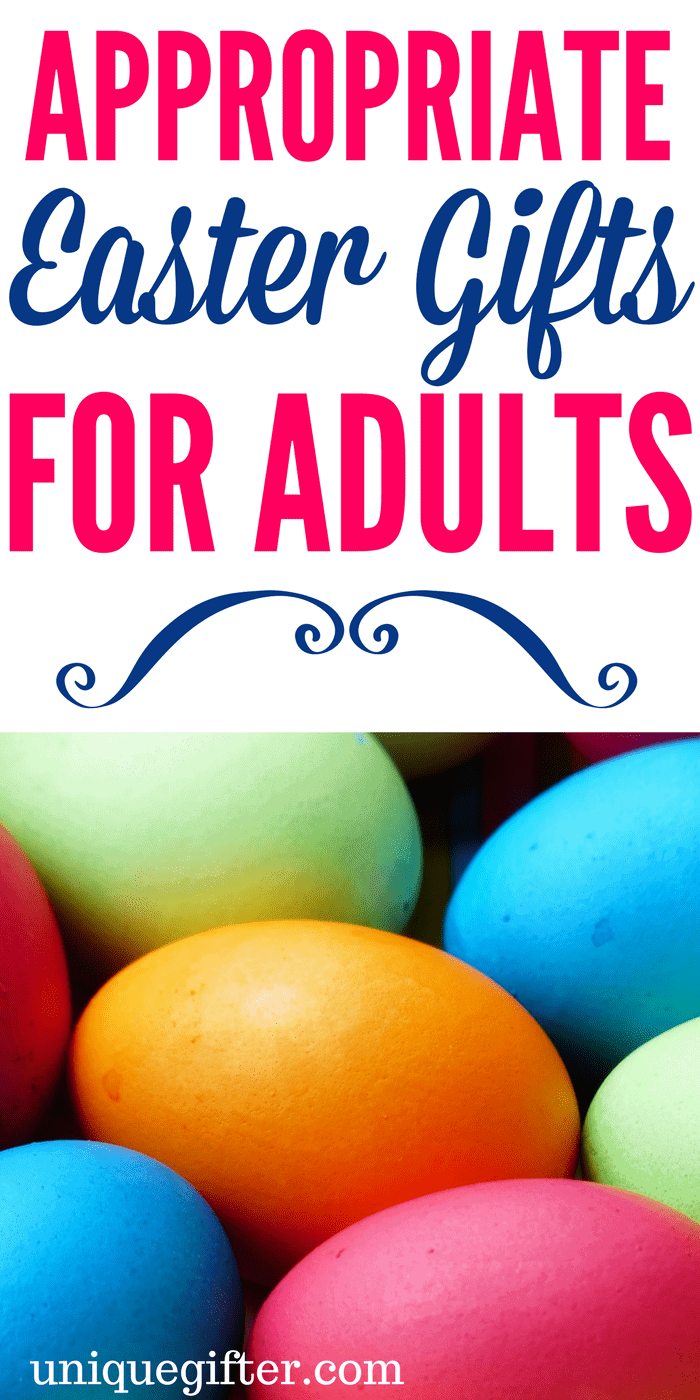 Look for the right items to give to your family members and friends if you want to make the occasion joyous. However, coming up with the best Easter gift ideas for adults can be a daunting task.
Adults love a variety of things; therefore, you need to fill your basket with presents that will cater for their different needs.
Create lasting memories and express appreciation with the following gifts:
Easter banner
This banner decoration can be hung in the house as Easter approaches. Since this item is handmade, it can have some variations depending on your personal preference. Its uniqueness will make it memorable.
Rustic kitchen décor
Use this beautiful turntable to decorate your kitchen for Easter. This handmade item has an engraving that will ensure it leaves a long-lasting mark. Better, you are at liberty to customize it with your own quote. Use it to bring your ideas to life.
Saint bracelet
Some people are saintly and may appreciate a saint bracelet. The bracelet has been made using an elastic cord to make it more flexible and has images of saints. A gift like this has great importance to its receiver. Its pieces have meaning and it adds style to an Easter outfit.
Monogrammed bible cover
Because Easter is a Christian event, you may need to carry your Bible around. This means you need to keep it safe and sound at all times. This bible cover is made out of Canvas material and is guaranteed to last for a long time. Its sewn zipper will also prevent the holy book from absorbing dust.
Bunny Necklace
This adorable necklace is made out of 925 Sterling Silver and will accord its wearer numerous glances. The bunny cutout symbolizes awareness, abundance, and curiosity and is likely to warm the heart of the wearer.
You are loved mug
Give this gift to the one you adore. It could be your parents or siblings, or even grandparents. It has a heart shaped handle that makes it unique, and it will inform the receiver that you care. Since a mug is used on a daily basis, it will form part of the user's routine, and it will be held dearly.
Glowing heart necklace
This is a special gift to a woman. It has a handcrafted pendant that is made using a quality glow in the dark material. The pendant absorbs light during the day and release it in the form of visible light, during the dark. This gift will be suitable for most occasions and will come with a beautiful gift box.
Easter bunny earrings
The studs are made out of sterling silver that make them glow. If you prefer, there are also gold or rose gold finishes. Ask your spouse the finish of her choice and deliver the earrings. You can also purchase a single stud for the nose or other piercing.
Hanging plant pot
This cute ceramic pot comes with a twine that is ready to hang. It is convenient for housing your garden trimmings and little flowers around the house. The beautiful ceramic decals make it unique and attractive.
Easter embroidered napkins
These napkins are made out of cotton and have been machine embroidered. They will serve as constant reminders that the Easter season is on.
Easter pillow
This Easter pillow is guaranteed to provide 100% satisfaction. It has a double-sided print, and you are free to choose from Polyester or Cotton Twill fabric. The W. Francis inspired pillow cover makes it attractive and admirable. If you like, you can change the pillow cover to something of your choice.
Bible verse bracelet
The Bible has numerous verses that spread love, inspiration, and faith amongst Christians. Therefore, getting a Bible verse bracelet will give the wearer a daily dose of inspiration and will amplify whatever information is being conveyed.
Favor bag
Just go for the color combination that suits your receiver. These bags are great for favor bags and have beautiful decorations that are hand painted.
Easter basket
This Easter basket can be personalized to your own preference. It comes in the right size and will allow one to fit in as many goodies as possible.
Fridge magnet
This is the kind of gift that can be ignored, but sends a message to the receiver: that you are keen. This funny magnet is handmade and is looks adorable.
Scarf
The Silk infinity scarf is perfect for every season. It comes in a range of colors. It is made out of Silk and will make a woman feel comfortable and fashionable.