Disclosure of Material Connection: Some of the links in this post may be "affiliate links." This means if you click on the link and purchase an item, I will receive an affiliate commission. Disclosure in accordance with the Federal Trade Commission's 16 CFR, Part 255. This site is a participant in the Amazon Services LLC Associates Program, an affiliate advertising program designed to provide a means for sites to earn advertising fees by advertising and linking to Amazon.
April's Birth Flowers
There's a popular saying about the month of April – "April hath put a spirit of youth in everything." That quote by William Shakespeare perfectly describes this spring month. April is technically the second month of the spring (in the Northern Hemisphere), but it is a time of renewal, spring cleaning, and planting for growth.
What is the Birth Flower for April?
April brings us two birth flowers: the Daisy and the Sweet Pea. These two delicate flowers usually signify purity and bliss – perfect for that youthful spirit mentioned by Shakespeare.
Botanical Background of Daisies & Sweet Peas
Daisy: Belonging to the family of Asteraceae, daisies are found on every continent besides Antarctica. The flower thrives in a variety of conditions and levels of sunlight. Depending on the species, the daisy can grow between 3 inches to 4 feet. The most popular daisies are the Marguerite daisy, Gloriosa daisy, Shasta daisy, African daisy, and the Gerber daisy.
Sweet Pea: Sweet peas are perfect to put in bouquets or grow in your garden! These hearty plants are very low maintenance flowering annuals. Dating back 300 years from Sicily, there are a number of Sweet Pea varieties for you to choose from – the April in Paris, the America, or Old Spice varieties. All are fragrant and colorful options depending on what you're trying to grow.
Gift Ideas for April Birth Flowers
Sweet Pea Floral Scented Spray
Like the scent of sweet peas, but don't want to plant them? This is a great idea! Perfect for use on the body or for scenting your room!
Essano Home Candle Sweet Pea & White Orchid
Get the sweet floral notes of sweet pea at home without the garden! This soy candle burns for 60 hours!
Sweet Pea Sugar Scrub
Great for exfoliating your body and smelling wonderful all day. Plus, it's all-natural and free of any artificial fragrance or additives.
Caldrea Sweet Pea Countertop Spray
Clean surfaces and countertops with this fresh floral scent! Great for cleaning surfaces and removing harsh odors.
Kate Spade New York Daisy Reusable Shopping Tote with Travel Zip Pouch
Cute and functional! These reusable shopping bags are great to store in your car or purse so that you have them anytime you plan to shop!
Daisy Initial Necklace
This delicate necklace is a simple silver-plated pendant with an initial charm. Great for the lady in your life who has an April birthday!
Marc Jacobs Daisy 2-Piece Fragrance Set
This feminine floral scent mixed with warm earthy and musky notes is perfect for everyday wear! This set comes with the perfume and lotion – great for taking on a trip!
BOOK: The Illustrated Herbiary: Guidance and Rituals from 36 Bewitching Botanicals
A great addition to the library for any plant or flower lover! Not a traditional story, per se, but more of an illustrated guide to the deeper meaning of plants and herbs.
Jackpot Candles Sweet Pea Candle with Ring Inside
Well, yes, it's a candle! But one, it's a sweet pea candle with a surprise inside! What a cool thing to find once it's burnt out?!
AK ART KITCHENWARE Sweet Pea Blossom Making Tools Set for Decorating Cakes
Use these flower-shaped tools to decorate cakes and cookies. Or use the molds for another type of tasty April treat!
SWEET PEA Charm – For Gratitude, Tenderness & Farewell
Wear the luck, strength, and innocence signified in this pendant on a chain around your neck or on a charm bracelet.
Sweet Pea Beanie
Show off your love of the sweet pea with this beanie! Perfect for chilly days or on those days that you just can't bother with doing your hair.
My First Flower Garden – Children's Easy-Grow Flower Seeds – 6 Varieties
A delightful option for the tiny gardener in your life! This kit offers 6 varieties of seeds to plant – including daisies and sweet peas! Follow the detailed instructions to get the most from this kit.
Sweetpea Flower: 2020 Schedule Planner and Organizer / Weekly Calendar
This simple, elegant calendar is a helpful touch for those who love sweet peas and scheduling.
Watercolor Illustration of Sweet Pea Flowers
This minimalist watercolor print is perfect for framing. Great for gardeners, people celebrating an April birthday or anyone who loves this particular flower.
Daisy Pressed Flower Phone Case – Real Dried Flowers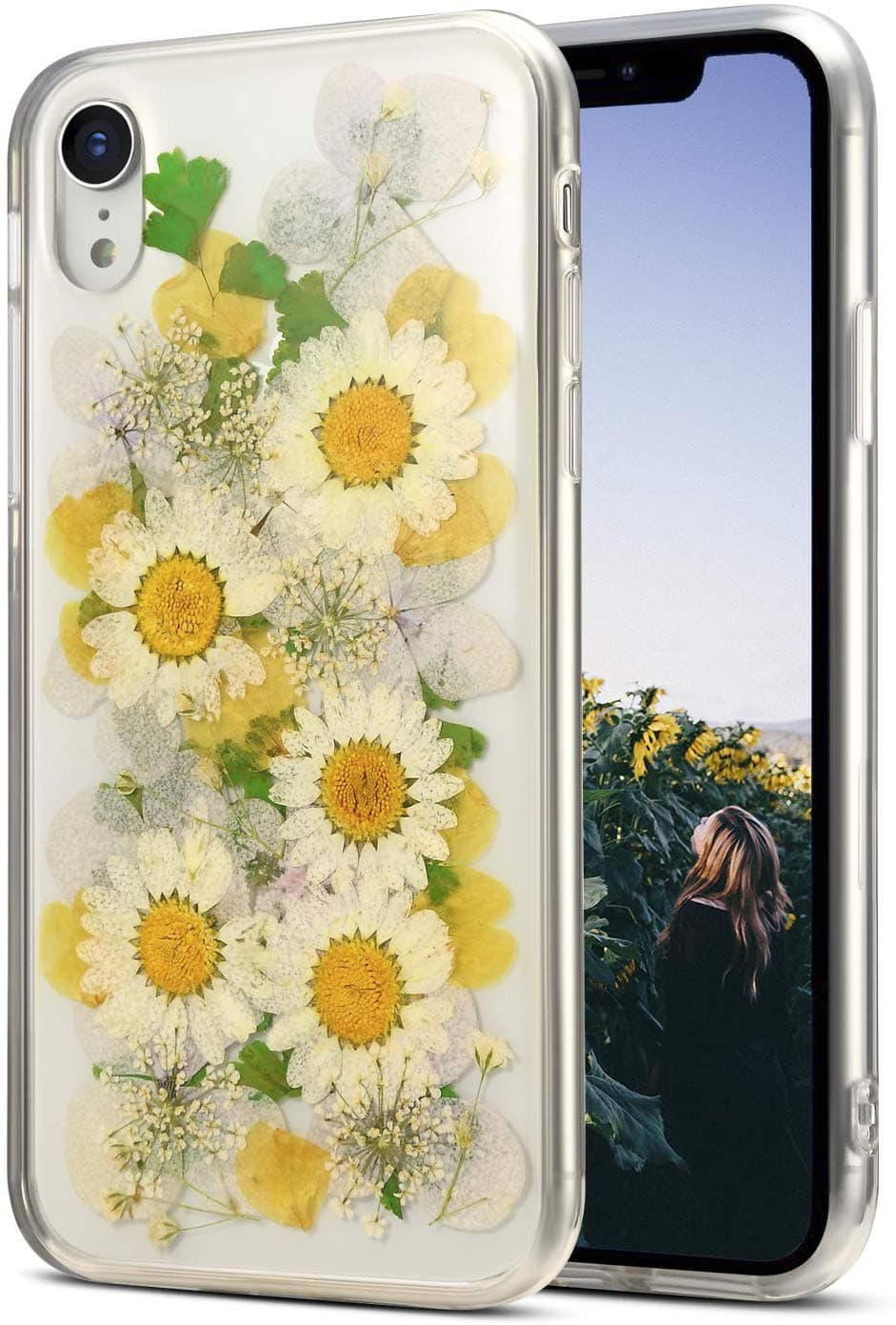 Real flowers on your cell phone? These cases have REAL flowers pressed between the layers of plastic so you can show off your favorite daisies.
Vintage Botanical Print – Aster Botanical Poster
This digitally restored piece is right for anyone who loves floral decor, vintage posters, or science! It's definitely a conversation starter.
The sweet pea and daisy are delightful spring flowers that are a perfect fit for the month of April. These fragrant blooms are simple, colorful, and brighten up any room or garden!