Disclosure of Material Connection: Some of the links in this post may be "affiliate links." This means if you click on the link and purchase an item, I will receive an affiliate commission. Disclosure in accordance with the Federal Trade Commission's 16 CFR, Part 255. This site is a participant in the Amazon Services LLC Associates Program, an affiliate advertising program designed to provide a means for sites to earn advertising fees by advertising and linking to Amazon.
The end of the school year is approaching and you want to get those kindergarten kiddos something special as a "goodbye" or "see you next year" gift. As a teacher, you know getting something for everyone can be expensive. There are quite a few gifts in this list that are not going to break the bank, some that might a little bit, and others that could potentially break the bank. Check them out and see which ones will work best for you and your students!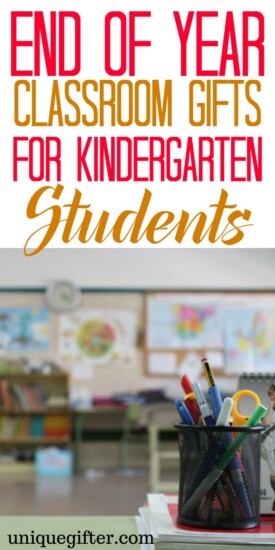 "Last day of kindergarten" Chalkboard Print
This "Last day of kindergarten" chalkboard print will make your students light up. You can personalize each one with metallic permanent markers and write them each a note.
"First stop: kindergarten, next stop: Hogwarts" Harry Potter Themed Embroidery Design File
Grab up a bunch of white shirts (or color of your choice) and this embroidery design will make your kiddos day, especially if they love magic and Harry Potter. Thrift stores will be a great place to find kids' shirts, or bulk buy them online.
Gold Puzzle Charms
These gold puzzle charms come in orders up to 20 and 40 charms. You can put them on a keychain, necklace, bracelet, or whatever you choose.
5-Pack of Kids Shirts
Along with a pattern or some permanent markers, you could make your own shirts for the kids with their names on them and "class of" or something similar to end the year on a positive note.
Activity Puzzle Elephant Connect the Dots
They can practice their connect the dots skills over the summer with this activity puzzle elephant and even color him in.
DIY Printable Kids Stamping and Coloring Page
Another way they can practice the skills they learned throughout the school year, is with this printable kids stamping and coloring page for alphabets and colors.
Wooden Educational Puzzle
What is red, blue, green, orange, purple, or yellow? Each of these wooden educational puzzles are based on a color, and they are budget friendly too.
Small Blank Colored Index/Flash Cards
Make your own flashcards for the kids, either printing off the computer or writing them by hand. They will be more likely to practice what they learn at home over the summer if it's something that is fun!
Tie-Dyed Drawstring Tote Bags, Pack of 12
These tie-dyed drawstring tote bags come in different colors, and in a set of twelve. Depending on the number of kids in your class, this is also budget-friendly but personalizable and functionable at the same time.
Superhero Activity Coloring Pages Instant Download
Who doesn't love superheroes? Chances are, the kids in your class will love coloring these pages over the summer and the parents will be thankful you gave their kid something that will keep them busy too.
"Straight outta ______" Shirts
This is one of the more expensive choices, if you're getting one for each student in your class, but they are trendy and fun!
Farm Animal ABC Printable Page
Farm animals will make practicing their ABCs even more fun and keep the concepts fresh in their minds as they prepare for first grade.
Greater Than/Less Than Printable Cards
Super handy for teaching them which is bigger or smaller than the other, and their parents can help them too.
Personalized "I'm a kindergrad" with Year of ____ Shirts
Another more expensive choice, these shirts will give your students a sense of pride that they finished kindergarten and are ready to advance onto first grade.
Graduation Cap and Diploma Crayons
Crayons are always a fun gift, and ones shaped like a graduation cap and diploma will be something they cherish.
Alphabet Playdough Mats Printable
They can shape their playdough like the alphabet, and that will help keep their minds sharp over the summer.
Banana Counting Activity Instant Download
Who wouldn't love counting bananas? Tasty fruit and practicing counting in one!
Graduation Kindergarten Diploma Instant Download
Along the same lines as the molded crayons above, this kindergarten graduation diploma instant download will give them and their parents something tangible as they leave your classroom and go on to bigger and better things.
"I cannot 'wafer' summer! I enjoyed being in class with you…" Printable Cookie Bag Toppers
Pack up some bags with vanilla wafers and remind the kids that you enjoyed having them in your class, but are just as excited for summer vacation as they are!
Owl Graduation Crayons
These owl graduation crayons could be a great gift instead of the ones above, or in addition to!
Kindergarten is a big accomplishment, and teaching kindergarten is hard work. Celebrate the end of the year with a nice little gift for the kids and their faces lighting up will be a nice little bonus for you.