Disclosure of Material Connection: Some of the links in this post may be "affiliate links." This means if you click on the link and purchase an item, I will receive an affiliate commission. Disclosure in accordance with the Federal Trade Commission's 16 CFR, Part 255. This site is a participant in the Amazon Services LLC Associates Program, an affiliate advertising program designed to provide a means for sites to earn advertising fees by advertising and linking to Amazon.
Letter themes are so much fun, especially when they are for a letter as awesome as P! There are so many great toys that start with the letter P and the kids are sure to enjoy learning about them all and playing with them too. Check out some of these ideas below. I have gifts to make your child feel special, and you can stick to the letter P with all these fascinating gifts below.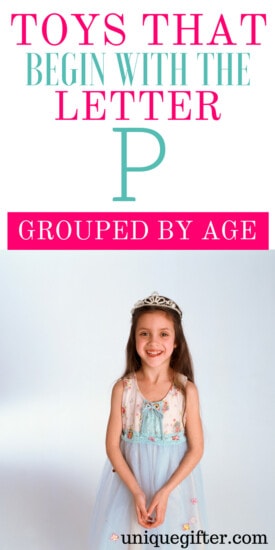 From pigs, to Power Rangers, to parachutes, P is a fun and engaging letter to focus on. So, if your kiddo has a P-themed day at school and needs to bring something for show-and-tell, this list will come in handy! Check each one of these awesome toys out!
Find more toys for the rest of the alphabet:
Toys that Begin with the Letter P Ages 2-5
Peppa Pig Saucer Chair
The Peppa Pig saucer chair isn't as much of a toy as a place for them to sit, or sit and read, but it is certainly more fun than a plain chair.
Playskool Pony Friend
Every kid, or classroom, needs a pony friend!
Halloween Costume Rubber Duck
This rubber duck in a pumpkin Halloween costume is quite a funny one, isn't he? The kids will love him, even if it's not Halloween!
Panda Backpack
Panda backpacks are great for the individual kid, as well as in the dress up area of the classroom.
Pig Buckle Toy
Help them learn more about buckles with this cute little pig buckle toy!
Play Kids Sand Toys Bucket Set
Wherever there is dirt, mud, or sand, there should be some buckets and shovels!
Play Kitchen Pots and Pans
Play kitchen pots and pans are a great way for them to practice cooking and learn how to do things around the kitchen.
Patriotic Inflatable Beach Balls
This is a big set of patriotic inflatable beach balls to keep everyone entertained for hours.
PJ Masks Toy Kit
PJ Masks is a fun show of kid superheroes who save the day! Give them this toy kit to keep them busy and having fun.
Pillow Pets Snuggly Puppy
Every young child could use a snuggly puppy to snuggle up with.
Penguin Stacker Toy
They can learn to stack and have fun building a penguin at the same time with this penguin stacker toy.
Push and Go Sliding Cars
These push and go sliding cars are great for imaginative play.
Princess Tiaras
Imagining that they are princesses is one of the most fun ways they can use their imaginations.
Paw Patrol Treat Time Marshall
Paw Patrol treat time Marshall makes feeding treats even more fun.
Pirate Dress-Up Doll
They can dress this doll up as a pirate over and over again.
Play Food for Toddlers
Play food will always be fun, even as they get older. They can cook whatever they want and play restaurant.
Piano Keyboard Toy
Pianos are one of the best instruments, it's only natural that they have one that they can practice on.
Plush Porcupine
This plush porcupine will not poke them like a real porcupine, which makes it actually fun to play with.
Pink Power Ranger Ninja Steel Costume
Who doesn't love dress up? And to be a pink power ranger from Ninja Steel, they can take on the world!
Princess Parade Cinderella & Pals Float
Buy Now

The kids can put on their own parade with the Princess Cinderella and pals float all ready to go.
Toys that Begin with the Letter P for Ages 6-8
Peppa Pig Deluxe House
This list would not be complete without a Peppa Pig toy, and the deluxe house is the way to go.
Party Packs Favors for Kids 50 Pieces
P is for party time! WIth this party packs favors for kids, there is plenty for everyone, especially if you have a classroom or house full of kids.
Power Brand Tenkai Knights
There are six figures here, which makes play time even more fun.
Pit Balls pack of 50
Whether or not the pit balls go into a ball pit, they can be fun to play with. You can even put them in a kiddy pool!
Pop the Pig Game
Games are fun for learning teamwork, playing with others, and figuring out strategy. That's where Pop the Pig game comes in!
Pressman Mancala for Kids
With animals as the game pieces, this Mancala game made by Pressman, will keep them busy for hours.
Pac-Man Action Figure
Pac-Man is a classic, and your child will have fun with the action figure as well.
Panic Pete Squeeze Toy
Panic Pete squeeze toy can be fun to play with, and can also help relieve stress along the way too.
Palm Tree Sprinkler
While this palm tree sprinkler is recommended for toddlers, it can be fun for older children as well.
Pandemonium Game
Pandemonium helps them recreate images and learn how to compete in a constructive manner.
Pet Parade Value Gift Box
Pet Parade value gift box will keep your child busy indefinitely, creating fun animals and maybe even putting together an actual pet parade.
Plants vs. Zombies Gift Box
Plants vs. Zombies is a fun game for many ages, and this gift box of peashooters and a fun zombie, is just as fun.
Penguins Board Game
What could possibly be more fun than a penguin parade game?
Playmobil Private Jet
Every kid needs their very own private jet, right?
Parachute Toys
These parachute toys were fun to play with since they were invented, imagine how much fun your children will have when throwing them up and watching them parachute down to the ground again.
Pink Kidizoom Camera Pix
A pink Kidizoom camera pix will help them learn the art of photography, or at least allow them to take pictures of all the things that mean something to them.
PlayMonster Lauri Photo Language Cards
Photo language cards are great practice and exercise the brain.
PVZ Winter Melon Plant Plush
This plant plush in the shape of a winter melon will be fun to play with and cuddle too.
Plastic Jumbo Blue Lens Sunglasses for Costumes/Photo Booth
Whether they want to set up a photo booth, dress up in costumes, or just be silly, these plastic jumbo blue lens sunglasses will make it a more memorable experience.
Rubber Pig Bath Toys
Buy Now

Rubber pig bath toys make bath or shower much more fun!
20 Toys that Begin with the Letter P for Ages 9-12
Pink pigs at a party, how fun does that sound? There are so many cool words and toys that begin with the letter P, as you will see if you read the list! Check each one out and choose one that your 9-12 year old will enjoy the most.
Puppy Surprise Polly
When puppies give the gift of surprise!
Paint a Tea Set
They can paint their own tea set now and express their creativity.
PlayMonster Stinky Pig
This PlayMonster stinky pig looks like a great fun to play with.
Peppy Pups Mutt
This mutt is a peppy pup, that's for sure! Your kiddo will want to take them everywhere they go.
Purple Jada Toys Big Foot Jeep RC Vehicle
Remote control cars, trucks, and jeeps aren't just for boys. They come in such a wide variety of colors that they are now for both girls and boys.
Pay Day Game
This Pay Day game was made by the same people as Monopoly, and can teach your kiddos a bit more about how pay day and expenses work.
Poopsie Slime Surprise Unicorn
You can't go wrong with something as fun as a Poopsie slime surprise unicorn!
Pattern Play
While this game might be geared more towards younger children, it can be fun for older children as well.
Paddle Ball Game
Get them active and engaging with each other with a paddle ball game and a little friendly competition.
Piggy Throw Pillow
They can use their piggy throw pillow wherever they want, on the couch or in their bed, or even on the floor.
Pink Plush Lil Benny Phant
Help your kid never feel alone with the pink plush lil benny phant by their side.
Pimple Popping Toy
While most people may think this is gross, it may be fun to a preteenager!
Penny Penguin Plush
Penny the penguin loves the cold, but she also loves snuggling up with her favorite preteen too.
Picture Words Bingo Game
They can play this game until the cows come home, with friends or family.
Petal Float Princess Rapunzel Doll
Great for pool or bath play!
Press-On Jewels Rhinestone Picture Frame
They can use their imagination and creativity to create their own press-on jewels rhinestone picture frame to put a picture of their pet or best friend in.
Plants vs. Zombies Cactus Popper
I don't know about you, but the name of this cactus popper sounds interesting!
Police Station for LEGO City
They can build a police station right in the middle of their room or the middle of the house. Who knows who they will arrest!
Polly Pocket Adventure SUV
Oh no, Polly Pocket is mobile now!
Pops Craft Paper Chain Dolls
You may think that paper chain dolls are a thing of the past, but they can still be a ton of fun.
When I think of the letter P, I think of pigs and pink, and that puts a fun picture in my mind.