Toddlers are usually pretty easy to shop for but these uniquely Easter themed gifts will have them hopping with excitement. Each one of these toddler friendly gift ideas was chosen specifically with young kids in mind.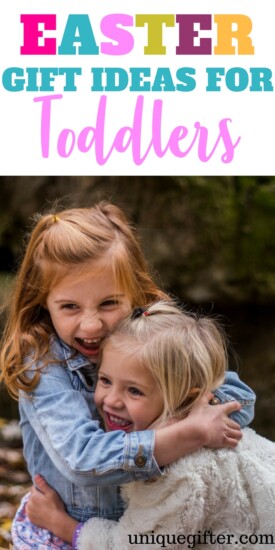 Skip the chocolate and sugary treats and give your toddler (or the toddlers in your life) something unique for Easter this year.
Easter Gifts for Toddlers
Keep little ones happy with these toddler friendly gift ideas for Easter. They're chosen to hit that specific developmental stage known as toddlerhood; a bit older than baby, but not quite big enough to get preschool or kid Easter gifts.
These Easter gifts for are perfect for toddlers, but if you still didn't find the perfect Easter present try these Easter Gift Ideas for Preschoolers or 20+ Non-toy Easter Gift Ideas for Toddlers too! Hope everyone in your family has a hoppy Easter!