Disclosure of Material Connection: Some of the links in this post may be "affiliate links." This means if you click on the link and purchase an item, I will receive an affiliate commission. Disclosure in accordance with the Federal Trade Commission's 16 CFR, Part 255. This site is a participant in the Amazon Services LLC Associates Program, an affiliate advertising program designed to provide a means for sites to earn advertising fees by advertising and linking to Amazon.
Toddlers are usually pretty easy to shop for but these uniquely Easter themed gift ideas will have them hopping with excitement.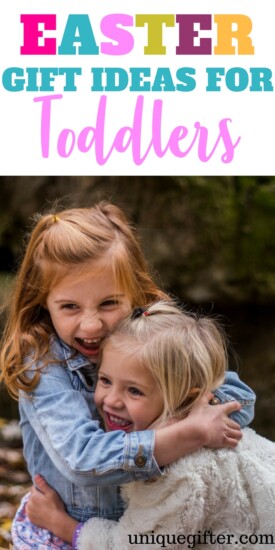 Easter Gifts for Toddlers
Hide and Squeak Eggs
This adorable egg themed shape sorter is a perfect first game for toddlers.
Bunny Slippers
There probably isn't anything cuter than a toddler wearing bunny slippers, so get them a pair for Easter.
Handmade Fleece Bunny
Adorable, handmade fleece bunnies that are perfectly toddler sized.
Bunny Shirt
"Hip hop", this cute toddler shirt will make them looking stylish on Easter morning.
Name Puzzle
Teaching toddlers to spell their name is even easier with this wooden name puzzle. Plus they can practice their puzzling skills at the same time.
Crocheted Garden Food
It may be too early to play in the garden but little ones will love these soft veggies. You can even mix and match to create your own custom set.
Gardening Set
Easter means spring and spring means planting. Toddlers love to help in the garden so get them their very own gear sized just for them.
Bunny Hat
Little bunnies need little bunny hats and these are the cutest little bunny hats around.
Wind Up Toys
These little toys are like toddler crack but be warned, you may find yourself winding them up over and over and over again. A perfect gift for your friend's toddler.
Egg Shaped Maracas
Turns out Easter eggs can double as coloring maracas for your toddler.
Egg Crayons
Chunky crayons are great for little hands. These ones are egg shaped for Easter perfection.
Easter Book
For younger toddlers you can choose an Easter themed board book, like this one with a popular character.
Peter Rabbit Coloring Book
The classic Easter book Peter Rabbit is here for your toddler to color in its entirety. Pretty cool!
Rainbow Hand Satin
These open-ended toys are a perfect addition to a toddler's toy box. They'll be delighted watching the pastel silks flow behind them.
Easter Outfit
Toddlers will be delighted seeing bunnies on their clothes when you give them a cute Easter outfit to wear.
Bunny Ear Hair Piece
Hop to it and get this bunny ear hair tie for your little girl. Perfect for parties or special Easter gatherings!
Easter Snack Bags
Toddlers need a million snacks and what better way to keep them than in reusable snack bags? These ones are covered in cute Easter prints, ready for you to fill with treats.
Stuffed Rabbit
Toddlers are the perfect age for stuffed bunnies, but don't get them just any bunny. This one is cute and well made.
Felt Busy Bag
Having busy bags on hand for toddlers is a lifesaver. Get them this Easter themed one to keep them busy while you cook Easter dinner.
Premade Easter Basket
Take the stress out of Easter shopping by getting a pre-filled Easter basket with your toddler's favorite character on it.
Hope everyone in your family has a hoppy Easter!