Disclosure of Material Connection: Some of the links in this post may be "affiliate links." This means if you click on the link and purchase an item, I will receive an affiliate commission. Disclosure in accordance with the Federal Trade Commission's 16 CFR, Part 255. This site is a participant in the Amazon Services LLC Associates Program, an affiliate advertising program designed to provide a means for sites to earn advertising fees by advertising and linking to Amazon.
Mother's Day between a mother- and daughter-in-law is a special occasion. You are both mothers to very important people in your life. Since getting a gift for your daughter-in-law might not be such an easy task, this list will be very useful.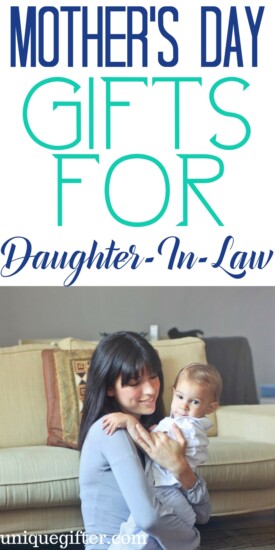 Mother's Day Gifts for a Daughter in Law
Hopefully these handy gift ideas for your daughter in law will help bring your closer together. And if you're the daughter in law reading this, here's some gifts that your mother in law will love too.
"Family not by birth, but by good fortune. I am so grateful to have you in my life." Print
Your daughter-in-law isn't related to you by blood, but when you are grateful for them, framing this print in a cute frame and giving it to her for Mother's Day will be the perfect gift for Mother's Day.
Two Interlocking Heart Necklace
The two of you have a lot in common. You both care very much about a certain man in your lives.
Personalized Cutting Board
Every wife and mother needs a personalized cutting board in their kitchen to make cooking more fun!
"Mother, a title just above Queen" Shirt
In the family, a mother is just above queen. She is the mother of her household, and sometimes she needs the reminder that she is just as important as everyone else.
Diamond Cluster Ring
Maybe a little expensive, this diamond cluster ring will certainly surprise her and make her cry happy tears this Mother's Day. It is a really touching gift from mother to daughter-in-law.
Mustard and Pink Floral Infinity Scarf
A beautiful scarf to keep her neck warm or to complete an outfit.
Family Tree Bangle Bracelet
This family tree bangle bracelet will remind her that her family is always close to her heart and won't leave her side.
"Moms like you are precious and few" Necklace
Remind your daughter-in-law that moms like her are precious and few. She is a rare gem and very much appreciated, even when no one shows it.
"Boy mom, less drama than girls, but harder to keep alive" Shirt
If your daughter-in-law is a boy mom, she will understand the sentiment of this shirt very well and laugh every time she wears it.
Mother's Day in a Box
There are going to be times on Mother's Day that you just don't know what to get her, so a simple Mother's Day in a box is a great choice to let her pamper herself.
Rouxbe Online Cooking Course
If your daughter in law has always wanted to bake amazing desserts, get her a Rouxbe Online Cooking course as a gift. There are tons of class choices that result in tons of amazing dishes. Click here to read a full review of Rouxbe.
"My favorite people call me mama" Coffee Mug
It's true, her favorite people (and likely yours as well) call your daughter-in-law mama.
Silicone Teething Necklace for Breastfeeding Mom
If your daughter-in-law is breastfeeding a teething baby, this silicone teething necklace is both functional and aesthetically pleasing.
Personalized Welly Boot Print Family Portrait with Boots
Their whole family could be represented on this portrait of boots, including the pets, and will look great hung up on their wall at home.
Engraved Leather Wallet
A pretty leather wallet, engraved with her initials, will probably end up being her favorite gift this Mother's Day. As a mother yourself, you understand that dads and kids don't always know how to buy the right gift for mom.
"Out numbered by tiny humans" Shirt
She is always outnumbered by tiny humans. This shirt will help her give a warning to anyone who talks to her.
Custom Recipe Book Binder
Every mom needs a custom recipe book binder to keep their own recipes that they have made, tweaked, or had passed down to them. You can even include a few of your own family recipes in the book when you give it to her to make it extra special.
"Wife, mom, boss" Shirt
She is a wife, a mom, and a boss. No question about it!
Sideways Flying Bird Necklace
Sideways flying birds are beautiful, and her new necklace will go with any outfit she chooses to wear.
Unicorn Glitter Personalized Tumbler
If she likes unicorns, she will absolutely love this unicorn glitter tumbler that can be personalized with her name or initials, or simply the word "mom," for Mother's Day.
Hopefully these Mother's day gifts for a daughter-in-law have helped inspire you to find the perfect present for your child's wife. Still need more ideas? Never fear, when you are at a loss for what to get someone for any holiday, especially Mother's Day, gift lists will save the day!