Disclosure of Material Connection: Some of the links in this post may be "affiliate links." This means if you click on the link and purchase an item, I will receive an affiliate commission. Disclosure in accordance with the Federal Trade Commission's 16 CFR, Part 255. This site is a participant in the Amazon Services LLC Associates Program, an affiliate advertising program designed to provide a means for sites to earn advertising fees by advertising and linking to Amazon.
Are you looking for the perfect gift ideas for the letter J? You're in the right place!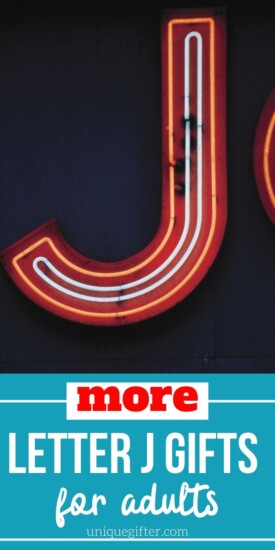 Check out this list of 20 inventive gift ideas for the letter J
You're sure to find what you've been looking for. Whether it's a letter themed gift exchange, a scavenger hunt or just for fun these letter J gifts will have them jumping for joy. If you went ahead of an extra letter, we have the Letter I ready too.
Jojoba Oil
This natural Jojoba oil leaves hair, skin and nails feeling super smooth. Any beauty addict will appreciate it!
Journal
Who doesn't love receiving a brand new journal? It's blank pages always seem filled with possibility.
Jump Rope
Do you need to buy a gift for someone who's looking to get in shape? Help them out and take them back to their childhood by giving them this jump rope!
Jewellery Stand
This pretty jewellery stand makes a lovely, unique gift for the letter J.
Jasmine Green Tea
Tea lovers will be happy to receive this box of high-quality jasmine green tea. They'll love having some more tea to add to their collection!
Japanese Candy
Treat your friend twice with an authentic Japanese experience and loads of candy!
Jade Roller
Give the gift of a facial massage with this Jade Roller. It's a traditional China beauty tool that is meant to help prevent wrinkles and skin aging!
Jalapeno Rack
BBQ fiends will love adding this Jalapeno Rack to their outdoor cooking collection! Perfect as creative gift ideas that start with the letter J.
Jazz Music
Do you need to get a J gift for a music fan? Get them some jazz music and watch them smile!
Jedi Robe
Star Wars fans will go crazy when they receive this Jedi robe. Just don't be surprised if it becomes their main outfit of choice!
Jelly Beans Gift Box
If you need to a gift for a friend with a sweet tooth, this Jelly Beans Gift Box is a great choice. It's got 40 different flavours that they can combine to make their own new tastes!
Jenga
Who doesn't love a game of Jenga? This timeless classic will give your friend hours of fun!
Jigsaw Puzzle
For those who like to exercise their brain, this jigsaw puzzle is a great gift.
Joke Book
Do you need to get to get a gift for a guy who thinks he's funny? This book of jokes that every man should know will help him to achieve his ambition of making others laugh!
Juicer
Health food fans will appreciate this juicer. They can get creative and make their own flavors of juice out of anything – fruit or veg!
Juggling Balls
Challenge your friend to learn a new skill with this set of fun juggling balls. They'll be running away to the circus before you know it!
Jukebox Speaker
This retro style Jukebox Speaker is a great gift for any friends you have who wish they were born in the fifties!
Jute Rug
Add some rustic charm to your friend's home with this characterful Jute Rug.
Jupiter Necklace
Know someone who's saving for a trip to space? They'll love this intergalactic gift of a beautiful Jupiter necklace.
Jumbo Playing Cards
Do you need to get a gift for someone who loves a game of cards? Get them these Jumbo Playing Cards to add to their collection. Then watch them try to hide their hand during the next game of poker!
More Letter J Gifts for Adults
So you are looking for a random gift that begins with the letter 'j." Well, don't worry! I have got you covered. No matter if you are looking for real gifts that are going to serve a purpose and get a lot of use, or silly white elephant type gifts, you are sure to find some great ideas down below. Give them a quick look!
Junk Drawer Organizers
We all have at least one junk drawer in our home. Sometimes even a couple of them. However, just because it's a junk drawer doesn't mean that it has to be messy. These junk drawer organizers are sure to come in handy.
Jogging Belt
Jogging may not be for everyone, but those who enjoy a good work out are likely going to love this no bounce jogging belt. Though, I suppose it would make a great pair of pockets for anyone who is out and about and doesn't want to wear a large fanny pack.
Leather Journal
The wonderful thing about journals is that they aren't necessarily just for writing thoughts like you would a diary. This gorgeous, handmade, leather journal is perfect for jotting down notes, measurements, drawings, and basically anything!
Jigsaw Puzzle

There are easy jigsaw puzzles, and there are those that make you wonder why you even began. This beautiful, starry jigsaw puzzle is the latter. In fact, it is just the kind of puzzle for someone who enjoys a challenge!
Jam Making Kit
If the recipient enjoys spending time in the kitchen and enjoys homemade goods even better, there's a good chance that this canning kit is going to be a welcomed gift! The kit has nearly everything needed to make jam, except for the fruit and sugar!
Jurassic Movie Collection
Who doesn't love the Jurassic Park/World movies? Those terrifying dinos are now combined into a 5 disc Jurassic World collection. Available on Blu-ray and DVD!
Juniper Wood Trivet
This gorgeous wood trivet is topped with pieces of juniper wood. The wood is heat resistant, making it safe to place hot dishes atop. It can also be used as a coaster!
Jelly Straws
Jelly straws are fabulous! Give them a try and you'll be hooked!
Folding Emergency Jimmy
Some people are more prone than others to lose their keys or lock them in the car. And those who are prone are going to get a lot of use out of this emergency folding jimmy. No more being taunted behind the locked car door, by a set of keys in the cupholder!
Jillian Michaels Total Body Workout DVDs
If you have a friend who just can't quite get to the gym like she'd like to get her this boxed set of Jillian Michaels workout DVDs. It has four different DVDs to work out the entire body!
Jungle Themed Drapes
How fun and relaxing are these jungle-themed drapes? These drapes would make the perfect addition to a relaxing room in anyone's home and make perfect gift ideas that start with the letter J.
Professional Jewelry Cleaner
Jewelry, rings, glasses, the Magnasonic professional jewelry cleaner cleans it all.
Jojoba Oil Hand Salve
Dry, rough hands can be unbearable. The solution? Jojoba oil hand salve! Made from all-natural ingredients.
Ceramic Jack-o-lanterns
How adorable is this set of ceramic jack-o-lanterns? Not only do they have cute faces, but they even have lights inside, like real jack-o-lanterns.
Which of these inventive gifts for the letter J are you going to choose? If you do buy any of these gifts, we'd love to hear about it! Let us know in the comments or find us at @ugifter on twitter and @uniquegifter on Instagram.
For more inspiration, here is the ultimate list of gifts that start with every letter of the alphabet.