Disclosure of Material Connection: Some of the links in this post may be "affiliate links." This means if you click on the link and purchase an item, I will receive an affiliate commission. Disclosure in accordance with the Federal Trade Commission's 16 CFR, Part 255. This site is a participant in the Amazon Services LLC Associates Program, an affiliate advertising program designed to provide a means for sites to earn advertising fees by advertising and linking to Amazon.
You want to buy a fun and thoughtful gift, but you also want to add a unique touch to it. Well, you may want to consider one of these 20 Fun Laser Engraved Gifts.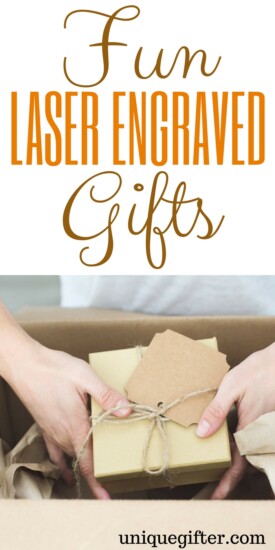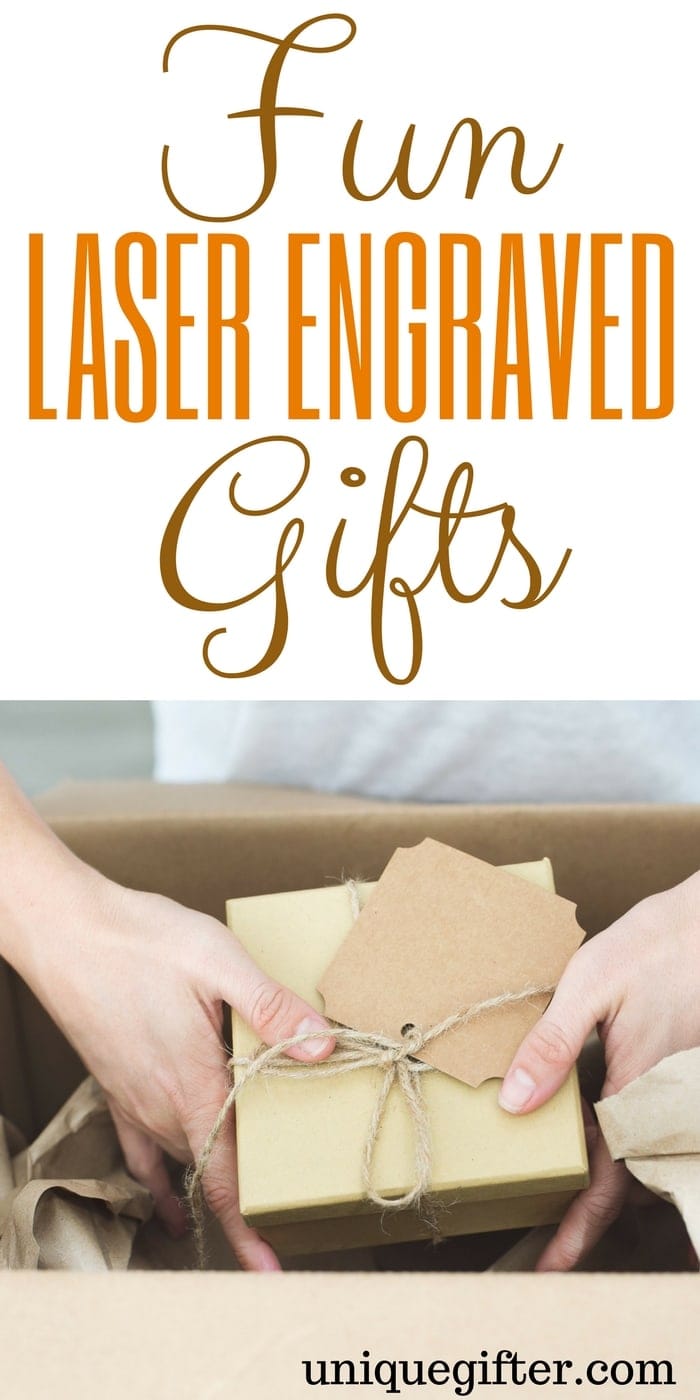 For even more, take a look at this list of Laser Engraved Gift Ideas.
Humorous "Spoon Me" Stainless Steel Spoon for Couples
This hilarious engraved Stainless Steel Spoon for Couples is sure to evoke a good laugh.
Laser Engraved Yoyo
For children or yoyo lovers of all ages, this customized yoyo would make the perfect gift.
Custom Engraved Jenga Blocks
These customized blocks make for a super fun party gift that everyone can enjoy.
Engraved Chess Set
If you have an avid chess player on your hands, this Engraved Chess Set will make them feel extra special.
Custom Engraved Cribbage Set
This Engraved Cribbage Set is a super unique, and fun, gift idea.
Laser Engraved Domino Set
This Domino Set comes with a Custom Engraved Rosewood Box that the recipient is sure to love.
Custom Coin
These Custom Engraved Coins are perfect for coin collectors.
Personalized Baseball Bat
For the baseball enthusiast in your life, this Personalized Baseball Bat makes the perfect gift.
Personalized Name Sign
Add the perfect touch to a child's bedroom with this Personalized Unicorn Name Sign.
Laser Engraved Treasure Chest
This Laser Engraved Treasure Chest makes a really unique keepsake or Memory Box.
Personalized Acrylic Display Case With Car
The car enthusiast in your life will absolutely love this personalized gift.
Engraved Wooden Music Box
This personalized vintage music box is super unique, and makes the perfect gift for those that are into the vintage look.
Personalized Wooden Block
This Personalized Wooden Block is the perfect gift for babies and young children to cherish forever.
Crystal Globe Award With Display Stand
Make someone feel extra special with this Crystal Globe Award with their very own name on it.
Personalized Kids Rolling Pin
If you have a Little Chef on your hands, this is a gift that will definitely be a winner.
19th Hole Personalized Bar Sign Wall Clock
This Wall Clock fits perfectly in one's bar, game room, or even in their restaurant or shop.
Laser Engraved Tumbler
This is a simple, yet super special, personalized gift to present to your friend or family member.
Custom Engraved ABC Block Bank
This Engraved ABC Block Bank is perfect for young children. This is a gift that will always be special to them.
Stainless Steel Custom Harmonica
If you have a musician or harmonica lover on your hands, they are sure to get excited over this Custom Stainless Steel Harmonica.
Custom Engraved 12in Hockey Stick
For your future hockey player, or children that enjoy the sport, this Custom Hockey Stick makes a very special gift.
You can express your heartfelt sentiments in a creative way using the ideas mentioned in this list. Opening a personalized gift will make the recipient feel that much more special.