Disclosure of Material Connection: Some of the links in this post may be "affiliate links." This means if you click on the link and purchase an item, I will receive an affiliate commission. Disclosure in accordance with the Federal Trade Commission's 16 CFR, Part 255. This site is a participant in the Amazon Services LLC Associates Program, an affiliate advertising program designed to provide a means for sites to earn advertising fees by advertising and linking to Amazon.
Husbands are notoriously hard to shop for on romantic occasions like Valentine's Day. It's nice to get them something romantic and special too, but what do guys want? Here's some gift ideas for Valentine's Day.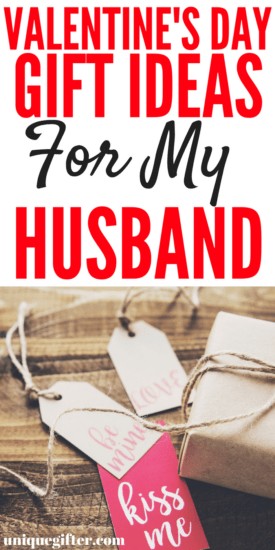 Memory Jar
This little jar comes with papers to write down your favourite memories with your spouse, either from the past or every time something special happens in the future. Or you can fill it up with all your favourite memories and reminisce together.
You Are My Rock
A literal rock for your figurative rock of a husband. Of course, this one is made of metal and engraved so it's a little bit more special than something you might find on the street.
Snack Gift Basket
What guy doesn't like snacks? This gift basket has an assortment of "man" snacks that he's going to love.
Hubby Pen
When a guy has everything it's hard to shop for him. This pen is engraved with "hubby", doubles as a flashlight, and has a stylus tip.
Matching iPhone Cases
It's so much fun to be that matchy-matchy couple! This cute set goes together without being too obviously a set when you're apart. Plus it's really cute!
Engraved Fork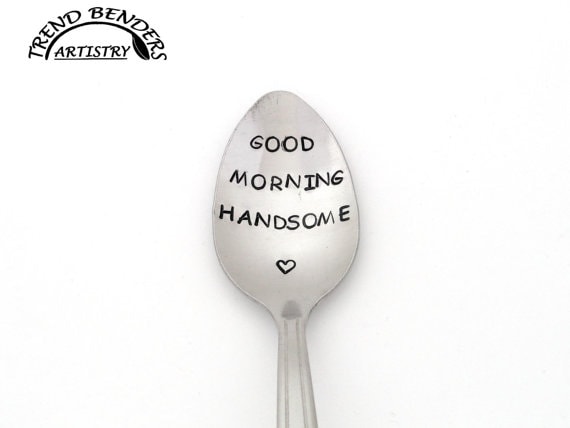 Picture serving him breakfast Valentine's Day morning and placing this fork on the table next to him. Something small can really make him feel special.
Honest Mug
This mug is way too honest about how you feel towards your husband. Get it for him so every morning he can be reminded that you'll literally fight anyone that's not him.
Quizzes For Couples
Wife Shirt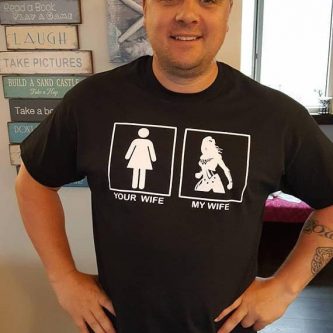 I'm sure there's no bias at all here when buying this shirt for your husband. None at all.
Adult Coloring Book
Have a romantic night in with a bottle of wine and this adult coloring book. Filled with grown-up pictures that depict married life, the two of you can relax and color away the stress of married life.
Naughty Coupons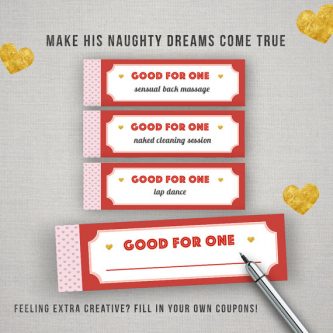 Spice up your Valentine's Day night or your love life in general with these naughty coupons. Your husband will definitely enjoy this gift.
Men's Bath Salts
Guys need some r&r too – get them some things to relax and take a bath that won't make them feel or smell like a girl.
Best Husband Ever
Ah husband, the manly man, the fixer of things. He really is the best husband ever.
Journal
What's cool about this journal is it has questions for everyday that you both answer. Then, after 3 years, you have an amazing keepsake for the rest of your marriage.
USB Mixtape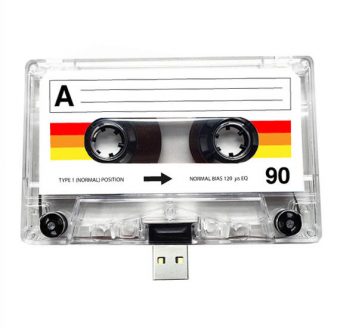 Get your 80s romance going with this retro-inspired USB drive. That's right, you can make your husband a romantic mixtape, but plug it into any computer.
I Heart You Notes
Why do you heart your husband today? Show him with this handy-dandy notebook.
I Want to Checklist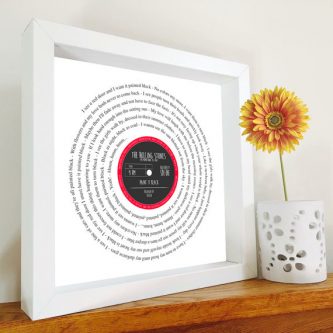 Based on the song "I Want to Grow Old With You" this print has a checklist of all the things you'll do (according to the lyrics). Very cute and romantic.
Let's Not Talk About Last Night Mug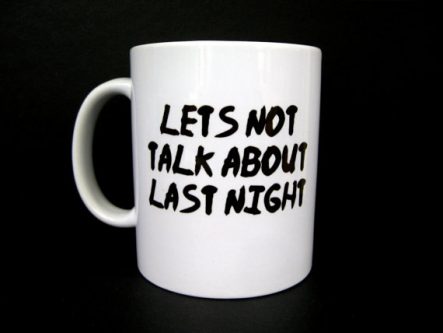 This mug can mean so many different things making it the perfect Valentine's Day gift for your husband. Was there a fight? Drunken shenanigans? Wild sex? Who knows, we're not talking about it.
Naughty Board Game
Valentine's Day is the perfect excuse to try out a naughty board game with your husband. Even if your love life doesn't need spicing up these can be a lot of fun.
Romantic Gift Basket
It wouldn't be Valentine's Day without chocolate. This gift set has a combination of sweet and savory treats that your husband will enjoy.
Or you can always yourself some sexy lingerie…