Disclosure of Material Connection: Some of the links in this post may be "affiliate links." This means if you click on the link and purchase an item, I will receive an affiliate commission. Disclosure in accordance with the Federal Trade Commission's 16 CFR, Part 255. This site is a participant in the Amazon Services LLC Associates Program, an affiliate advertising program designed to provide a means for sites to earn advertising fees by advertising and linking to Amazon.
Sometimes finding humor in life-changing events can ease the stress that goes along with it? Funny new dad gift ideas are precisely what you need to give to that scared new father. Most dads are pretty squeamish when it comes to their new baby. That first dirty diaper that he has to change, getting puked on or all the crying is enough to stress any new dad out. That is where these funny gifts come in handy. Each one is perfect for helping to ease his concerns and stress. Have a look at these hilarious gift ideas.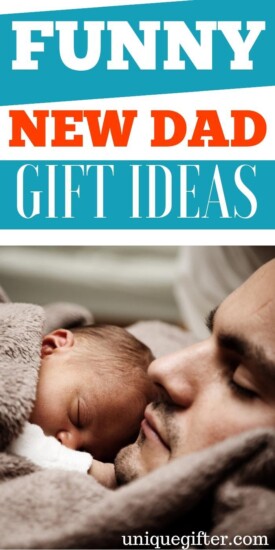 Father's Day is Just Around the Corner!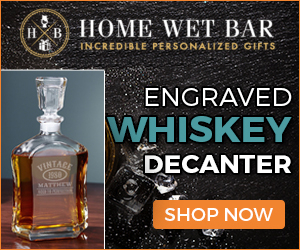 Hilariously Funny New Dad Gift Ideas
Dad and everyone else will get some laughs out of these gift ideas.
Funny T-Shirt
There is so much truth to this hilarious shirt! This shirt is made of cotton and polyester, and it is super comfortable. Dad will be so stylish too!
Daddy's Doo Doo Diaper Duty Apron
Every new dad needs an apron with doo doo on it! Plus, this apron will help dad keep his clothes clean when he is changing all those dirty diapers.
The Baby Owner's Manual
Whoever said when you have a baby you don't get an owners manual is entirely wrong! This hilarious and helpful guide is precisely what he needs.
Car Decal
All the cool dads need this baby on board decal! When he is driving the baby around, he will surely get a few laughs from people!
Dad Bag Fanny Pack
Well, now dad is going to have to carry around all the necessities for taking care of the baby. Pacifiers, extra socks, and baby wipes! This fanny pack will be way more comfortable to wear than anything else. Plus, it is downright hilarious!
Good Day, Bad Day Glass
Let's face it, as parents; we have good days and bad days! He will love having a drink to unwind after a long day once his kiddo goes to sleep.
Beer Cozy
There are several options and colors to choose from to personalize your beer cozy. Drinking a cold one will be even more enjoyable with this fun cozy.
Dad Life Coloring Book
Even dads need to color sometimes. All the pictures make me laugh so much! I am confident he is going to get a kick out of this adult coloring book.
How To Traumatize Your Children Book
The new daddy is bound to crack up at this book on how he can personally traumatize his new baby! This is a funny book that he will enjoy.
Dad Tumbler
You can personalize a tumbler for the new father. Add whatever clever wording you want, and everyone will have a few laughs!
Socks
Funny socks that will keep his feet warm while entertaining anyone who lays eyes on them. Plus, they are comfortable too.
Diaper Duty Device
Dad's all over the world should have this adorably funny diaper duty device. He will be able to have all his supplies in one place no matter where he is at.
Keychain
"Daddy drinks because you cry" engraved keychain is perfect for the new dad in your life! It is funny but practical.
Matching Shirts
Dad and the new baby can wear matching "Drinking buddy" shirts! So funny!
Daddy's First Milestone Beer Labels
These labels will spruce up any old bottle of beer. Each one is entertaining and sure to get some laughs.
New Dad Kit
He is going to laugh out loud when he opens this new dad kit. Dad should be able to keep track of all the baby stats with ease.
Funny Onesie
Okay, so technically the onesie is for the actual baby, but dad is going to love it too! He will be proud to see his kiddo wearing it.
Labor & Delivery Armband
While this gift is actually useful to help dad be a great labor coach, it is also very humorous! It is comfortable, and it has notes so he can be a great labor coach.
Dad Survival Kit
Adorable survival kit has all the playful items a new dad might need in any situation. He can easily carry it with him wherever he goes.
Welcome To The Club: 100 Parenting Milestones You Never Saw Coming
Okay, every new dad (and mom) need to read this side-splitting book! It gives you a real look at what parenting is actually like.
I want to hear all your funny new baby stories in the comments below!