Disclosure of Material Connection: Some of the links in this post may be "affiliate links." This means if you click on the link and purchase an item, I will receive an affiliate commission. Disclosure in accordance with the Federal Trade Commission's 16 CFR, Part 255. This site is a participant in the Amazon Services LLC Associates Program, an affiliate advertising program designed to provide a means for sites to earn advertising fees by advertising and linking to Amazon.
I have to admit that I don't know a lot about Kwanzaa and was excited to learn more before I wrote this post. Kwanzaa is a cultural celebration that is the brainchild of Maulana Karenga. The idea behind Kwanzaa was to create deeper connections within the African American community via a unified cultural celebration. The great thing about Kwanzaa is the emphasis on the 7 core principles that you can read more about here. Gifts given are encouraged to be educational and the emphasis is that gifts be given to children.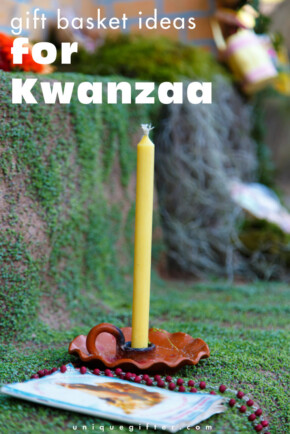 1.Harambee! Kwanzaa Family Guide
For the family who is new to celebrating Kwanzaa this guide will help you learn the ins and outs of following this celebration.
2. 1001 Things Everyone Should Know About African American History
This book is a fun and interesting look into the history of African Americans in the United States. Discover some of the amazing inventions, people, and cultural movements that African Americans have contributed to the United States.
3. Great Speeches by African Americans
Share some of the most moving and inspirational speeches shared by African Americans through out history. Share this with wonderful book with your family and friends.
Buy Now
4. Black Inventors, Crafting Over 200 Years of Success
Find out all of the amazing contributions Black inventors have created and shared with the world. From George Washington Carver to other inventors across the span of the African diaspora-this book will amaze you.
5. Kwanzaa Candle Set
To celebrate Kwanzaa you do need a set of candles specific to Kwanzaa. This set of red, black, and green candles will get you through the seven days of celebration.
6. Kwanzaa Pyramid Candleholder & Celebration Set
In order to celebrate Kwanzaa you need a candleholder, candles, and unity cup. Instead of trying to figure out where these items are you can get them and information on how to go about celebrating Kwanzaa properly.
Buy Now
7. My First Kwanzaa
If you've decided to begin observing the Kwanzaa holiday, teach your children about the different customs with this book. Children are supposed to receive books and other educational items during Kwanzaa so this gift fits the bill.
Buy Now
8. Amazon Gift Card!
Print out a Kwanzaa Gift Card (or Thank You Card) at home after you load up your card today. Everyone loves Amazon gift cards because you can get items ranging from food to clothing.
Buy Now
9. The Black Candle
The Black Candle is a documentary about Kwanzaa and the process of creating and sharing this concept with the African American community.  For those of you who are curious about this celebration and how it came to be, this film will help you understand why it came to be.
Buy Now
10. Wooden Kwanzaa Unity Cup
This cup is made in Ghana and a lovely addition to the table.
Buy Now
11. Kwanzaa Principles Mug
Remember the principles celebrating during Kwanzaa while drinking from this elegant mug.
12. #Kwanzaa Mug
This mug pokes fun at social media while being fashionable. It's silver with black lettering and adds a bit of pizazz to any table during Kwanzaa.
Buy Now
13.Sweetie Pie's Cookbook
There's nothing better than great food during the holidays. Enjoy whipping up some great treats using this book. You can also catch Sweetie Pie on Oprah's Own network.
Buy Now
14. Recipes for Good Life
Recently we heard about Patti Labelle's amazing pie from a viral YouTube video.  Enjoy cooking some of her favorite meals with her cookbook.
15. My Life on a Plate
Who knew that Kelis could cook? This fantastic cookbook shares some of her favorite food discoveries from all over the world.
16. Grace Jones I'll Never Write My Memoirs
Grace Jones recently headlined New York Cities AfroPunk festival-at the young age of 67. This unapologetically trendsetting performer is the gift that keeps on giving.
17. Between The World and Me by Ta'Nehisi Coates
This is not a light read, but it's an important book for people to read and discuss. It's also interesting to note that Mr. Coates was also selected as a fellow this year by John D. and Catherine T. MacArthur Foundation.
18. Year of Yes: How to Dance It Out, Stand in the Sun and Be Your Own Person
Thursday nights have become must see t.v. nights because of Shonda Rhimes. In this thoughtful and candid book, Shonda shares why she decided to say "Yes" for a year and how it changed her life.
Buy Now
19. Legends, Icons, & Rebels Music That Changed The World
There are many people who believe that music is the universal language. Learn about the artists who created some of the songs that became the soundtrack to our lives.
Buy Now
20. 20 Feet From Stardom
If you've ever wondered about the singers behind stars this is the documentary for you. Filmed with sensitivity and honest, 20 Feet From Stardom will have you singing days after you watch the movie.
Buy Now