Disclosure of Material Connection: Some of the links in this post may be "affiliate links." This means if you click on the link and purchase an item, I will receive an affiliate commission. Disclosure in accordance with the Federal Trade Commission's 16 CFR, Part 255. This site is a participant in the Amazon Services LLC Associates Program, an affiliate advertising program designed to provide a means for sites to earn advertising fees by advertising and linking to Amazon.
Today we present a gift guide for Dr.Who fans. There are a lot of them, out there, who like to show their affection for this long running cult classic in various ways. There are over 800 episodes of Dr.Who in existence!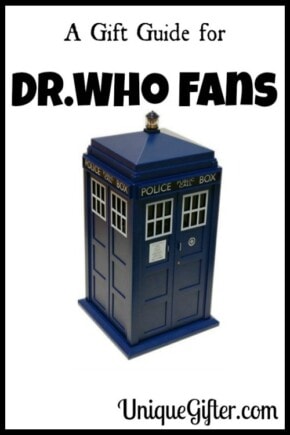 Here we have a collection of gift ideas that run the gambit from subtle, at home hat tips to the doctor, through to gifts that insert themselves into day to day existence, or take up a whole corner of you house!

Doctor Who Tardis 30″ X 60″ Beach Towel

Doctor Who Dr Dalek Exterminate Cotton Towel

Doctor Who's Disappearing Tardis Mug

Dr. Who the Eleventh Doctor's Sonic Screwdriver and Flashlight
Doctor Who Silicone Ice Tray and Chocolate Mold – TARDIS and Daleks Themed Mold Tray
Monopoly: Dr. Who Edition 50th Anniversary Collector's Edition

Doctor Who TARDIS 16 oz. Travel Mug

Doctor Who The Journal of Impossible Things with Mini Sonic Screwdriver Pen

Tardis Doctor WHO Messenger Bag

Doctor Who: Character Encyclopedia

Doctor Who Life-size Stand-up Cutout- Tardis

Doctor Who Tardis Dalek 2 Pack Socks, size 9-13

Dining With The Doctor: The Unauthorized Whovian Cookbook
Doctor Who TARDIS Projection Alarm Clock

Doctor Who Dalek Car Air Freshener

Dr. Who – Black Vinyl Decal for Macbook or Laptop
Dr Who Tardis Cookie Cutter Large – Blue PLA

Doctor Who Sonic Screwdriver Vibrating Toothbrush
Okay folks – that's our gift guide for Dr.Who fans. Which thing is your favourite? I think the toothbrush is pretty nifty.