Disclosure of Material Connection: Some of the links in this post may be "affiliate links." This means if you click on the link and purchase an item, I will receive an affiliate commission. Disclosure in accordance with the Federal Trade Commission's 16 CFR, Part 255. This site is a participant in the Amazon Services LLC Associates Program, an affiliate advertising program designed to provide a means for sites to earn advertising fees by advertising and linking to Amazon.
My Grandfather, who is the father figure in my life and one of my favorite people, never seems to have anything particular on his wish list. He spends all day driving as an Uber and Lyft driver(he previously drove for a different transportation/taxi service prior to going solo), and never asks us for anything. However, I like to surprise him with special gifts here and there. I especially like to get him gifts that could benefit him when out on the road. Do you have a taxi driver that you'd like to purchase a gift for? Well, you have landed in the right place. Check out this list of 20 Gift Ideas for a Taxi Driver.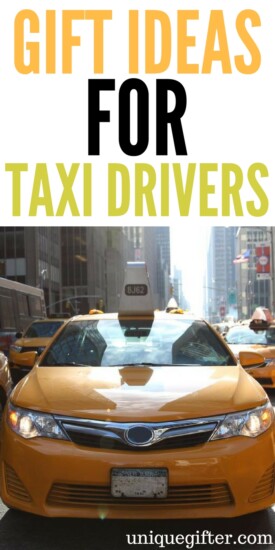 Car Mount Cell Phone Holder
Sitting your phone on your lap while you're driving isn't really a good idea, and having it slide around in the cup holder can also be a distraction as it draws your attention downward. A mounted cell phone holder gives drivers the perfect place to rest their phone while on the road.
Headrest Food and Cup Holder for back seat
This is the perfect accessory for a Taxi Driver to have in their car to serve passengers. Travelers can have their food and drink placed right in front of them while riding.
Car care kit
Every taxi driver should make sure their car is well cared for since it is being used to transport customers. With all of the passengers in and out of the vehicle, things can get messy. A car care kit would be a much-welcomed gift.
AAA Road Kit
The AAA Road kit comes with many essentials for handling a road emergency. This is something every taxi driver should have access to in their vehicle.
Headrest DVD player with headphones
Drivers can keep passengers entertained during those long trips with a headrest DVD player equipped with headphones.
Car seat cushion
Spending time sitting in a car for long periods of time can seriously cause some soreness. This car seat cushion will make sitting in one spot for extended periods of time a lot more comfortable.
Gel Neck Cushion
This gel neck cushion will help prevent neck pain caused from driving around in a car all day.
Counterfeit Money Detector Pen
It's always a good idea to have a counterfeit money detector pen on hand when collecting cash from passengers.
Mini Personal Portable Oven
Taxi drivers often find that they're eating a great deal of fast food while out on the road. A mini portable oven allows drivers to bring home cooked meals out to work with them, while having the ability to warm it.
Insulated Lunch Bag
A good insulated Lunch Bag allows drivers to pack a more filling and nutritious lunch. With a Lunch Bag to carry meals prepped at home, drivers can save money on food purchases and eat healthier.
Healthy Snacks Gift Basket
Another way to help drivers cut back on food costs and fast food stops is by gifting them a healthy snacks gift basket.
Disposable Vomit Bags
Many drivers overlook the need for disposable vomit bags, but this is something they will definitely want to keep on hand. Trust me, those late night bar pickups can get a bit messy.
Taxi Coin Holder
Storing change in the vehicle can be made a lot easier with a Taxi coin holder.
Wireless Charging Pad
A wireless charging pad is a super convenient way to charge your phone while on the road.
Car Vacuum Cleaner
All of the traffic in and out of a vehicle can result in a bit of a mess. Having the proper cleaning tools such as a vacuum cleaner is super important.
No Smoking in Vehicle Sign
No smoking signs should be placed in vehicles that do not welcome smoking. Gift a no smoking in vehicle sign for the drivers that don't allow smoking during the ride.
Collapsible Cooler
A collapsible Cooler can be used to store and cool water bottles for passengers. This makes a great gift for drivers.
Mileage Log Book and Expense Record
It is super important to keep track of mileage and expenses for tax purposes. Gift the driver in your life a mileage log book and expense record to help them out with that.
Multi-device Charging cable cord
A multi-device charging cable cord can serve both the driver and passengers. iPhone? Android? Well, there's a cord for both, as well as for other devices.
Dash cam
Dash cams can serve many useful purposes, and are a great addition to vehicles. A dash cam would make an awesome gift for all drivers!
There are so many really great gift ideas out there for taxi drivers. Hopefully this list helps you sort out your options, and makes your gift shopping easier.