Disclosure of Material Connection: Some of the links in this post may be "affiliate links." This means if you click on the link and purchase an item, I will receive an affiliate commission. Disclosure in accordance with the Federal Trade Commission's 16 CFR, Part 255. This site is a participant in the Amazon Services LLC Associates Program, an affiliate advertising program designed to provide a means for sites to earn advertising fees by advertising and linking to Amazon.
[Photo – CC Attribution – Qfamily]
Sticking to wedding gifts that are on the couple's registry is by far the safest way to go. Just because you're buying a gift off of the registry doesn't mean it needs to be boring or impersonal! Check out the list of Registry Top Ups that have been compiled so far, to make any gift great.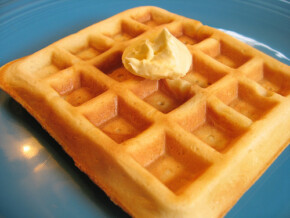 Today's suggestion is for a waffle maker or a griddler. Instead of giving just the waffle maker, turn it into a "Weekend Brunch Basket," just by adding in a few more items.

Cuisinart Griddlers are quite popular these days and they come with interchangeable plates. So do a bunch of George Foreman Grills. I really hope that the technology has improved, because the interchangeable system is a throw back to the system that existed back in the day. It had some downsides. The best example? The grill plates would fall off. Yup. Flying waffle print! There is a mark in the carpet at my in-law's cottage from that very thing happening to my spouse's grandma.
When you think of a waffle breakfast, what comes to mind?
Waffle Mix
Pick up a nice, gourmet waffle mix package, or consider making your own. An Oregon Cottage has a tutorial for Cinnamon-Orange Pancake & Waffle Mix, or try Cheeky Kitchen's Pecan Waffles Mix.
Syrup
There are oh-so-many varieties of delicious syrup! Salmonberry? Apricot? Butter-flavoured? Pure Maple Syrup? Pick one, or two, or three of your favourite syrups and add them in to the gift basket.
Spreads
We used to have Sunday afternoon waffle feasts in my house in university. Chances were always good that the Nutella and the peanut butter made it on to the table, sometimes with jam as well. Consider adding some of them in to your basket.
Whipping Cream
It is disturbing, but there are some shelf-stable whipping creams out there. You may want to add some in.
Chocolate Chips
Not everyone does this, but lots of people put chocolate chips inside their waffles, to make ooey gooey goodness!
Beverages
Add in some coffee, tea, hot chocolate, sparkling juice or even champagne!
Napkins
Pick up some cute napkins to go in the basket, they're going to be wiping off some delicious sticky syrup!
Dishes
Consider picking up the coffee mugs or some side plates or a serving tray to go with the gift. If you are including a bottle of champagne or sparkling juice, you could also pick up a pair of champagne flutes.
Kitchenware
Grab a spatula, ladle, flipper, measuring cup or mixing bowl. Perhaps you could pick up the tea towel. If you opt for the mixing bowl, it will make a nice base for the gift basket. A note on tea towels – pick the ones off of the registry, if there are any there. Most couples end up with 10,000 tea towels as a result of wedding and shower gifts.
Picking up even $20 worth of stuff from the above list and wrapping it up into a nice gift basket easily turns a registry gift from potentially "boring" to thoughtful, creative and delicious! Plus, you know that the gift is something the couple actually wants to have.
Tip: Remember to avoid anything perishable, as it may be awhile before the couple is able to put the basket to use!
One day I will get around to taking more photographs of mock-up gift baskets, I swear.