Disclosure of Material Connection: Some of the links in this post may be "affiliate links." This means if you click on the link and purchase an item, I will receive an affiliate commission. Disclosure in accordance with the Federal Trade Commission's 16 CFR, Part 255. This site is a participant in the Amazon Services LLC Associates Program, an affiliate advertising program designed to provide a means for sites to earn advertising fees by advertising and linking to Amazon.
Here at Unique Gifter, we are all about taking wedding gift registry items and adding something fun to spice them up! Today's idea is exactly that. It's a Fort Building Kit for Adults!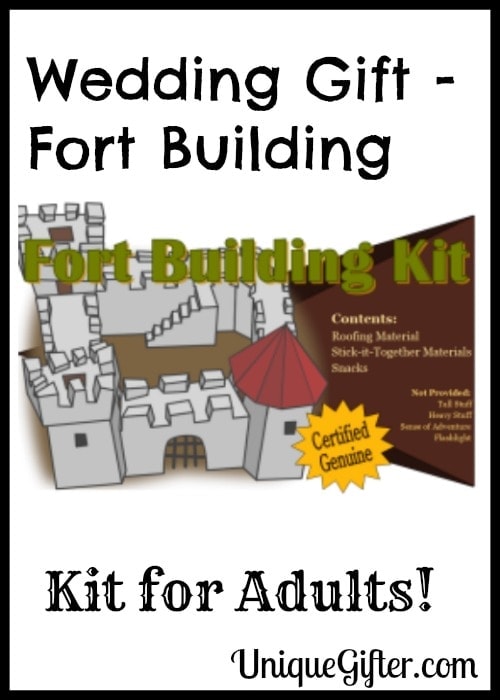 Have you ever had the luxury of sleeping in amazing sheets? They are delightful! Sheet sets are one of those things that end up on wedding gift lists all the time, but do not get purchased very often. If you evaluate usefulness of wedding registry gifts, like I did for televisions, then sheet sets are right up there at the top of the list for time spent using! However you may find yourself thinking "sheet sets make such a boring wedding gift." Fear not, that problem can be considered solved!
I present to you, the free, printable "Fort Building Kit."
Fort Building Kit Gift Instructions
1. Select a set of sheets from the wedding registry.
2. Download and print this printable in colour. Then fold it in half, like a card. [Click to open PDF in a new tab, then press Ctrl+P or click the Print button in your browser.]
3. Pick up some or all of the following:
Roll of Duct Tape
Clothes Pegs
Safety Pins
Elastics
Snack Food
Beverages
4. Tape the printable to the package of sheets and wrap your gift.
5. Write an awesome wedding card.
6. Insist that your friends actually do build the fort. Ask for photographic evidence.
7. Sit back and smile. You are awesome.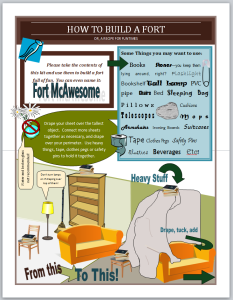 When was the last time you built a fort?
*Disclaimer: This is provided purely for fun. These instructions were designed for adults and choosing to attempt any sort of fort is at your own risk. Try not to get hurt; heavy things are heavy, hot things can start fires, glass is sharp when it breaks, etc. Please use common sense.