Disclosure of Material Connection: Some of the links in this post may be "affiliate links." This means if you click on the link and purchase an item, I will receive an affiliate commission. Disclosure in accordance with the Federal Trade Commission's 16 CFR, Part 255. This site is a participant in the Amazon Services LLC Associates Program, an affiliate advertising program designed to provide a means for sites to earn advertising fees by advertising and linking to Amazon.
Do you have a last day of school gift ready for your students? As the school year comes to an end, that little end of the school year gift gives them something to remember the school year and continue learning throughout the summer. Check out these ideas for the third graders that are getting ready to go onto fourth grade next year.

Fantastic End of Year Classroom Gifts for 3rd Grade Students
Bouncy Balls of Different Colors and Styles
Bouncy balls that come in different colors and styles are great to remind your third graders to "have a ball" over the summer.
Hacky Sacks Guatemalan Style
They can learn coordination and muscle control with their very own guatemalan style hacky sack.
Neon Sunglasses
Neon sunglasses will help protect their eyes from the harsh summer sun as they go about their fun outdoor activities. You might even be able to attach a little note that says something like, "You're never too cool for school."
Crazy Loop Straws
Crazy loop straws are awesome on their own, or paired with a kool-aid or water flavoring packet!
Fla-Vor-Ice Assorted
Help them stay cool and hydrated this summer by sending them home with a few Fla-Vor-Ice popsicles that they can pop right into their freezer to eat later.
Gummy Worms, Bulk Candy
Gummy worms are great for encouraging their bookworm side as the school year ends.
Party Pack Rainbow Jump Ropes
Every third grader should practice, or learn, how to jump rope during the summer.
Dozen Bubble Wands Assortment of Colors
These bubble wands are so much fun, kids love them!
Class Set of Personalized Water Bottles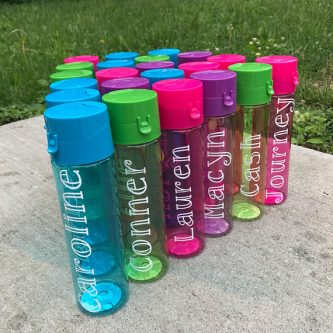 Hydration is important and they love when things have their names on it, as it makes it more fun to drink from.
Gourmet White Popped Popcorn 80oz Bag
Popcorn in snack baggies are great, and you can even send them RedBox gift certificates or similar so that they and their families can sit together and watch a movie this summer.
Word Search Activity Pads
Word search activity pads will keep their minds busy after the school year ends.
Emoji Beach Balls
Emoji beach balls are even more fun than regular beach balls! Imagine them flying all over the sky and water as they play.
Regal Games Chalk City
Help them exercise the artist inside with some sidewalk chalk this summer.
Pepperidge Farm Goldfish Variety Pack
They are "o-fish-ally" out for summer! So exciting for everyone involved!
Sand Pails with Shovels
Whether for beach play, sandbox play, or just plain dirt, these sand pails and shovels will help them build things with sand or dirt all summer long.
Whiteboard Clipboards
Whiteboard clipboards can keep them practicing their writing and drawing skills even after the school year ends.
Reusable Shopping Bags Multicolored
These reusable shopping bags that come in many different colors can be filled with other things from this list as well for a summer full of fun.
Metallic Pinwheels
Metallic pinwheels are fun for days when there is a breeze!
Playdough Set
Playdough will help keep them busy and enjoying their summer when it's too hot or yucky to play outside.
Bulk Braided Friendship Bracelets
Friendship bracelets can remind them that they were special to you, even though you won't see them over the summer and they will be in someone else's class next fall.
The third grade may be coming to an end, but the fun and games don't have to with these end of the year classroom gifts!