Disclosure of Material Connection: Some of the links in this post may be "affiliate links." This means if you click on the link and purchase an item, I will receive an affiliate commission. Disclosure in accordance with the Federal Trade Commission's 16 CFR, Part 255. This site is a participant in the Amazon Services LLC Associates Program, an affiliate advertising program designed to provide a means for sites to earn advertising fees by advertising and linking to Amazon.
What do you give to a hairdresser to show how much you appreciate them? Try one of these gifts. Your hairdresser will enjoy any of these unique gifts. Also check out our list of Christmas Gift Ideas for Stylists for more.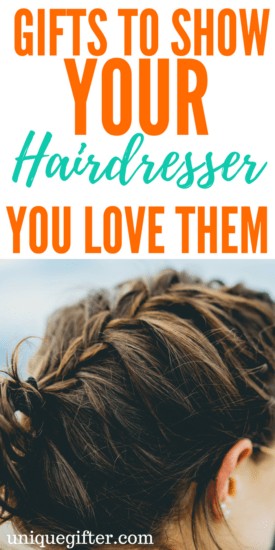 Click here to get four free printable cards for your favorite stylist!
Gifts to Show Your Hairdresser How Much You Love Them
Scissors Necklace
Your hairdresser will adore this cute necklace with scissors. It is a simple gift that shows you care. It is handcrafted and comes in a beautiful gold color.
Love is in the Hair Mug
How about giving your hairdress this cute and witty mug? They will love it for their morning coffee.
It's a 10 Miracle Hair Mask
Your hairdresser would appreciate a hair treatment herself. This hair mask helps nourish your hair and will help repair it from damage from other hair products.
Argan Oil Treatment
Another option is this argan oil treatment which helps repair the hair from damage. Pick your hairdresser up a bottle or package it yourself.
Sponge Hair Braider
This unique gift is sure to get a kick out of your hairdresser. The braider can braid any type of hair. You can even do a French braid with their sponge hair braider.
Hair: A Human History
This book was written by a scientist who studied hair for the past three decades. If your hairdresser loves history, they will love the info in this book.
The Art of Hair
Here is another book on hair. This book if focused on styling hair and hair trends.
SugarBearHair Vitamins
These vitamins give hair a natural boost. It is a vegetarian vitamin that is clinically proven to improve hair. They are a gummy bear hair vitamin.
Tifara Beauty 42 Pack 7 Inch Flexible Curling Ross
If you want to curl your hair, these curling rods that come in a 42 pack will do the trick. They come in various colors.
Vintage 9 Pomade 4oz. Handcrafted Gentleman's Hair Dressing
This medium hold hair dressing is made for men. It is handcrafted with cloves, bay rum, patchouli and other essential oils. It is perfect to give your barber.
Baja Starfish Hair Clip
This is a cute hair accessory. It is perfect for wearing at the beach or adding to your hairdresser's collection.
Woodland Bobby Pins
These cute bobby pins are perfect for nature lovers. These use antique bronze and brass leaves. They have a beautiful vintage look.
I May Not Be Perfect But My Hair Is Wall Decor
This cute and funny print is perfect as wall decor. It uses black and white typography.
Hair Comb Patent Print Wall Art
This hair wall art features a patent diagram of a hair comb. This would look great as wall decor or on a salon wall.
Scissor Bracelet
How bout a fun scissor bracelet with the word "fearless" on it? Hairdressers will love this trendy piece of jewelry they can wear. It is handmade which gives it a personal touch.
Burt's Bees Tips and Toe Kit
A hairdresser needs to pamper herself too. Why not show her some love with a pedicure kit that is all natural? This gift set comes with six natural Burt's Bees products.
Eyeshadow Gift Set
Hairdressers love makeup too. They will love this fun gift set from that is colorful and fun.
I Will Cut You Tote bag
This tote bag is clever and fun. Your hairdresser will love using this bag. It has a pair of scissors in Its design.
Watchover Voodoo The Hairdresser Novelty
This doll is actually a good luck charm. Your hairdresser will adore this hairdresser version that will give them special snipping powers.
Apple IPhone Rose Gold Case
This phone case comes in a rose gold color with an image of a scissors and comb. Your hairdresser will stay in style with their phone. This will work on an IPhone 6 or 6 Plus.
Did you give any of these to your hairdresser? Let us know in the comments!