Disclosure of Material Connection: Some of the links in this post may be "affiliate links." This means if you click on the link and purchase an item, I will receive an affiliate commission. Disclosure in accordance with the Federal Trade Commission's 16 CFR, Part 255. This site is a participant in the Amazon Services LLC Associates Program, an affiliate advertising program designed to provide a means for sites to earn advertising fees by advertising and linking to Amazon.
Your friend has a passion for jaguars, and their birthday is coming up soon. You want to get them something nice that you know they will cherish for a long time. Since you know that they love jaguars, a jaguar gift would make the best gift! Some of the most amazing jaguar gifts are rounded up below, see which one they will just swoon over!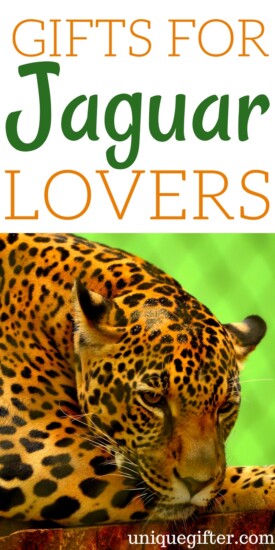 Want more gifts for every animal you can think of? Try out our amazing list of animal lover gift guides.
Gift Ideas for Jaguar Lovers
Jaguar Print Fleece Blanket
They can feel close to the jaguar and also keep warm with a cozy jaguar print fleece blanket. It is perfect for the couch, a chair, or as an extra blanket on their bed.
Digital Baby Jaguar with Toy Printable
If they have a little one coming soon, or already here, they definitely need a picture of a jaguar with a toy framed so they can hang it up on the nursery wall.
Jaguar Face Coffee Mug
Oh, how fierce this jaguar looks! Your friend will be feeling just as fierce as they drink their morning coffee each day.
Spiral Jaguar Notebook
Help your jaguar loving friend keep their notes and doodles organized in style with this brand new spiral jaguar notebook!
Personalized Jaguar Print Wine Glass
Personalize this wine glass with their initials and they will enjoy drinking their wine even more with the jaguar print on the bottom. Plus, it's also very glittery!
Jaguar on Tree Branch Decal
They can decorate their car, window, laptop, and more with this beautiful jaguar on a tree branch decal.
Wild Cats Illustration "Playing Jaguars" by Mina Milk, Phone Case
An absolutely stunning illustration of two jaguars "playing" on this phone case will leave their mouth hanging open in surprise.
"Got jaguar?" Shirt
Everyone has to have a jaguar, right? At least, that's how someone who loves them thinks!
Jaguar Cashmere Scarf
This jaguar cashmere scarf is both a work of art and a beautiful accessory for their outfit!
Jaguar Pencil Drawing Print
They will love this detailed pencil drawing print of a jaguar to frame and put up on their wall to remind them to stay fierce and determined.
Personalized Jaguar Necklace
Personalized with their initial, this jaguar necklace will quickly become their favorite piece of jewelry.
Jaguar Logo Tie Clip with Matching Cufflinks
Whether they just like the animal, or they also like the cars, this set of jaguar logo tie clip and cufflinks will be so much fun to wear to work.
Jaguar Planter
They can plant anything they like in this jaguar planter: herbs, flowers, the possibilities are endless, and it looks amazing!
"Never underestimate an old man with a jaguar" Shirt
That's completely accurate, you should never underestimate an old man with a jaguar. So, if your jaguar loving friend is an "old man" and you like to give him jabs about it, then this shirt will make the perfect gift for him.
"Be self-confident on your journey, for you are always protected" Jaguar Animal Candle
Jaguars are strong and confident creatures, this jaguar animal candle with the "be self-confident on your journey, for you are always protected" quote will remind your friend to be strong and confident as well.
Jaguar Photo Wall Art
A simple, yet absolutely beautiful photo of a jaguar to hang up on their wall at home or in the office will make a nice piece of decor.
3D Laser Etched Engraved Jaguar Paperweight
Whether they need the actual paperweight or not, this stunning 3D laser etched jaguar paperweight is stunning!
"Going to the zoo to see the jaguars" Long Sleeve Shirt
That's it, I'm going to the zoo! Your jaguar loving friend loves seeing the jaguars at the zoo, and that is where they want to head next!
Jaguar Stamp
They can stamp a jaguar on their envelopes, stationery, and more with their very own jaguar stamp!
Jaguar Keychain
Every jaguar lover needs a jaguar keychain to keep their house, car, and mail keys on!
As you can see, there are so many great gifts to choose from for the jaguar lover in your life, all you have to do is pick one!