Disclosure of Material Connection: Some of the links in this post may be "affiliate links." This means if you click on the link and purchase an item, I will receive an affiliate commission. Disclosure in accordance with the Federal Trade Commission's 16 CFR, Part 255. This site is a participant in the Amazon Services LLC Associates Program, an affiliate advertising program designed to provide a means for sites to earn advertising fees by advertising and linking to Amazon.
Admit it, ducks are adorable birds, especially when they have little ducklings! If you, or someone you know, has a special love for ducks, then you might want to consider some of these gift ideas for duck lovers for their birthday, holiday, or another special day. Be sure to check out some of these amazing ideas to get you started!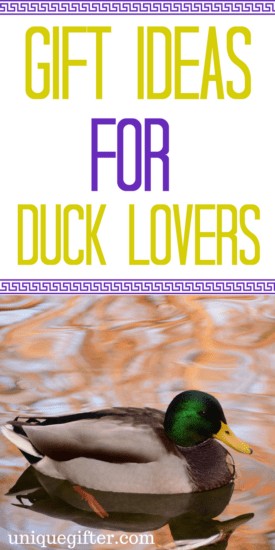 Get inspired for all your animal gift-giving needs with our ultimate list of animal gift guides.
Did some say quack?
Oh yeah, you.
Personalized Duck with a Heart Necklace
Personalize the duck with a heart necklace with their name or initials, and give them the most special gift they could ever receive!
"What the duck?" Coffee Mug
Give their morning coffee a little more flavor with a "what the duck?" coffee mug. If they love coffee, we have an entire coffee addict gift guide!
Women's Rubber Ducky Socks
Rubber ducky socks will make that duck loving woman in your life's feet feel cozy and warm.
Leather Duck Wallet
Classy and elegant, the leather duck wallet is sturdy, will keep their money and cards safe, and be stylish at the same time.
Rusty Duck Family
This adorably cute and rusty duck family will look so wonderful on their front lawn, or even on the back lawn.
"Release the Quackin" Shirt
One of the best shirts for someone who loves ducks, is this "Release the quackin'" shirt to add to their wardrobe.
100 Count Bag of Duck Paperclips
Does the duck lover in your life do a lot of writing and note keeping, they need these one hundred count bag of duck paperclips to keep everything tidy and organized.
Duck Ballpoint Pens
Here is a set of accessories to make their note keeping and other writing work fun and enjoyable!
Duck Coasters
Duck coasters will not only keep their wooden tables free from water rings but also gives them a way to showcase their love for ducks.
Duck, Flower, and Heart Keychain
Buy Now
What a better way to keep their keys together and in one place, than a duck, flower, and heart keychain?
"I ducking love you" Art Print
There's no doubt about it, you love that special person in your life that also happens to love ducks. This "I ducking love you" art print is such a lovely way to say so!
"Merry Duckmas" Shirt
Funny Christmas shirts are just as fun as ugly Christmas sweaters!
Fuzzy Duck Slippers
Help them keep their feet warm and cozy in the colder months with these fuzzy duck slippers!
"Love you mom" Gold Duck Dish
Does your mom just love ducks? Then she will love adding this gold duck dish to her entryway or kitchen counter.
Duck Wall Decal Set
Ducks flying through the air happily will be one of the best things to grace their wall at home or in their office!
Duck Tote Bag
Perfect for a reuseable grocery bag, or to carry things around when they're out and about, this tote bag is sure to come in handy and be fun to use.
Duck Fondant and Cookie Cutter
Help them make some of the most delicious duck cookies, or some of the most adorable duck fondant cake toppers! We have more creative molds and cutters here.
"Ducks over everything" Shirt
Ducks are more important than anything else, let them tell the world with their new "Ducks over everything" shirt!
"I love ducks" Mousepad
If they spend a lot of time at the computer, they need an "I love ducks" mousepad to make their experience complete!
Rubber Duck Party Cups
Rubber ducky party cups are essential for their future parties, or family gatherings!
The duck lover in your life deserves something they will truly enjoy for their birthday, holiday, or other special occasion! Any one of the gifts above would be a wonderful choice, or at least give you a place to start!