Disclosure of Material Connection: Some of the links in this post may be "affiliate links." This means if you click on the link and purchase an item, I will receive an affiliate commission. Disclosure in accordance with the Federal Trade Commission's 16 CFR, Part 255. This site is a participant in the Amazon Services LLC Associates Program, an affiliate advertising program designed to provide a means for sites to earn advertising fees by advertising and linking to Amazon.
Pisces season is fast approaching and that means it's time to start thinking about what would be ideal for gifts for a Pisces man.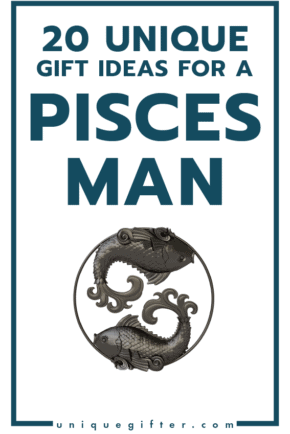 Notorious for their sensitivity and nurturing side it's needless to say that any Pisces man is a keeper, either in friendship or love. To show your love for this keeper, whether he is your boyfriend, husband or friend, we've put together 20 gifts for a Pisces, that put his zodiac sign to use.
It doesn't matter if he diligently reads his horoscope or not, let's use his astrological sign as a fun way to find the perfect gift. 
For that special water sign in your life.
Let us know what he thinks! 
Manicure Set 
Not something you'd typically see as a "manly" gift but self-care is hot and the Pisces man knows it! He's sure to appreciate all the handy tools to keep up his appearance and maybe even to add to the spa night regime together?
Adventure Sweatshirt 
This sweatshirt is perfect for the spontaneous Pisces man. He'll always be ready for his next adventure!
Reasons I Want To Marry You
Pisces men don't do superficiality in their friendships, relationships or gifts and so this is such a great way to show your love of them.
Just in Case… Emergency Food
Whether he's a fan of zombie apocalypse escape plans or loves hiking, this is such a unique and useful gift for the Pisces to (within 30 years) devour.
International Chocolate Box 
If he loves travel or sweets or both this is a mother quirky but totally amazing gift to give!
Luxury Razor Set 
 This razor set is sure to be a hit. Luxurious, and totally useful
Paint and Canvas set
Help your pisces express his creativity with this paint set! Plop some Bob Ross on one night and paint away. 
Refillable Journal
We all know how often inspiration strikes for the creative, so a refillable journal is perfect and less wasteful than having multiple journals.
Planner
Pisces are known for their spontaneity which can often mean schedule conflicts. Help them out by giving them somewhere to put preplanned ideas
Coupon Love Book
Such a sweet gift for your Pisces guy, but also it allows you to tie in a few outside experiences.
Decorated Comb
If your Pisces is into his hair, this is such a unique and practical tool he'll need in his arsenal.
I Carry Your Heart Set
Such a sweet gift your lovely sensitive Pisces will adore!
Dirty Pretty Things
This is such a great sweet/salty read that your creative Pisces will love!
Beard Trimmer 
Whether he keeps a beard or likes a clean shave an electric razor is a must-have in any guys' toiletry bag. This one is affordable and offers different levels to get the desired look!
Cashmere Blanket 
Stick with me here. Pisces men are all about their senses. So appeal to touch with this super soft hand-knitted blanket. Plus, it's great for movie cuddle sessions.
Hubs Tee
Speaking abut five senses here's a super soft meaningful tee for your Pisces man to throw on with pride.
How To Take Great Photos
Such a great book for anyone who wants to get into photography, which your creative Pisces will love!
Hybrid Hoodie 
Your Pisces is always up for an adventure, help him always be prepared with this hybrid hoodie! If he's big into adventures, check out our gift guide for hikers. 
Adventure Book
To help him record his adventures throughout the year this book is a fun and sentimental tool!