Disclosure of Material Connection: Some of the links in this post may be "affiliate links." This means if you click on the link and purchase an item, I will receive an affiliate commission. Disclosure in accordance with the Federal Trade Commission's 16 CFR, Part 255. This site is a participant in the Amazon Services LLC Associates Program, an affiliate advertising program designed to provide a means for sites to earn advertising fees by advertising and linking to Amazon.
Now that same-sex marriage is legal you're faced with this new social pressure. That's right: What do I get my gay friends for their wedding? Have no fear! This gift guide will teach you that buying for your gay friends isn't much different as your straight ones. Check out these gift ideas for a gay couple's wedding.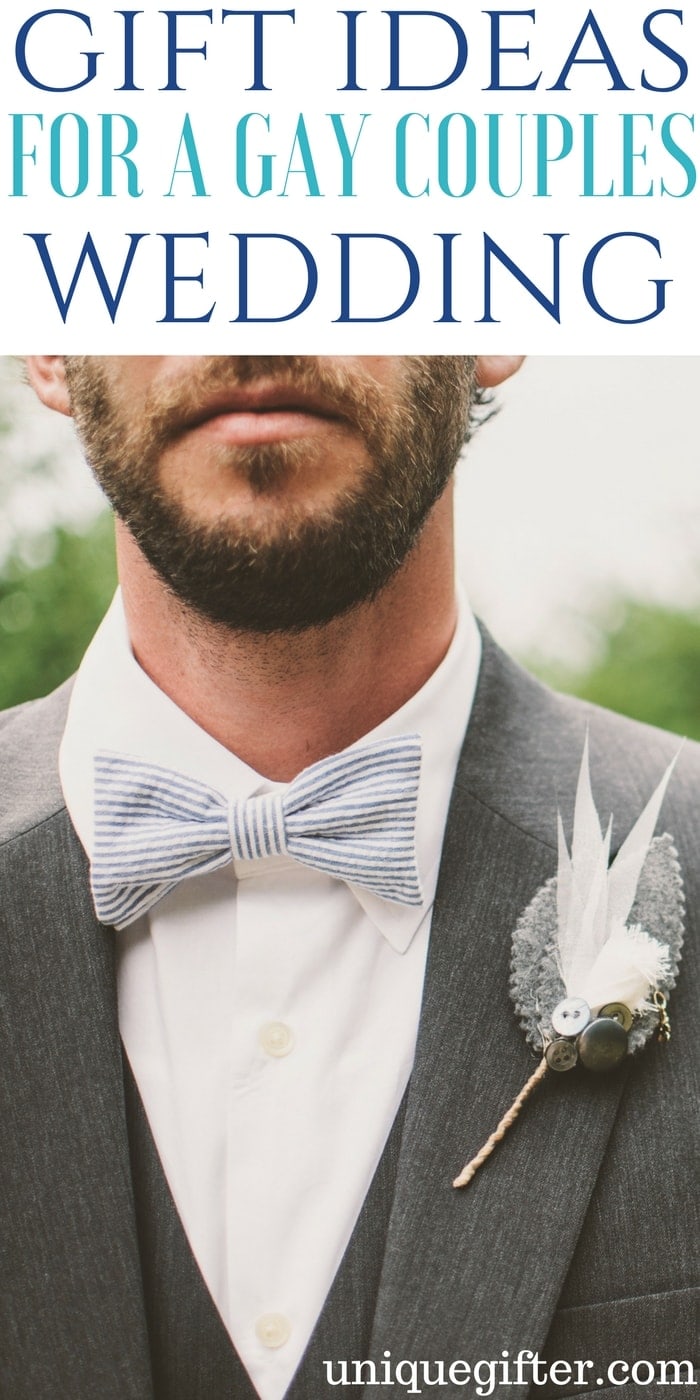 Gift Ideas for a Gay Couple's Wedding
Buying the right gift for the gay couple in your life may be easier than you think. Check out these gift ideas for a gay couple's wedding! You'll love the ideas.
I'm the Bride T-Shirt Set
Ladies, please stop fighting, you're both the bride.
Convection Bread Maker
A love of warm carbs transcends both gender and sexuality. Be a hero, buy them a breadmaker, invite yourself over.
Framed Heart Map
This custom framed map can include where they met or where they're getting married, their names, and their anniversary. A perfect romantic keepsake to start their married life together.
Picnic Backpack
Get them all ready for a romantic date with this picnic backpack. It has everything they need for a picnic including wine bottle holder.
Personalized Cutting Board
Get this cutting board engraved with the brides' or grooms' names for a practical yet thoughtful wedding gift.
Toaster
It's a wedding so someone has to get them a toaster. Or maybe multiple people. Be a toaster person, just be sure to keep the receipt just in case.
Custom Name Sign
Put the names of the happy couple on this rustic custom sign. The heart in the middle just makes it!
Ring Holder
This beautiful hand carved ring holder is a unique gift that any couple will appreciate. Now even when they're not wearing them their rings will have a special spot together.
Milestone Wine Labels
Who doesn't love wine? Get them something they can keep enjoying for years to come. Just add their favourite wines for an amazing wedding gift. You can even pick your own milestones that best reflect the happy couple.
Wine Opener Set
How else are they going to open all that labelled wine you got them?
Wedding Planner
Give this one before the wedding. What's better than one bride? Two. Also comes in a groom version.
Gay Christmas Decoration
Get them a custom ornament to hand on their Christmas tree their first year married, then every year after that.
Hers and Hers Wine Glasses
Just a little something to perk the happy brides up when "sip" happens.
Wedding Keepsake Box
This hand illustrated personalized gift box is a great way to wrap their wedding gift in. They can use it after the wedding as a keepsake to keep important mementos.
LGBT Art
This handmade crayon art features the silhouette of two men or two women, depending on which one you order.
Mr and Mr Ring Box
A charming way to secure the happy couple's rings on their wedding day.
Engagement Countdown
For the brides to be – help them count down with this chalkboard sign until they become mrs. and mrs.
Personalized Mugs
This set of mugs is customizable to include the couple's' important dates with tuxedos on the back. They'll be reminded of all their anniversaries with each morning coffee.
Custom Art Sign
A personalized gift goes a long way and the gay couple you're shopping will adore this custom art print. It comes in all kinds of customizations to suit the brides' or grooms' style.
Mr & Mr or Mrs & Mrs Gift Cards
If you still don't know what to get them, or if they have everything, an Amazon gift card will do the trick.
The biggest thing to keep in mind when shopping for a gay couple's wedding is to get something that's personal, and special, to them. Failing that, check their wedding registry. Make sure you check out these gift ideas for a gay couple's wedding!