Disclosure of Material Connection: Some of the links in this post may be "affiliate links." This means if you click on the link and purchase an item, I will receive an affiliate commission. Disclosure in accordance with the Federal Trade Commission's 16 CFR, Part 255. This site is a participant in the Amazon Services LLC Associates Program, an affiliate advertising program designed to provide a means for sites to earn advertising fees by advertising and linking to Amazon.
Sloths are growing in popularity, so if you know someone who just can't get enough of these slow and relaxed creatures, they might really enjoy a sweet and thoughtful gift from you! You may be wondering where to begin, or how to get them a gift they will truly enjoy or find entertaining, and I've got just the place for you to start! Be sure to check out some of these gift ideas for sloth lovers to get the ideas flowing…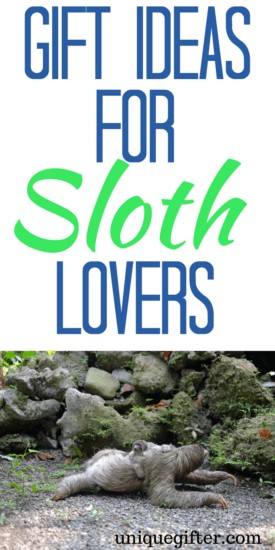 Looking for more animal lover gift ideas? We have all of them covered for you in our epic list of animal gift guides.
Gift Ideas for Sloth Lovers
Sloth Quotes Paperclip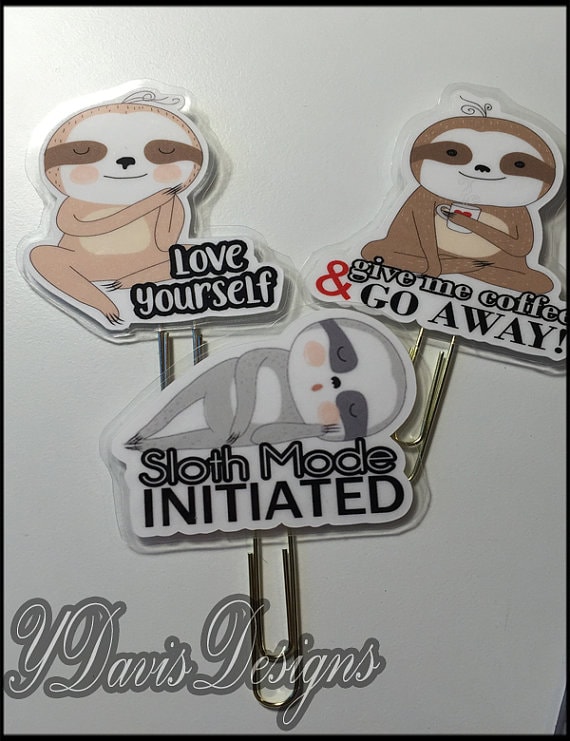 These sloth quotes are awesome and you can choose the one that best fits the sloth lover in your life, whether it's one that says love yourself, sloth mode initiated, or give me coffee & go away.
"Spirit Animal" Shirt
If the sloth lover in your life is single and proud of it, or possibly looking for a "mate," they may enjoy this single sloth shirt!
Sloth Garden Flag
Garden flags may not be as popular as they used to be, but they are fun to look at and passersby enjoy taking a peek at the cute design on the flags as well. Instead of having a butterfly or flower like everyone else, get your friend this sloth garden flag to put up!
"Things to do later" Sloth Notebook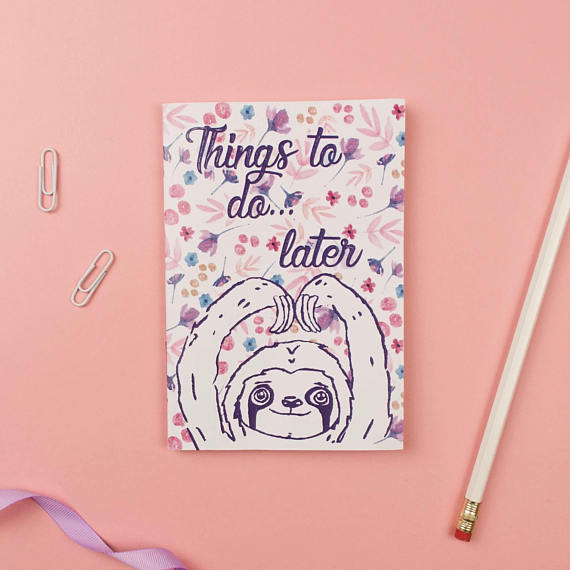 Sloths are lazy, so they put things off. If your friend loves sloths, or simply doesn't do anything right away, then this "Things to do later" sloth notebook may just be the perfect thing to get them going in the right direction.
Hairy Slother Coffee Mug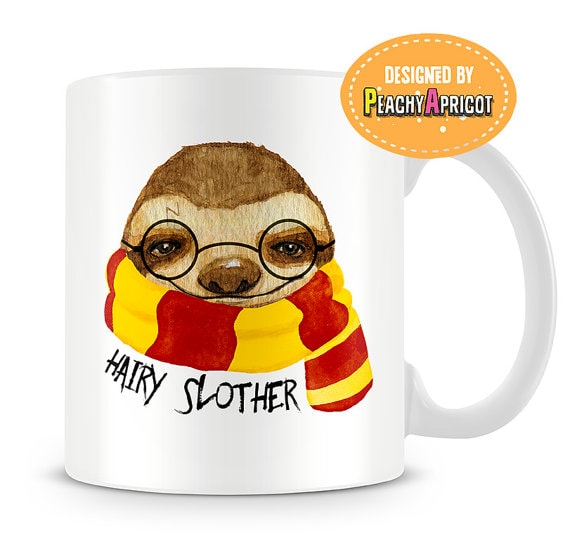 For the sloth lover who is also a fan of Harry Potter! Snatch up this "Hairy Slother" coffee mug!
Cute Sloth Plush
Stuffed animals are fun even for adults and this Happy the Farting Sloth would get a chuckle out of almost anyone!
"Nap all day, sleep all night, party never" Sloth Decal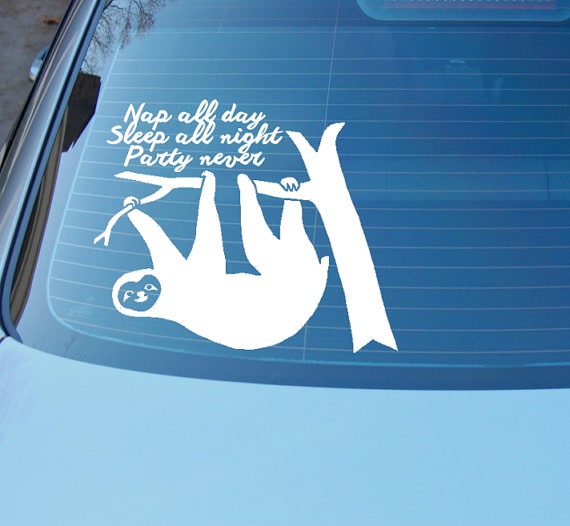 Sloths aren't known for their partying natures, which is why this sloth decal would make the perfect addition to your favorite sloth lover's car or laptop.
Sloth Knee High Socks
These adorable sloth knee high socks will compliment any sloth lover's wardrobe!
Sloth 3-Pc Stackable Rings
How adorable is this? It looks like the sloth is hugging your finger once all three pieces are put on!
Sloth Pencil Skirt
If you've never seen a sloth pencil skirt before, this one will blow your mind. Your favorite sloth lover will enjoy wearing this to work and getting comments, or to other functions she likes to wear a skirt for.
Happy Sloth Pin
Give your sloth loving friend the gift of a happy sloth pin to wear on their clothes. They can wear it to work, for fun events, or just because.
"Follow your dreams" Sloth Backpack
Remind your friend to follow their dreams with this sloth backpack. Not only that, but it's cute! If they go to school, college, or just like to carry their belongings in a backpack, they will love it!
Sloth Wisdom Mini Book
This mini book full of sloth wisdom can inspire and motivate your sloth loving friend, even if it is only to feel better about themselves.
Sloth Coloring Book for Adults
If your friend loves to color, this sloth coloring book for adults will make a great gift and give them hours of entertainment.
"I'm a slothicorn" Coffee Mug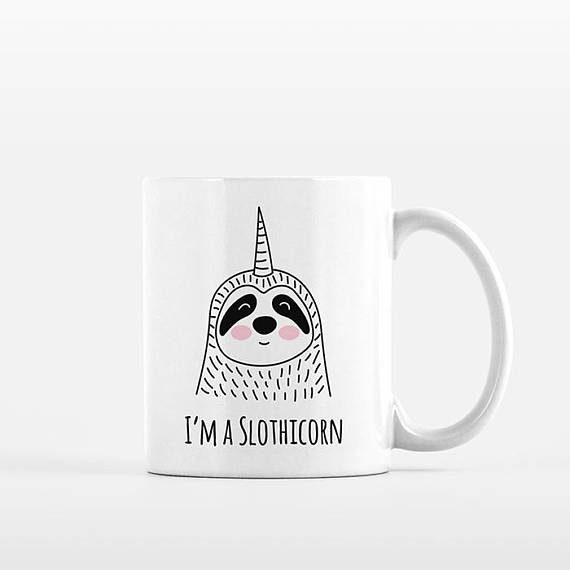 For the slothicorn, aka the sloth unicorn, lovers, this coffee mug is absolutely adorable!
Sloth Astronaut iPhone 7/7 Plus Case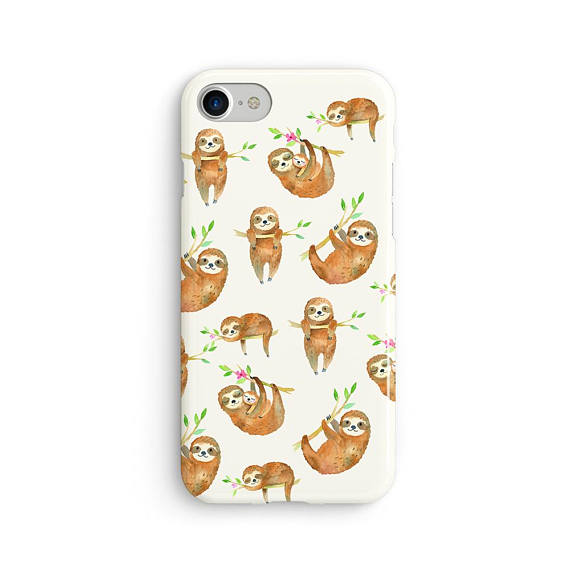 Does your friend love space? This sloth astronaut iPhone 7 case will go lovely on their phone, be fun to look at and keep their phone safe from drops all at the same time.
"Read the Bible daily" Sloth Bookmark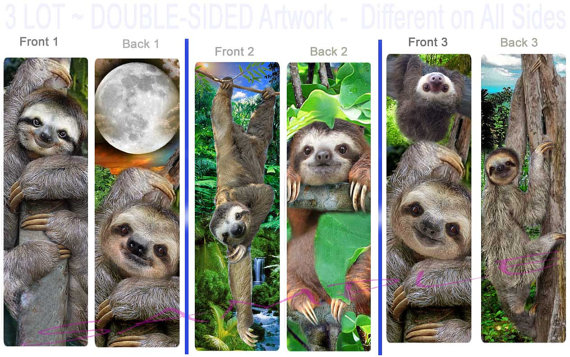 For the Bible-reading sloth lover, this cute sloth bookmark to remind them to read their Bible everyday and to help them keep their place in the Bible as well, will be sure to make them smile.
Sloth Love Necklace
Help your friend show their love for sloths off to the world with this beautiful sloth love necklace!
Sloth Figurine
They can decorate their home or office with this sloth figurine put on display!
"Coffee helps me person" Sloth Wall Art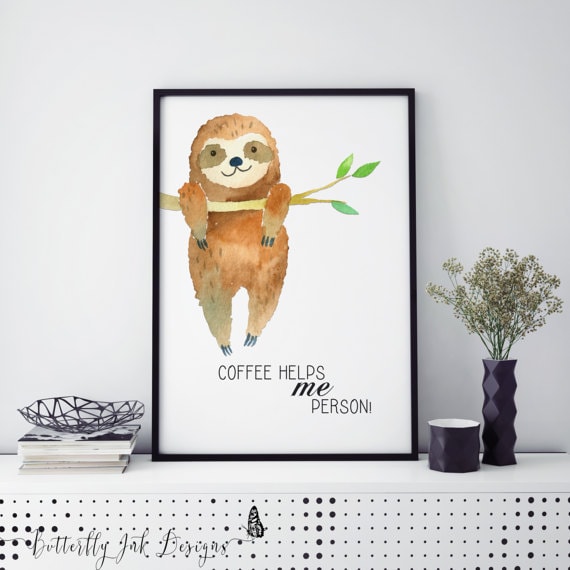 Ironic, yes. Also cute, definitely! "Coffee helps me person" with a sloth on it will give anyone a double take!
Although they move slowly and are perfectly fine being still for long periods of time, sloths are cute and fun!
If you're familiar with American celebrities, you might have caught a sniff of how much Kristen Bell loves sloths. It's utterly adorable. I hadn't thought about their cuteness before Ms. Bell brought them to my attention but now they crack me up. And in my mind, the animated version of any sloth sounds like Flash from Zootopia to me: "Niiiiiiiicckkkkkk….."
If you're part of the sloth fan club, you or your fellow fans may love this list.
Sloth Charm Necklace
This cheerful zinc alloy sloth comes in several styles and options: rose gold, silver, hollow silver and hollow gold. There's something for everyone who likes sloths and necklaces.
Wine Glass
It's funnier when you say it out loud but this 17 ounce stemless glass holds a really generous pour.
Slow Farts: Coloring Book
Coloring is back in a big way for adults who can use it as a form of stress relief, or as we used to do it as children, just to have some fun! This is definitely NSFW if you're inclined to bring coloring books to work, and possibly not safe for school either, but they do say that laughter is the best medicine, don't they?
Sloth coloring book for adults
For a more sedate and far more artistic version, this coloring book is safe, and cute enough!, to be taken with you anywhere: work, the dentist's office, the library.
Sloth Baseball Cap
Happy sloth peeks out of a subtle pocket in the crown of this cap, or you could choose the option of a Zen meditating sloth instead. All caps are made with 100% cotton.
Magnetic Page Markers
8 magnetic i-clips come in a pack, each measuring 0.75 by 1 inch when folded, can be used primarily as bookmarks or as magnets.
Daily Planner and Note Pad
60 sheets of a 6" x 9" note pad helps you stay organized and prioritized with a variety of lists: to do soon, to do (after a nap), eventual appointments, errands to run, and people to contact in due time. If you haven't noticed a theme, there is very little urgency on this day planner.
Sticky Memo Tabs
The slothy alternative to the standard yellow post-it, these memo tabs hang out where you stick them in pages on even on walls.
Pouch
This 8" by 3.5" pencil case is made of durable leather and zips closed to keep your stationary supplies or other day to day things safe and in one place.
Sloth Print Flared Skirt
This casual polyester and spandex skirt with an elastic waist is machine washable. The only thing it lacks, in my opinion, is pockets.
Lunch Tote Bag
Pack lunch in this neoprene tote with soft grip handles and a zipper. This is insulative and can be machine washed when the inevitable happens and food spills on it.
Womens Sloth tee
I've seen this shirt several times and it still makes me laugh. The solid color tees are made of 100% cotton, while the heather colors are a combination of cotton and polyester.
Sloth Running Team Hoodie
In high school, I was on the track team. These days, I'm more of a Sloth Running Team member. Half cotton and half polyester, this hoodie is sure to please.
Sloth Heartbeat Decal Sticker
My heart beats for sloths! Get it? This 8" by 4" decal can easily be mounted on your car window.
iPhone 8/iPhone 7 Case
There are a few people who go without phone cases but the rest of the world spares me from heart palpitations and protect their phones. Have a sloth hang out on the back of your iPhone.
Sloth Hooded Animal Travel Neck
I'm always on the hunt for ways to make our traveling a little easier and packing more efficient. This travel pillow serves both as a neck pillow and a little hood to shield your eyes from the sun or keep your head warm. Bonus points if you startle people passing your car on the freeway!
Sloth Follow Your Dreams Blanket
Sloths seem comfortable no matter where they are, or how they're hanging. It feels like this sloth is imparting a bit of that magic with their gentle smile and encouragement to take a nap, or pursue your passon.
Sloth Notebook
The happy sloth also graces the cover of this blank paperback notebook with 110 wide ruled pages. I'm a fan of thin ruled pages myself but wide rule is more forgiving for a more expansive scrawl when you're running late and just have to get that last thought down on paper.
Sloth Lovey
We love the handkerchief sized lovies for children. They take up so much less room than the larger traditional security blankets that get dragged on the ground, Pig Pen style, and are easier to tuck into an overnight bag.
Meditating Sloth Sticker
Sloths must be the poster animal for Zen meditation, mustn't they? They're one of the only animals that I can't recall ever seeing angry. Really, try to imagine an angry or discontented sloth. What would that face even look like?
Have you ever found the perfect sloth gift that we've missed? Do share in the comments!