Disclosure of Material Connection: Some of the links in this post may be "affiliate links." This means if you click on the link and purchase an item, I will receive an affiliate commission. Disclosure in accordance with the Federal Trade Commission's 16 CFR, Part 255. This site is a participant in the Amazon Services LLC Associates Program, an affiliate advertising program designed to provide a means for sites to earn advertising fees by advertising and linking to Amazon.
Owls are cute, feathery, little creatures. There are so many extraordinary gifts you can get for someone who loves owls. Depending on their particular tastes, one of these gifts will be a great fit for them.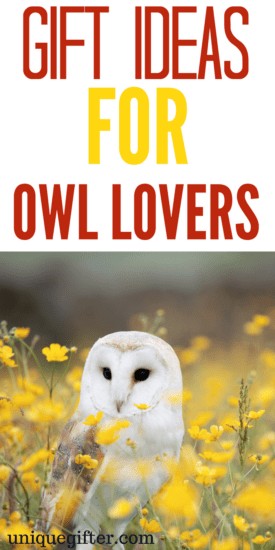 For even more animal lover gift ideas, check out our A to Z Guide to Animal Lover Gifts
Gift Ideas for Owl Lovers
Owl Wine Glasses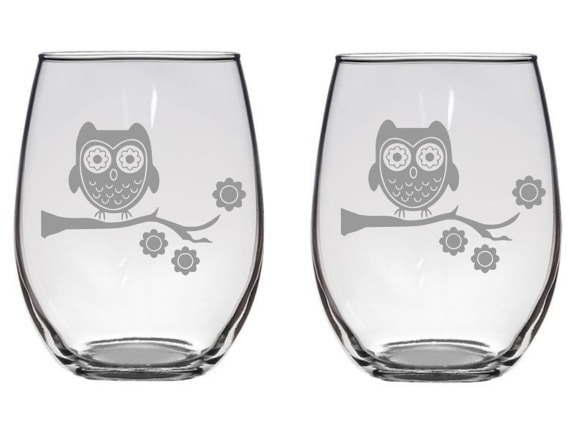 For the owl lover who enjoys an occasional, or more often, glass of wine, these cute little owl wine glasses will be great for them.
Corkology Owls Coaster Set
Owls are cute, feathery, little creatures. There are so many extraordinary gifts you can get for someone who loves owls. Depending on their particular tastes, one of these gifts will be a great fit for them.
"Owl Always Love You" Coffee Mug
This "Owl always love you" coffee mug is so adorable. Your owl loving friend will be eager to drink their morning coffee from it as soon as they receive this lovely gift.
Owl and Tree Memo Clips
Whoever works in an office setting, whether from home or in a day job, will need somewhere to write memos for themselves, keep track of business cards, and more. Memo holders, like these ones with an owl and a tree, are a cute way to do so.
Owl Wearing Glasses Poster
Help them decorate their office or home with this artistic poster of an owl wearing brightly colored glasses. It's fun but yet scholarly at the same time.
Owl Aluminum Wallet
Aluminum wallets have been all the rage lately, with people being able to steal credit card information without even touching the cards themselves. Help keep your owl loving friend safe with this one covered in cute little owls.
Monogrammed Owl Decal
You can monogram this owl decal with their initials, or possibly even name if it's short enough, so that they can stick it to their computer, car, or anywhere else it would stick. Not only does it have personalization options, but it is also visually appealing and they will be proud to place it where others can see it.
Harry Potter Movie Set
With Hedwig in the movies, your owl loving friend will surely enjoy watching the Harry Potter movie series and seeing the messenger owls do their work.
Owl Knitted Paperclip Bookmark
If your owl loving friend enjoys reading, this knitted owl paperclip bookmark will be something they truly appreciate, helping them keep their place in whatever book they have chosen to read, and with something as cute as this bookmark.
5pc Owl Planter Set
Help your friend beautify their yard or windowsill with this five piece owl planter set to plant flowers or other beautiful plants in.
Cartoon Owl Swim Trunks
For that guy who just loves owl, these cartoon owl swim trunks will make a perfect gift to add to his summer gear.
"Owl be watching you" Shirt
A tad creepy, yes, but mostly funny! An "owl be watching you" shirt will be sure to get a smile on your friend's face when they open their present.
Owl Adjustable Leather Bracelet
An adjustable leather owl bracelet will definitely make the perfect addition to their arsenal of jewelry and accessories, especially if they don't have anything owl-themed yet.
Carved Wooden Owl
This carved wooden owl would look nice in their house, on their porch, or wherever else they chose to put it.
"Life's a Hoot" Oven Mitt
This mitt decorated with their favorite owls will likely become their favorite oven mitt ever, and maybe even their overall favorite kitchen tool, just watch and see.
Creative Haven Owls Coloring Book for Adults
Whether or not they know if they like coloring still as an adult, it's likely that they will have fun coloring these owls in this adult coloring book. Besides there being so many beautiful owls here, they will get so much more out of it than just coloring or having something nice to look at while they do so!
Owl Earrings
Another jewelry selection to add to their collection, these pretty owl earrings make a nice gift for that special woman in your life who loves owls and all they embody.
Owl Scrapbooking Stickers
Does your owl loving friend enjoy scrapbooking or using stickers in her planner? These cute owl stickers will just strike her fancy, in that case.
Owl Flip Flop Slippers
These owl flip flop slippers are sure to keep your friend walking around her house, and maybe venturing out on her porch, in style!
Owl Notebook
Help your friend keep detailed notes about their fun adventures in this owl notebook. They can take it anywhere and use it for whatever they feel compelled to write about, but the owl on the front certainly makes it more fun.
Owls are a fun animal and gifts that spotlight them come in a wide variety of styles and types, yet all of them can be awesome, depending on what your friend wants most. Be sure to consider some of these ideas or let them help you brainstorm more ideas!