Disclosure of Material Connection: Some of the links in this post may be "affiliate links." This means if you click on the link and purchase an item, I will receive an affiliate commission. Disclosure in accordance with the Federal Trade Commission's 16 CFR, Part 255. This site is a participant in the Amazon Services LLC Associates Program, an affiliate advertising program designed to provide a means for sites to earn advertising fees by advertising and linking to Amazon.
If you have ever taken the time to watch a squirrel climb trees and find food, you might think they're cute, funny little creatures. When it comes to getting something special for the person in your life who has a passion for squirrels, where do you even start? Well, here's some ideas: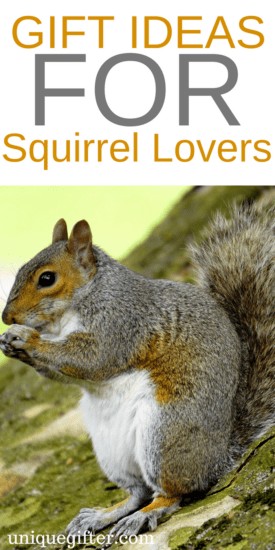 For even more animal lover gift ideas, check out our A to Z Gift Guide for Animal Lovers
"Squirrels make me happy" Messenger Bag
When squirrels make you happy, you definitely need a messenger bag that says so!
Squirrels and Pizza iPhone 7 Plus Case
What's more lovable than a few squirrels with a pizza nearby? If the squirrel lover in your life also enjoys pizza more than the average person, they will absolutely adore this iPhone case.
SpongeBob Squarepants Sandy Cheeks Plush
Sandy on SpongeBob Squarepants is a squirrel. This plush of her could be a gag gift, or given to someone who enjoys the show too!
Squirrels on Trees Mouse Pad
Beautiful mouse pad with squirrels on the trees will help them use their computer mouse with ease and comfort.
2-Piece Squirrel Stone Coasters
Help them protect their tables from cup sweat or leaks with these squirrel stone coasters! Plus they're beautiful too!
The Squirrel and the Acorn Loose Leaf Tea Infuser Set
For that tea enthusiast who also loves squirrels, this infuser set will help them make delicious tea.
"Nuts about you" Squirrel Coffee Mug
Tell that special person in your life that you are "nuts" about them with this squirrel coffee mug!
Deluxe Combination Squirrel Feeder
If they are lucky enough to live where squirrels frequent their yard, this deluxe combination squirrel feeder will help them see more squirrels up close.
Squirrel Heartbeat Shirt
Squirrels make their heartbeat and they aren't afraid to share that with the world!
Sterling Silver Squirrel Earrings
These adorable sterling silver squirrel earrings will give them something to wear to a party, work, or even when they're just sitting at home relaxing.
Squirrel Crossing Sign
They want to keep the squirrels safe, so they definitely need this squirrel crossing sign to put up in their yard to warn others to keep a lookout.
"Squirrel Patrol" Dog Tag
If they have a dog who enjoys watching the squirrels through the window, or even trying to chase them, this "Squirrel Patrol" dog tag with their name and their owner's name on it will make their owner super giddy!
Squirrelly The Nutcracker
This squirrel will be their pal for life, helping them crack the nuts whose shells are too hard to crack on their own.
Red Squirrel Tote Bag
Give them a stylish way to carry all those things they just have to take with them everywhere in this red squirrel tote bag.
Colorful Squirrel Necklace
There may be nothing better than a colorful necklace to wear while out and about, except for one that also has a squirrel on it for a person that holds them near and dear to their heart.
"My decision making skills resemble a squirrel crossing the street" fridge magnet
Fridge magnets are not a popular gift, but if you know someone who loves squirrels and has a hard time making decisions, then it will be the perfect one for them.
Origami Squirrel Shirt
This origami squirrel shirt is cute and colorful, yet could be worn anywhere and look good on anyone who loves squirrels!
Woodland Animal Pillow
Choose the squirrel option for the squirrel lover in your life and they will cherish this pillow on their bed, or couch, for many years to come.
Woodland Creature Ice Cube Tray
Give them the gift of squirrel, bunny, and hedgehogs with this ice cube tray. It will make drinking any kind of cold drink even more fun and enjoyable.
Funny Squirrels Embossed Engraved Rolling Pin
I have never seen anything like this! How awesome would it be to have cookies and other baked goods with squirrels popping up all over the tops?
If you know someone who just adores squirrels, be sure to remember that when they have a special occasion where you need to give a gift. They will love how you remembered their adoration for the squirrels and that you paid attention to what they like in the first place.