Disclosure of Material Connection: Some of the links in this post may be "affiliate links." This means if you click on the link and purchase an item, I will receive an affiliate commission. Disclosure in accordance with the Federal Trade Commission's 16 CFR, Part 255. This site is a participant in the Amazon Services LLC Associates Program, an affiliate advertising program designed to provide a means for sites to earn advertising fees by advertising and linking to Amazon.
These people maintain your machine; so, celebrate their amazing talent with unique gift ideas for mechanics. Your mechanic will appreciate a creative for the garage that highlights his or her love of cars and engines. If they are more of a wood person, we have gift ideas for carpenters and welders too.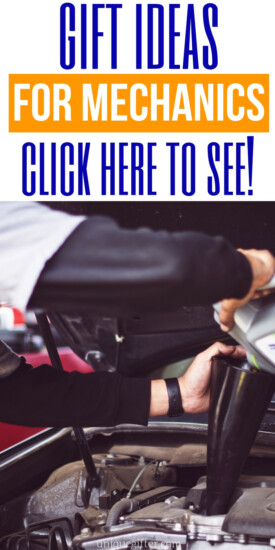 Related Posts:
The Best Gift Ideas for Mechanics
Give them varying gifts that they can use and appreciate while tinkering in their garage. Below, I have assembled a collection of ultimate mechanic gifts that will keep them happy and will make the garage more attractive.
1. Jump Starter
Occasionally, they will need to boost a car with a dead battery to get the engine running. A starter means they do not need to worry about dead batteries.
Stanley Jump Starter
2. Digital Multi-meter
They can now perform the battery test function plus other tests using this meter.
Editor's Choice Best Gift Ideas for Mechanics
Monogrammed Whiskey Decanter Set
If you can imagine just how much mechanics have to put up with in a day, you'd realize why this whiskey decanter set makes a great gift idea! It's personalized with their initials for the perfect set for their back office or service counter!

3. Tool with Plier
A mechanic is the kind of person who needs a variety of tools to perform a number of activities. Therefore, a 16-in -1 type of tool will meet several demands.
Leatherman Keychain Multi-Tool
Buy Now
4. Pen Flashlight
A great compact light is needed when he or she needs to go under the car. Alternatively, it is vital for locating those small screws that are hard to find.
Streamlight Flashlight
5. Mechanic Creeper
This underneath padding will provide comfort when kneeling or laying down. It has extra cushioning to provide the support needed.
Pro-Lift Mechanic Creeper
6. Work Shoes
Because you do not want them to drop a spanner on their big toe. It can be painful
King Rock Mechanic Boots
Buy Now
7. Mechanic's Screwdriver
You will never hear mechanics say they have enough tools. Get them some screwdrivers to lay around just in case.
TEKTON Mechanic's Screwdriver Set
8. Spark Plug Holder
They need to hold spark plugs securely while inspecting the engine. Choose the right size based on the needs of your mechanic.
9. Mechanic Overall
This outfit will guarantee comfort and overall protection. In fact, this thoughtful gift will ensure they do not get their clothes soiled. The multiple pockets also provide convenient storage for smaller tools.
Portwest Unisex Workwear
10. Tool Box
You need them to be organized when they go out to repair a car that has stalled. This durable shelf is an excellent way to keep their tools in one place to avoid clutter.
Stanley Tool Box with Tray
11. Funnel
Get them a chemical-resistant funnel to use when pouring engine fluids, engine oils or fuel. When pouring fuel, they need to filter out large pieces of debris to avoid blocking the openings in the carburetor.
Majic Funnel

12. Garage Store Cabinet
Perfect for storing tools and other gear. This unit only requires simple assembly, and the garage will have an organized look.
Utility Cabinet

13. Garage Diorama
As a way of sending them back, throw them this garage diorama. This set will add beauty to their workstation and will be a source of inspiration.
Phoenix Garage Diorama

14. Wireless Speaker
This gift will send them a message: you want them to work and have fun at the same time. Their portable nature makes them perfect to for transportation to any location. Another winning feature is that they can be paired with a phone.
BRAVEN Wireless Bluetooth Speaker

15. Car Cover
Car covers will protect a vehicle from dirt, dust, and moisture. In some cases, a car will need to spend more time in the garage before it gets fixed.
Budge Lite Car Cover

16. Gearwrench
This wrench set is an excellent addition because a mechanic will never have enough tools.
Gear and Box Ratcheting Wrench

17. Working Gloves
A glove offers superior dexterity, in addition to comfort.
Mechanix Wear Covert

18. Wheel Chocks
The mechanic will use them for safety when using lifting devices or ramps because they prevent the tires from rolling.
FloTool Wheel Chocks

19. Tool set
More tools? Yes.
Stanley Mechanics Tool Set

Editor's Choice Mechanic Gift Idea
'The Legend' Insulated Coffee Mug

Let your mechanic know who the real legend is with this awesome coffee mug that's sure to put a smile on his face! It's personalized with their name so you can really show how much your appreciate their hard work!
20. Creeper Seat
This is just another comfort gift that will enable them sit down and swing around while fixing a car. Seating is preferable to working on the knees or bending over.
Torin Creeper Seat

I have made a list of even more gift ideas for mechanics because there are so many cool and fun ideas out there. In this gift guide, you will find all kinds of awesome stuff that your favorite mechanic can't live without. Have a look at these terrific gift ideas!
Even More Gift Ideas For Mechanics That Are Really Cool
If you are looking for a present for the mechanic in your life, you have come to the right place!
21. Car Tire Mug
Now your favorite mechanic can sip his or her coffee out of this unique mug! Looks great on a toolbox too.
22. LED Flashlight Gloves
These gloves are made for working in tight spots. Whether you are working under the hood or under the vehicle, they have you covered.
23. Blinker Fluid
We all know (or at least most of us) that there isn't any such thing as blinker fluid! Any mechanic is sure to get a good laugh out of this gift!
24. Magnetic Wristband
This wristband is perfect for attaching nuts and bolts, so you don't lose them. Conveniently adjustable to fit most wrists.
25. Rolling Mechanic Stool
Having a comfortable place to sit when you are getting down, and dirty will make the day easier. This stool has wheels and a tray to hold small items such as screwdrivers and wrenches.
26. Charcoal Soap
Get the grease and dirt off your hands in a snap with this charcoal soap. Pure and natural soap that will work hard for you.
27. Wrench Tools Cutlery Set
Each set comes with a fork, spoon, and knife in a handy case. This is a fun present that is also functional.
28. Working Hands Hand Cream
When you work with dirt, oil and get banged up all day, it is nice to have some hand cream to moisten after a long day.
29. "I'll Be In My Office" T-shirt
A hilarious t-shirt that fits the personality of a true mechanic. Working is also a way to relax and de-stress.
30. Transmission Art
Ford fans will go crazy for this Harry Ford transmission poster. It looks so vintage and cool.
31. Motorcycle Ashtray
This ashtray looks awesome! Even if they don't smoke, it is a great place to toss keys or wallet.
32. Silicone Drink Coasters
The coasters are in the shape of floor mats! Perfect for any car or truck enthusiast.
33. Clutch & Gas Socks
Sock are always a hit, especially when they are funny! Never forget which foot is for the clutch or the gas!
34. Magnetic Fender Cover
Easily hooks to the fender so you can work without worrying about scratching the paint.
Editor's Choice Gift Ideas for Mechanics
Automotive Magazine Subscription
Price:

$19.97
Price:

$17.97
Price:

$39.95
Share a love for all things automotive with a magazine subscription for your favorite mechanic. This is a thoughtful, and practical gift idea!
35. Diesel Mechanic Stickers
Your favorite diesel mechanic is sure to enjoy these stickers. Perfect for tool boxes or computers.
36. Mechanic Name Art
Spell out a nickname, last name, or even first name of the mechanic in your life. This will look cool in a mancave or shop!
37. "Still Plays With Blocks" Glass
Funny and true, this glass is a terrific gift for a mechanic or car fanatic.
38. No Rinse Wet Wipes
Sometimes when you are working, you don't always have access to a sink. These wipes are great for those situations. Just grab one, and clean up in a snap.
39. Tire Bowl Snack Caddy
Enjoy your snacks in style with this candy bowl shaped like tires. Fill it with his or her favorite treats, and it is a huge win!
40. Mechanic Lover's ToolBox Gift Basket
Each basket has tasty food like smoked almonds, sourdough nuggets, cookies, and peanuts! It also comes with a socket set.
Which of these gifts for mechanics do you like the best?