Disclosure of Material Connection: Some of the links in this post may be "affiliate links." This means if you click on the link and purchase an item, I will receive an affiliate commission. Disclosure in accordance with the Federal Trade Commission's 16 CFR, Part 255. This site is a participant in the Amazon Services LLC Associates Program, an affiliate advertising program designed to provide a means for sites to earn advertising fees by advertising and linking to Amazon.
Unique gifts for pediatricians in this list! When you are looking for just the right gift for your favorite pediatrician, whether they are your doctor, a family member, a friend, or someone else, finding a gift that is both thoughtful and avoids the typical "doctor" stuff can be hard. The gifts on this list are all unique and fun! You are sure to find something that the pediatrician in your life will enjoy!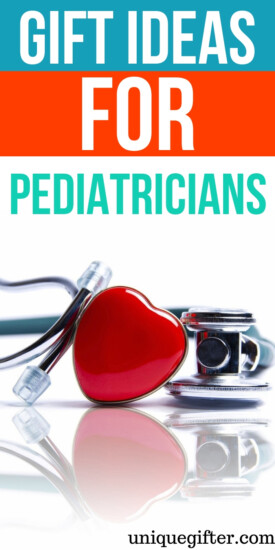 20 Creative Gifts For Pediatricians
Each of these presents is perfect for the pediatrician in your life!
"Instant pediatrician, just add coffee" Tumbler
To work, all they need to do is add coffee! With this tumbler, they can drink their coffee on the go too.
"Our patients are cuter than yours" Shirt
It's true; their patients are the cutest!
Sock Monkey Retractable Badge Holder
Keeping their clothes and pediatrician accessories fun for the kids is essential, and that's where the sock monkey retractable badge holder comes in.
"Caretaker of tiny humans" Keychain
Their job is to take care of tiny humans, and it is a big job indeed.
Girl and Butterfly Watercolor Print
This girl and butterfly watercolor print would be beautifully framed and hung up in their office, or even at home.
"Big patience for little patients" Mug
Their patience has to be pretty big to help their little patients, especially when there is lots of crying during the day.
"Pediatrician: I see little people" Shirt
A little twist on the Sixth Sense movie, if they love that one!
Happy Face Bandaid Pin
This happy face bandaid pin pinned to their white coat, or scrubs, may just make their little patients smile.
Doctor White Coat Chocolate Bar
This just may be the most delicious chocolate bar they ever eat.
Poppy Troll Retractable Badge Reel
Trolls are still really popular, which is why they need Poppy troll on a retractable badge reel for their official badge.
"Open up & say raarr!" Dinosaur Mug
Instead of "ahhh," saying "raarr" is so much more fun for the kids!
Doctor Prescription Pad Sleeve
Dogs, cats, frogs, flowers, and more to choose from!
"Vaccines cause adults" Shirt
For doctors, they know that vaccines as children cause them to grow up into adults!
Baby Badge Reel
Whether they primarily take care of babies as a pediatrician, or they are just some of their patients, this baby badge reel is super cute!
Personalizable Owl Pocket Pen Holder
Help them protect their white coat or scrubs' pocket from ink spills and more with this personalized owl pocket pen holder.
Penguin with Stethoscope Shirt
When they have downtime, this penguin with a stethoscope shirt will make their day off even more fun since they should see a bunch of smiles from people who see it.
"I like my patients better than their parents" Mug
They like their patients a lot more than the patients' parents. Adults are usually harder to deal with!
Down Syndrome Awareness Lanyard
If you, or they, have a heart for down syndrome awareness, this lanyard is for them.
Human Hand and Foot Bones Anatomy Watercolor Art Print
While the hand and foot in the art print may be of an adult, they are still accurate and will look really cute hanging up on the wall of their office or home.
"Certified baby whisperer" Mug
Your favorite pediatrician is a miracle worker with the babies, which means they are a certified baby whisperer.
Being a pediatrician may not be an easy job, but it is imperative and rewarding!