Disclosure of Material Connection: Some of the links in this post may be "affiliate links." This means if you click on the link and purchase an item, I will receive an affiliate commission. Disclosure in accordance with the Federal Trade Commission's 16 CFR, Part 255. This site is a participant in the Amazon Services LLC Associates Program, an affiliate advertising program designed to provide a means for sites to earn advertising fees by advertising and linking to Amazon.
School guidance counselors do so many jobs during the year – scheduling, career counseling, and they listen to our student's individual concerns about life. They are the quintessential "jack of all trades." If you're looking to show a little extra appreciation to your child's guidance counselor, here are 20 ideas to get you started!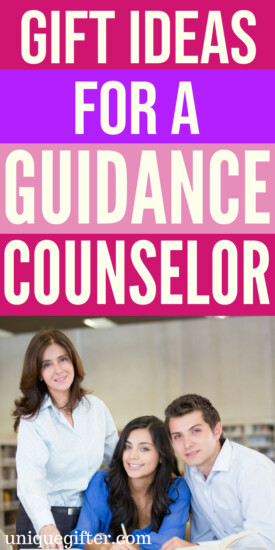 20 Useful Gifts For A Guidance Counselor
Give your guidance counselor a thoughtful gift that he or she will greatly appreciate. This list is filled with amazing ideas.
Personalized Bookplates
High school guidance counselors are likely to have books or other personal materials they are sharing with students. With stickers like these, help them label some of the books or texts that they may share with their other students.
Desktop Zen Garden
This is definitely a fun addition to a guidance counselor's desk. An item that's fun for the counselor and their students to play with during meetings.
A Piece of "You Matter" Artwork
This simple piece of artwork says only two words, but the words ring true for everyone.
BOOK: Acceptance: A Legendary Guidance Counselor Helps Seven Kids Find the Right Colleges–and Find Themselves
This book by a nationally renowned guidance counselor would be a welcome addition to their office collection…if it isn't already!
A Custom Rubber Stamp
Teachers and guidance counselors can all benefit from a custom stamp with their name on it. 
Feelings In a Jar®
A useful tool for their guidance counselor toolbox.
A Festive T-Shirt
This particular shirt is so true about a great guidance counselor!
Custom Notepads
Always useful. Ask anyone who works in a school setting.
BOOK: The School Counselor's Book of Lists
A book of lists to make their life a little easier and more streamlined.
A Spa Gift Basket
After a long semester of counseling students, give them something to help them wind down.
Custom Door Sign
Door signs are a great addition to a counselor's office.
Starbucks (or another coffee shop) Gift Cards
Sometimes, there isn't enough coffee in the world for guidance counselors, so help them out!
A "Thank You for Your Guidance" Card
Sometimes a simple card goes a long way!
CBT 123: The Hilariously Fun Game that Empowers Kids and Teens to Take Charge of Their Thoughts, Actions, and Emotions
Another game that's useful and fun for a guidance counselor to use.
Inspirational Pencils
Chances are that a student will forget a pencil from time to time. Help them stock up their office with some inspirational writing utensils!
School Counselor PopSocket
Anyone can use a PopSocket for their phone!
BOOK: Sudoku Crossword Puzzle Books
A gift book of word searches & sudoku puzzles!
Chaos Coordinator Mug
Because we know guidance counselors are really just controlling the chaos around them.
Rhinestone Pens
For the guidance counselor who likes to show a little counselor flair!
A Pack of Fidget Toys
Fidget toys can be great for any guidance counselor's office. Depending on a student's age, they're a very useful tool.
Guidance counselors wear so many hats, show them some love with an idea like these!