Disclosure of Material Connection: Some of the links in this post may be "affiliate links." This means if you click on the link and purchase an item, I will receive an affiliate commission. Disclosure in accordance with the Federal Trade Commission's 16 CFR, Part 255. This site is a participant in the Amazon Services LLC Associates Program, an affiliate advertising program designed to provide a means for sites to earn advertising fees by advertising and linking to Amazon.
When your friend is a pastor's wife, or you simply need to get a gift for the wife of the pastor at your church, it might be hard to find just the right one. She is not the one who does the sermon every Sunday, but she does so many other things for the church and its members. She is often overlooked and while she might not mind that, she would really love a special gift just for her to let her know that she is on your mind. Check out this awesome list of gifts just for her.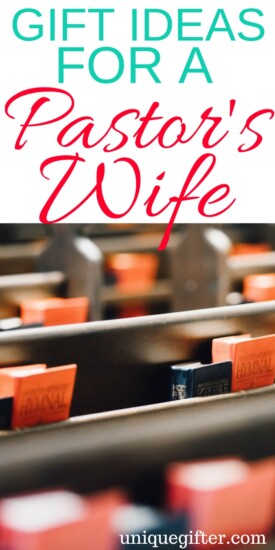 Gifts for a Pastor's Wife
"Always stay humble & kind" Coffee Mug
It is important to always stay humble and kind, as a Christian and a pastor's wife.
"Thank you for all that you do" Bracelet
A simple and easy way to tell her that you appreciate all that she does is a bracelet that says just that!
"Jesus" Necklace
Another simple gift, one word: Jesus. That is one of the most important words in her vocabulary.
"Under His wings" Inspirational Printable
She is always under God's wings. You can frame this printable and give it to her to hang up at home as a good reminder.
"Faith" Keychain with Heart Charm
Your favorite pastor's wife is faithful, but sometimes faith is hard to come by in those hard moments. This keychain will be a good reminder for her.
"Jesus is my rock" Coffee Mug
Jesus is the pastor's wife's rock. He keeps her strong and moving forward.
"If God is for us, who can be against us?" Romans 4:1 Bracelet
God is always for us, so who could possibly stand against us? This bracelet reminder will fill her with peace and confidence.
"I loved you at your darkest Romans 5:8" Phone Case
God loves us at all times, even our darkest moments. Your favorite pastor's wife will love putting this on her iPhone or Samsung phone to keep it safe from cracks and breaks.
"God is within her, she will not fall Psalm 46:5" Shirt
God is with her wherever she is, and will not let her fall. This shirt is an excellent reminder of this, both to the pastor's wife as well as anyone who takes the time to read it.
"God is able" Necklace
He is able to do anything for us.
"Believe" Floral Journal
A simple word on the cover of her new favorite journal, a journal she can use for anything: Bible notes, prayers, and much more.
"Family faith friends" Burlap Table Runner
Three of the most important things, especially if she is having a get together in her home. It will bring comfort to her table.
"A little bit of coffee & a whole lot of Jesus" Shirt
She loves her coffee and she loves Jesus!
"Joy" Necklace with Cross
Bring joy to your favorite pastor's wife with a "joy" necklace.
"She is clothed in strength and dignity Proverbs 31:25" Coffee Mug
A pastor's wife is clothed with strength and dignity, and she needs that reminder as she sips her coffee each month.
Cross Sticker for Car Window
This beautiful cross sticker will look amazing on her car or van window!
"Above all else, guard your heart, for everything you do flows from it Proverbs 4:23" Wood Sign
We must guard our hearts because everything we do flows from it, what a wonderful reminder for your favorite pastor's wife.
"Faith hope love" Kitchen Towels
These kitchen towels are a good reminder to have faith, keep hope alive, and to love her family and friends.
"Blessed" Knit & Lace Leg Warmers
She is blessed and she needs warm legs. These are also so beautiful!
"Rise up and pray" Metal Art Decor
It is important for her to remember to rise up and pray when the going gets tough, just like the rest of us need that reminder as well.
Your pastor's wife will be so pleased that you thought of her, whether this is a gift for her birthday, a holiday, or just because. It is always nice to receive encouraging gifts!