Disclosure of Material Connection: Some of the links in this post may be "affiliate links." This means if you click on the link and purchase an item, I will receive an affiliate commission. Disclosure in accordance with the Federal Trade Commission's 16 CFR, Part 255. This site is a participant in the Amazon Services LLC Associates Program, an affiliate advertising program designed to provide a means for sites to earn advertising fees by advertising and linking to Amazon.
We've moved quite a few times in our lives, and the process of making a new house your home is always messy. We've always appreciated the nice gestures, big or small, that our landlords made to welcome us when we moved in. These are great gifts to get things started on the right foot and create a good relationship. Let them know you are happy they are a new tenant.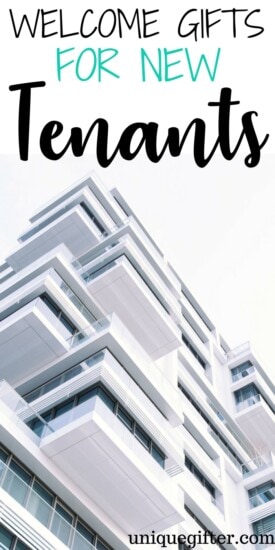 Fun Welcome Gifts for New Tenants
These new tenant gifts are awesome! Each one is a thoughtful way to show your appreciation. Check them out. 
Personalized Door Mat
As renters, we never thought of getting ourselves a doormat so I would have loved to receive one as a gift. It's a bit of personal touch without getting too personal.
Indoor Planter
There's nothing quite like a cheerful plant in the window to make one feel a bit more at home.
Water Atomizer for plants
Gently mist the new plants in style with a charming water atomizer.
Indoor Hydroponic Self-Watering Herb Garden
For the slightly more advanced gardener or one who doesn't want to mess with soil, the hydroponic garden is great fun. We have one for our green onions and they grow like
Kitchen Towels
These adorable dishtowels make lovely gifts for new tenants. 
Key Holder
For the nautically or geographically inclined, this is a very cool way to welcome someone into their new home.
Wood Basket
This carved wood basket can safely cradle your gifts and be used for years to come.
Hand Soap Dispensers
Moving in is a dirty business and we go through loads of soap in the first several weeks of unpacking.
Scrub Brush
The first thing we like to do in a new home is to scrub out all the bathrooms. Because we're weird. But it's still a great tool to have whenever the urge to clean strikes.
Personalized Beer Bottle Opener
We always lose track of our small kitchen gadgets when we're moving. For the beer drinkers, this opener that also catches the bottle tops might be just the ticket for a stressful time.
Vintage Bottle Holder
We can't forget the oenophiles! We also love these bottle holders for other delicious non-alcoholic beverages that our teetotaler friends appreciate.
Personalized Coasters
Protecting your furniture from water damage is always in season.
Signpost Print
If your tenant is a traveler, this print would be right up their alley.
KeyChain
This is perfect for handing over the new keys to your tenant.
Serving Tray
For the entertaining tenant, a good quality serving tray is wonderful to have on hand.
Entryway Art
This unique sign for the entry says it all: good vibes only!
6 Hook Barnwood Coffee Mug Rack
This lovely mug rack keeps all your favorite mugs in reach. Perfect for the warm beverage lover.
Jars of Homemade Jam
There's something welcoming about jars of homemade jam to greet someone moving into their new home.
Waffle Maker
Who doesn't love waffles? This waffle maker is the perfect way to welcome a new tenant. Plus, it's inexpensive too.  
Measuring Cups
Having a new set of measuring cups and spoons is always appreciated. This set is good quality too!
Choosing one of these welcome gifts for tenants will be a lovely surprise. With so many choices it should be easy too.