Disclosure of Material Connection: Some of the links in this post may be "affiliate links." This means if you click on the link and purchase an item, I will receive an affiliate commission. Disclosure in accordance with the Federal Trade Commission's 16 CFR, Part 255. This site is a participant in the Amazon Services LLC Associates Program, an affiliate advertising program designed to provide a means for sites to earn advertising fees by advertising and linking to Amazon.
I actually took piano lessons as a kid and still know how to play. It's a pretty difficult instrument to learn but those who are passionate about playing piano are really passionate. All of these gifts for a pianist are perfect for pianist friends or piano teachers. We also have gift ideas for guitar teachers and gifts for inspiring musicians!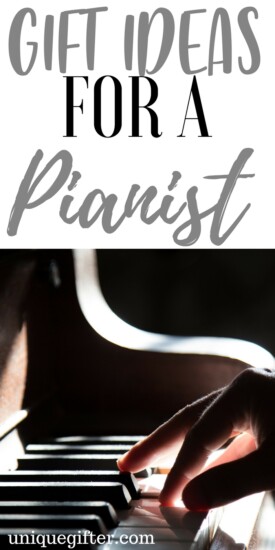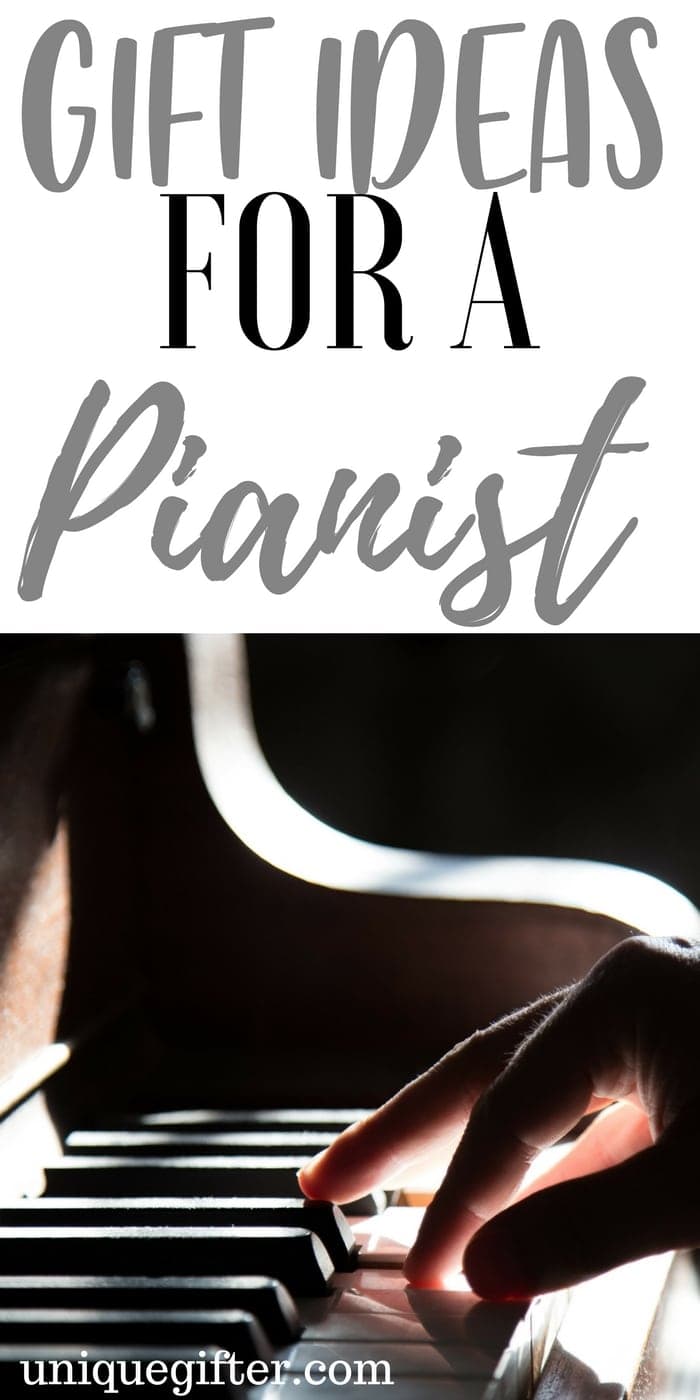 Gifts That Are On Key
Just like a piano!
Music Themed Pencils
From kids taking lessons right up to professionals creating music, everyone who plays piano needs a pencil. Get them one of these cute music notation ones.
Piano Swirl Shirt
Intriguing piano key shirt for a quirky and incredibly stylish piano teacher.
Music Note Bookends
They can keep all their music books stood up safely with these stylish, metal bookends.
Metronome
Having a metronome is essential for piano playing, having a good quality, classy one is even better.
Sheet Music Paper
Get them all set to create their next musical masterpiece with this sheet music composition notebook.
Piano Book
Pianists are happy to learn new things. This sheet music book has 100 of the most beautiful piano solos of all time, perfect for someone who likes to play on their own.
Bach Mug
You can get these mugs in all the famous classical artists so whatever your pianist's preferences are they can be sassy with their mug.
Staff Necktie
Great for the male pianist (or tomboy), these ties are printed with musical staffs so that no matter how formal the event everyone will know what they're passionate about.
Music Notes Poster
Great for kids or an adult pianist who appreciates the simplistic charm of this art print.
Music Note Stickers
These stickers are a great addition to personal planners or home calendars. Perfect for anyone who needs to keep track of practice, lessons, or just piano-related events.
Piano Bag
Sheet music, pencils, etc need to be carried around by musicians. Get a pianists this piano-themed tote bag so they can keep all their belongings safe.
Music Page Holder
What makes this music page holder unique is that you can personalize it with any message you want. Perfect for piano teachers!
Hand Grip Strengthener
There's a lot of muscles at work when you're playing piano. Get a pianist one of these devices to help maintain, or improve, their hand strength so they can play even better.
Music Tree Ornaments
If you're looking for a Christmas gift these are a perfect choice for pianist or musician. They're even made out of recycled piano string!
The Secret Piano Book
Although there's a few different Piano themed true stories out there, this one is pretty interesting.
I Love My Pianist Mug
Does this one count as a gift for you or them? If you're lucky enough to be in a relationship with a pianist this mug is a perfect way to show how you feel.
Pianist Decoration
This handcrafted figurine is a great gift for music teachers or piano lovers.
Personalized Keychain
Their weapon of choice? Piano keys. Personalize this keychain with your own message or use that one, plus add in an initial so it's really unique.
Pun Shirt
This t-shirt has an amazing pun on it: "Life without piano would 'B flat'".
Chocolate Piano
Why not just give them a piano made entirely out of chocolate as a gift?
Don't worry, these gifts are definitely not going to fall flat when you gift them to a pianist.