Disclosure of Material Connection: Some of the links in this post may be "affiliate links." This means if you click on the link and purchase an item, I will receive an affiliate commission. Disclosure in accordance with the Federal Trade Commission's 16 CFR, Part 255. This site is a participant in the Amazon Services LLC Associates Program, an affiliate advertising program designed to provide a means for sites to earn advertising fees by advertising and linking to Amazon.
Listen up chimps! Swing on over to this one of a kind gift ideas for gorilla lovers guide! We've got some of the most incredible and unique gifts that'll have you banging your chest on top of the empire state building! Don't lose your bananas, and get ready for some fantastic picks!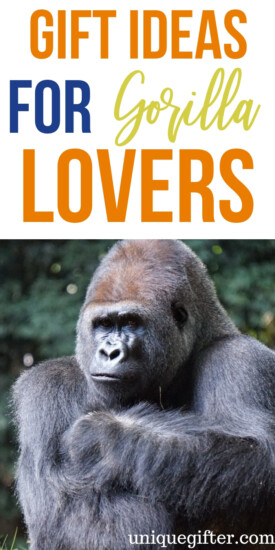 Unique Gift Ideas For Gorilla Lovers
Have a look at these terrific gift ideas for the gorilla lover in your life!
Gorilla Cufflinks
These handmade pewter cufflinks are a man's best friend! Show off your wild side in the office, and swing to the top of the corporate ladder with these mean one of a kind links!
Embroidered Gorilla Hat
This trendy retro style gorilla patch hat will have you going bananas! Unique finds like this are all the rage, and can do wonders for any outfit! Get yourself or your favorite primate lover selfie-ready with this cool cap!
Gorilla Soap
This fantastic set of bath soaps are a luxury to behold! Featuring an incredible molded gorilla's head on the bar, they're sure to make an incredible centerpiece to a gift basket.
Festive Gorilla Ornament
This adorable holiday ornament will be a new welcome tradition for any gorilla lovers with an empty spot on their tree. Spice up their holiday with this hilarious and memorable ornament!
Adult Gorilla Onesie
Get your gorilla on, literally! You'll be right at home in this soft and plush animal onesie. Give your favorite gorilla lover the gift of comfort with this cute and warm sleepwear! Presents like this aren't only unique, they're something that will really surprise your friends and family!
Gorilla T-Shirt
This shirt is a great ice breaker! With a gorilla's fist clenched around your waist, you might just find yourself turning a lot of heads.
Gorilla Necklace
This gorgeous gold plated gorilla charm comes in the shape of your favorite animal lover's number one primate! A piece of jewelry like this can be incredibly sentimental, and makes for a tremendous handcrafted gift!
Gorilla Socks
Apparel, socks, in particular, are an absolute no brainer. Everyone can use them, especially when they come printed with a roaring gorilla! Grab a pair for your favorite gorilla lover, great for gift exchanges!
Handmade Gorilla Pendant Banner
This stylish banner would make an excellent nursery gift for the young chimpanzees out there! Made from cotton and printed with some cute gorillas, it makes for an easy decor gift that'll have just about any gorilla fan screaming!
Gorilla Glue
What do you think of when you think about gorillas? Unrivaled strength? Multi-Purpose waterproof glue? Exactly! This 20z bottle of glue is great for the crafty, the DIYers and animal lovers in your life!
Stuffed Gorilla
Cute doesn't do this stuffed gorilla justice; it's absolutely adorable! Great as a desk ornament or cuddly friend for any of the animal lovers on your list. Would highly recommend for some of the best hugs in the animal kingdom!
Gorilla Coasters
These stylish stacking coasters are handmade and come in metal, complete with a stitched leather holder. This set is up there for an amazing gift exchange idea, as well as a home office or other living spaces! Knock the socks off of your favorite gorilla lover with this must have!
Gorilla Blanket
For the young gorilla fans out there, this baby blanket is the perfect addition to any nursery. Not to mention it's a great baby shower gift idea! If your favorite primate lover is expecting, this one is right on the money!
Gorilla Sticker
Gorilla fans sure are an artsy bunch, help them express themselves with this one of a kind sticker! Great for anything from scrapbooking to skateboarding this unique piece makes for a great stocking stuffer or thank you gift!
Gorilla Bedtime Story
This artsy gorilla bedtime story is excellent for the kids at heart! Pick up ones of these books for your favorite gorilla fan to help them get to sleep!
Gorilla Keychain
This keychain light key fob is the perfect gorilla accessory! Great for camping or nights, this little guy will bring plenty of joy! Let this light guide your favorite animal lover's way!
Gorilla Whiskey Glass
This excellent pair of whiskey glasses raise the spirits! Featuring a small metal gorilla, they're sure to catch the eye of your gorilla loving friends! Show them you care with a gift that will adorn their home bar for years to come!
Gorilla Feet
These novelty wearable gorilla feet are the best way to get the party started! They make an excellent conversation starter, and will bring plenty of laughter to this year's office Christmas party!
Gorilla Boxers
This pair of boxers is genuinely one of a kind, featuring a smug primate on the front; their design is unique. Treat your favorite gorilla lover with a pair of undies they'll never want to take off! Who says you shouldn't always wear your animal pride?
Gorilla Statues
This set of three marvelous handmade bronze gorilla statues might be one of the most treasured gorilla gifts out there! Great as bookends, desk ornaments or living room decor they'll make a real splash no matter what the occasion!
Thanks for checking out our top 20 gift ideas for gorilla lovers! Toss a banana our way, or just let us know what you think!