Disclosure of Material Connection: Some of the links in this post may be "affiliate links." This means if you click on the link and purchase an item, I will receive an affiliate commission. Disclosure in accordance with the Federal Trade Commission's 16 CFR, Part 255. This site is a participant in the Amazon Services LLC Associates Program, an affiliate advertising program designed to provide a means for sites to earn advertising fees by advertising and linking to Amazon.
Everyone has a favorite animal, or three, and a cow may seem like an unlikely candidate for this position given the common sensibility about cows: all they do is chew their cud and low "moooo". After spending some time with heritage farmers, I've discovered that they're far more personable that we give them credit for. They can be trained, they enjoy being petted, and they like licking people.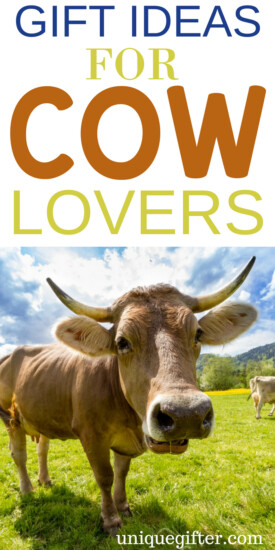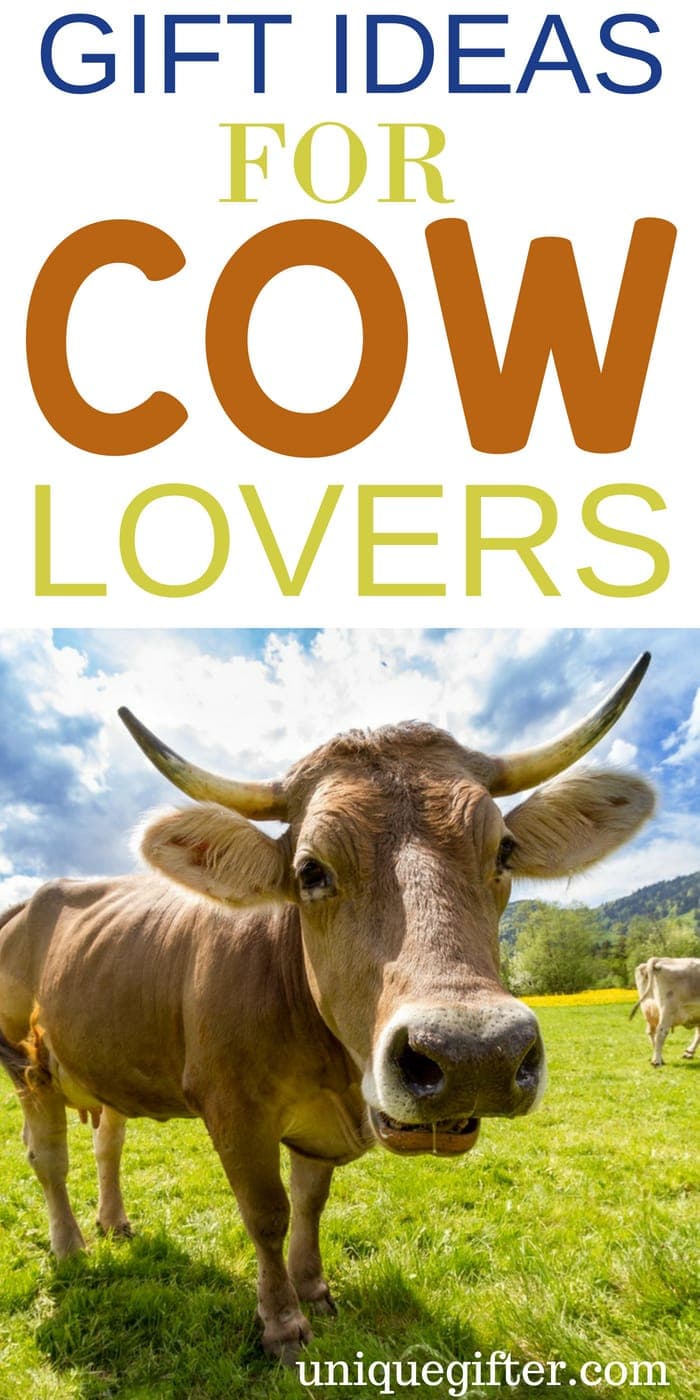 Back in grade school, I had a dear friend who somehow acquired a nickname that included "cow" in it. I can't recall the origins but I do know it was a fond nickname, used affectionately, and it started a funny collection of cow-related gifts that spanned the rest of our time in primary school. To this day, I still think of that friend when I spot fun cow paraphernalia, and wonder if they would appreciate a late in life addition to their childhood collection.
Creative And Fun Gifts for Cow Lovers
Men's Fleece Pajama Pants
Let's all be honest and admit that the best thing about gifting men's fleece pajamas, aside from the coziness, is that they always have pockets.
Cardboard Standup
Know someone throwing a Western home-on-the range party? Bring them a couple of hay bales and this cardboard cow to get the right ambience.
Women Cotton Crew Socks
A set of mostly cotton (a little bit acrylic, a little bit spandex) socks, these four cuties are a great stocking stuffer or just a little thinking of you gift.
Udderly Cow Mug
These udders aren't just decorative, they're also equipped with silicone grippers to keep your mug from sliding across the table, a victim of overzealous hand-waving or gesticulations. The ceramic is microwave safe, and comes in the traditional Holstein Cow pattern.
Cow Coloring Book For Adults
Cows are patterned beautifully in nature but this coloring book brings you a whole new level of artistry
Cow Yoga 2019 Calendar
Never miss another appointment, and experiment with Udder Mooca Svavasana among 11 other cow yoga poses, with this new calendar for a new year.
Cow Stud Earrings
These sterling silver (contains silver and copper) cows on post stud earrings are nickel and lead free. Good news for those of us with metal allergies and a love of fun earrings.
Stainless Steel Water Bottle
Hold up to 17 ounces of water in this double walled, copper lined, and vacuum insulated cow print water bottle.
Toddler Kids Tee
These tees run small, hiding a cow on the inside, pandering to most children's needs to pull their shirts over their heads, inexplicably. This time, we can be in on the joke.
Cow Design Bedding
An adorable bedding set, this 800-thread count set includes a duvet cover with a zipper and 2 pillow shams. Most importantly, this is machine washable and shrink and wrinkle resistant because no one likes to iron their bedding.
Toddler Backpack
This multi compartmented backpack made of canvas and easy clean lining is sized for small children up through kindergarten age when all they should be carrying are snacks, lunches, and a few favorite books or toys. The front punch is insulated, perfect for keeping food and drinks cool.
Cow Wine Bottle Holder
An unexpectedly sturdy, and funny, wine bottle holder, this weighs over 2 lbs and is strong enough to keep any standard wine bottle safely inverted. You'll have to BYOB, though.
Ceramic Flower Planter
This adorably minimalist white ceramic pot has a draining hole that drains into a saucer underneath should you choose to gift this with a live plant.
'Tipsy' and 'Tipped' Wine Glasses
A bit of country fun, this pair of wine glasses put one in the mood for tasting, and polishing off, more than a glass or two of the good stuff.
Cow and Calf Pair Metal Mailbox Topper
Adorable and elegant, this steel mailbox topper is easy to attach to both standard and large mailboxes. It also comes with the necessary hardware to mount it on a railing or fence instead if that's preferred.
Cow Key Chain and LED Flashlight
This darling cow key chain supplies a bright blue LED light through the cow's two nostrils, useful when you've dropped something in the dark or in your car's recesses. A warning, though, this light moos when the light shines, so this is not intended for use where stealth or discretion are required.
Luxury Throw
Snuggle under this large cow print throw with its distinctively thick and luxurious soft Sherpa lining before the kids or dogs get to it first.
Mini Tabletop Vacuum
I love a handheld vacuum but this even tinier tabletop vacuum only takes 2 AAs and sucks up crumbs with one touch. Perfect for cleaning the table and even those small appliances that are normally really finicky to clear like the oven, bread slicer, and toaster oven.
Pop Stand and Grip Socket
Available in a vintage style design, this sarcastic cow stand is collapsible for handheld use and expandable when you want to prop up the phone and go hands free. It's also removable and repositionable so you're not locked into your first placement.
Cow Print Paper Straws
For those who can safely eschew plastic straws, these paper straws are a fun, environmentally friendly, alternative.
If you haven't spent time with bovines lately, there's no time like the present to correct that! May I suggest you try doing a little research on Soays? They're a rather neat heritage breed.