Disclosure of Material Connection: Some of the links in this post may be "affiliate links." This means if you click on the link and purchase an item, I will receive an affiliate commission. Disclosure in accordance with the Federal Trade Commission's 16 CFR, Part 255. This site is a participant in the Amazon Services LLC Associates Program, an affiliate advertising program designed to provide a means for sites to earn advertising fees by advertising and linking to Amazon.
My first cat was a six-week-old kitten that imprinted on two large dogs as her mother. She was a little bit crazed if truth be told, and I wish I'd prepared myself at least a little bit before bringing home a bedraggled kitten, abandoned and scared, that would grow up to be a loving but slightly crazy and fierce bird huntress. These gifts for the first time cat owner would have definitely helped.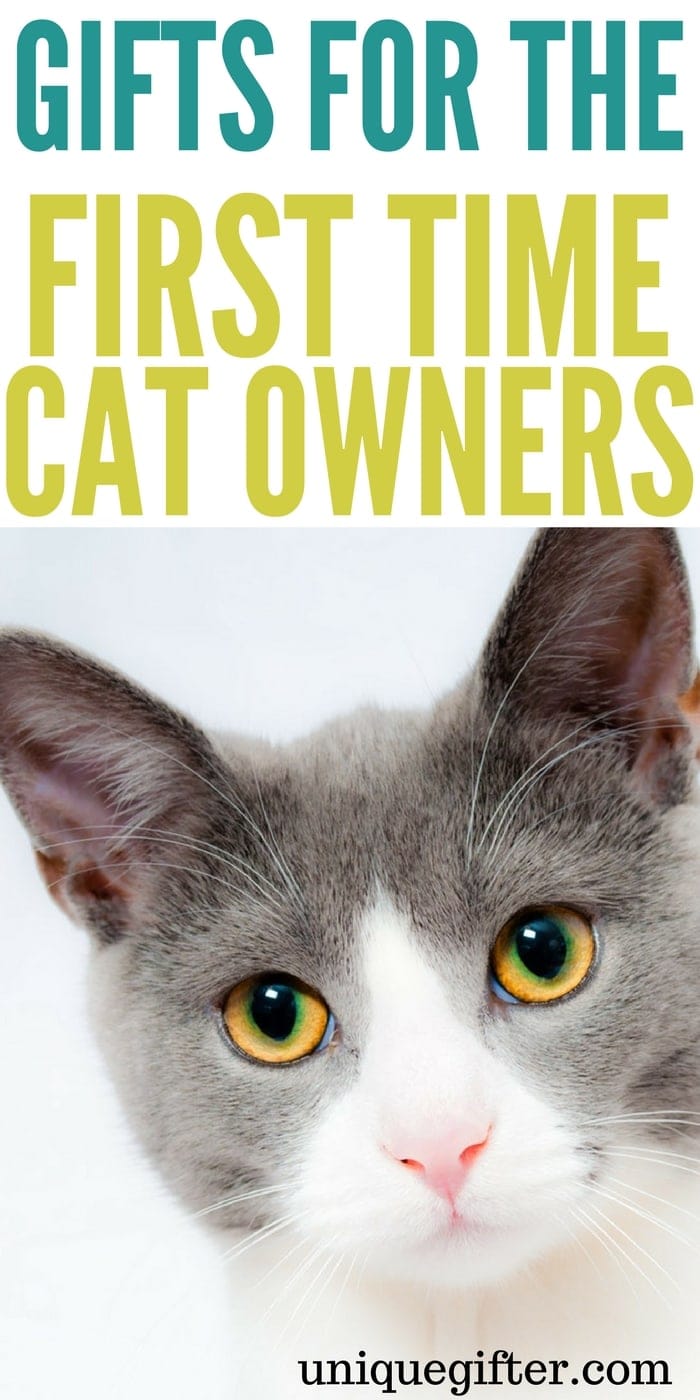 It all turned out ok but we still pass along our experiences to spare other new owners the pain of being broken in by their new kitty friend.
Gifts for the First Time Cat Owner
Cat Petting Guide Tee
An essential guide for new cat owners lest you venture into the Certain Death Zone. Though I lived to tell the tale, it wasn't pretty.
Best Gifts for the First Time Cat Owner
Cat Cave
Every cat owner is going to need a place for their new family member to sleep. Making the cat feel at home is essential in making the process a smooth transition. 
The Cat Owner's Manual
This manual would have helped a whole lot in those pre-internet days.
Cat Bowls
Every kitty needs their own special bowls, better to pick out a set before the kitten decides that the best china is the only thing they'll drink out of.
Nail Clippers
Clipping cat nails is actually far easier than it seems but you might need a second person to hold them still for the first few times.
Litter Odor Control Pail
No one wants to have to smell that smell every single time they walk into the bathroom! Save yourselves.
Litter Trap Mat
Cats will scatter some litter when they first step out of their litter box, give them some runway to do their thing and make it easier for yourself to clean.
Litter Scooper
You absolutely, definitely, positively want to use a dedicated scoop for THIS job.
Litter Box
One of the better litter boxes out there, the new cat will enjoy using this box. Which is good because that means they're not using your rug, or your shoes.
Clump & Seal Clumping Litter
Like diapers for newborns, the gift of a good litter is always appreciated and eventually gets used.
Couch Corner Cat Scratching Post
Making virtue out of necessity, you can protect your couches while giving kitty an acceptable surface on which to sharpen those claws.
Dental Cat Treats
Dental treats are good for their teeth and good for their morale. For some cats, these are great as a training treat, too!
Cat Harness
For adventurous type who want to train their cats to walk on leash, or take them outside safely, this snug harness should keep them comfortably safe.
Cat Tree and Scratching Post
From their perch high above, a cat can survey their realm with the proper catly disdain for all the lower life.
Tower of Tracks Cat Toy
Keep that cat on the move with this tower set – they'll work off some angst here instead of on your legs.
Grooming Gloves
Some cats are absolutely amazing at keeping themselves groomed. Then there are the other long-haired cats who look like bramble bushes with legs. Save them from themselves.
Classic Treats for Cats
A favorite treat among many cat friends, we always keep some of these on hand when we go visiting. We're not above bribing cats to like us!
Colorful Springs Cat Toy
It's a bird, it's a plane, it's an exceptionally springy cat toy! Active cats will enjoy chasing these springs around the house.
Mini Santa Hat
Some very special cats actually enjoy wearing a hat for photo ops. If yours is one of them, don't deprive the world of those pictures.
Portrait Necklace
This is a sweet gift for a new owner – they call it a memorial gift but I say it's better to carry them near your heart from the beginning, not after they've left you.
Pet Carrier
Whether just going to the vet around the corner, or flying across the country, cats prefer to travel in style, safe from prying eyes and possibly dog noses in their own carrier.
Gift Ideas for Other Times of the Year
First-time cat owners are not the only people that like getting gifts for their family members. Check out our other gift ideas for cat lovers below:
Big or little, young or old, there's something for every cat that might be adopted or rescued. Be sure to congratulate the new owner with a little something to welcome their cat to the family with one of these gifts for the first time cat owner!