Disclosure of Material Connection: Some of the links in this post may be "affiliate links." This means if you click on the link and purchase an item, I will receive an affiliate commission. Disclosure in accordance with the Federal Trade Commission's 16 CFR, Part 255. This site is a participant in the Amazon Services LLC Associates Program, an affiliate advertising program designed to provide a means for sites to earn advertising fees by advertising and linking to Amazon.
Grab a seashell bra and get ready for this list of gadgets and gizmos a plenty! (There's whoosits and whatsits galore as well, obviously.)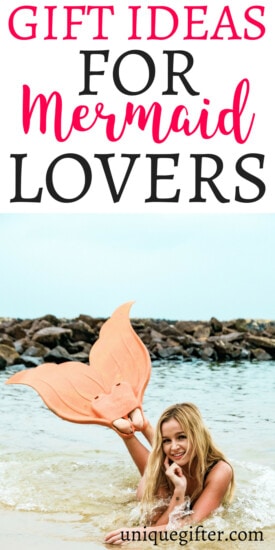 The Greatest Mermaid Gifts
Ursula's Necklace
This replica of Ursula's necklace from "The Little Mermaid" is a quirky gift for a true mermaid fan.
Blue Mermaid iPhone Case
This scaly case is here to keep your phone stylish and shiny!
Mermaid Shell T-shirt
That shell bra I was talking about? If you'd rather be a comfortable mermaid, this shell bra printed tee shirt is the perfect solution!
Blue Mermaid Makeup Brushes
Do your makeup like a siren with this gorgeous mermaid tail makeup brush set.
Mermaid Leggings
Live out your dream of being a mermaid while working out or just chillin on the couch with these shiny mermaid scale leggings.
Mermaid Tail Blanket
Stay warm and cozy with this fun multi colored mermaid tail blanket made exclusively for those who are mermaids at heart
Mermaids Coloring Book
This coloring book is great for kids or adults and features tons of tail-tastic coloring pages!
Bath Bomb with Mermaid Necklace
This bath bomb fizzes to reveal a mermaid necklace hidden within so you can take a bath like a real mermaid
Personalized Mermaid Water Bottle
Put your name on this customized water bottle for the mermaid on the go!
Mermaid Scales Wall Stickers
Decorate your house in true Ariel fashion these blue and gold mermaid scales stickers
Mermaid Tail Coffee Mug
Start your morning with a little bit of mermaid and a LOT of coffee
Mermaid Scales Lunch Bag
Not only is this reusable bag eco friendly, but a percentage of every sale goes to the Pacific Whale Foundation!
2 Pairs of Mermaid Socks
The only thing better than looking like a mermaid is looking like a mermaid but also being able to walk
Drink Like Fish Mermaid Wine Glass
This wine glas gives you the excuse to "drink like a fish," because, duh, you're a mermaid
Mermaids: The Myth, Legends, Lore
Learn about the history of mermaids with this informative and insightful book
Mermaid Tail Pool Floatie
Any true mermaid lover needs a mermaid tail for the pool!
Mermaid Off Duty Hat
Don't hide your identity, let everyone know that you're a mermaid, just taking some time off
Mermaid Hair Don't Care
Rick that bedhead and this cozy shirt on your next lazy day
Metallic Mermaid Scale Stud Earrings
These blue green studs will rock your mermaid world.
Mermaid Mono Fin
For the water bugs, this is the perfect practical mermaid gift!