Disclosure of Material Connection: Some of the links in this post may be "affiliate links." This means if you click on the link and purchase an item, I will receive an affiliate commission. Disclosure in accordance with the Federal Trade Commission's 16 CFR, Part 255. This site is a participant in the Amazon Services LLC Associates Program, an affiliate advertising program designed to provide a means for sites to earn advertising fees by advertising and linking to Amazon.
Let's face it: There are some men in the world that care about their appearance and try to at least keep themselves looking somewhat decent and then there are men who are complete savages. I kid, obviously, but there are quite a few men out there that could probably use a gift or two to help them out in this department and that's where I've come to help!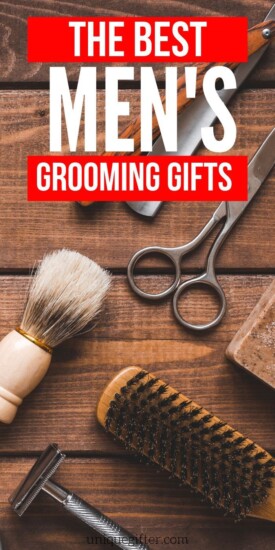 20 Creative Gifts For Well-Groomed Men
There are endless opportunities when it comes to presenting the ones you love with gifts to help with personal hygiene and looking their best and it's bound to be a struggle with finding the right things, let alone choosing the perfect one. I've braved the terrifying retail world of men's grooming products to bring you these awesome gifts, so you can truly feel accomplished when you present your loved ones with these items. Let's nail down this awesome present with these 20 gifts for well-groomed men!
Wahl Groomsman Trimmer
Wahl not only makes pretty affordable products, but they are also usually quality as well. This model has 14 different heads and even includes a nose trimmer! A must-have for bearded gentlemen.
Beard Grooming And Trimming Kit
Another gift for the bearded men out there! Beard balm, high-quality scissors, a beard comb! So many things that are helpful for maintaining that well-kempt mane on your loved one's face.
MANMADE: The Essential Skincare & Grooming Reference For Every Man (Hardcover)
This is a unique book that tackles grooming and hygiene for multiple walks of life. From athletic men to hipsters, Chris Salgardo gives sound advice for keeping your gift recipient in check.
Velino Toiletry Travel Bag
If you have a man in your life that likes to keep themselves looking decent and also happens to travel, this is a fantastic gift for sure! Made from authentic buffalo leather, it not only has tons of space for their hygienic goodies but it also looks extremely dapper.
ONME Manicure Set
There are many men in the world that severely underestimate the value of taking care of their fingernails. There's nothing wrong with making sure that you have clean and trimmed nails and this kit looks very sleek and has everything any guy needs for their nails.
Manscaped Lawnmower 4.0
I'm fully aware that I've already had an electric trimmer make an appearance on this list, but bear with me for a moment here. This is a different kind of trimmer. A waterproof and rechargeable body trimmer. You can't go wrong with this awesome invention.
Parker's Boar Bristle Brush
What a classy looking brush, right? Boar bristles are known for their great effect on hair and this guy is super effective at cleaning and brushing out beards as well. Definitely a quality gift if I've ever come across one.
Sandalwood Bath And Body Gift Basket Set
Maybe it's just a personal preference on my part but I'm pretty sure that Sandalwood is one of the greatest scents that you're ever going to come across. This kit comes packed with everything from body wash to bath salts and most of it is infused with hemp oil to help with relaxation!
Gentleman Jon's Deluxe Wet Shave Kit
For the men out there that enjoy a close shave and a smooth face, there's this awesome kit. Packed with premium products, this kit includes everything from a safety razor to an alum block, combined with a classy looking travel bag and a stand for the razor and shave brush.
baKblade 2.0
I'm fully aware that there are some men out there that are a bit hairier than others, and I've got that dude in your life covered as well! This awesome invention allows men to get rid of that pesky back hair without an embarrassing situation involving asking someone to help them out with it.
Seven Potions Styling Clay
Gone are the days where most men run around with their hair disheveled with nary a care in the world! This styling clay is one of the highest-rated and is also vegan and cruelty-free. You really can't beat that, right?
Dress Like A Man: A Style Guide For Practical Men Wanting To Improve Their Professional Personal Appearance (Kindle)
There comes a point in every man's life where they should not only drop wearing gym shorts constantly but should also consider wearing something besides jeans out of the house. This book has that guy in your life covered when he wants to start dressing more like an adult!
Men's Grooming Recipe Book (Paperback)
If you've got a guy in your life that enjoys the fine art of DIY projects, this book is definitely for them. Covering all sorts of homemade soaps and balms, there are over 90 recipes for grooming stuff. Quite an awesome gift!
Kenneth Cole Black Gift Set
Again, I may be biased but I'm under the impression that Kenneth Cole's Black is some of the best smelling stuff that has ever been created. Gifting this to one of your favorite guy friends is sure to fill them with glee because there are going to be tons of people sniffing him after he sprays this on!
Bad Lab's The Go Gift Set
What an awesome gift set! Bad Lab presents three of its biggest sellers in this wonderful set here. Includes 3 in 1 body wash, deodorant spray, and even includes some quality hair clay.
Derma-Nu's Organic Skin Care Set
Too few men take good skincare habits into account and it's about time you gave a gift that solved that problem, right? This convenient all-in-one package contains everything the man in your life needs to keep his skin in check!
Brickell Charcoal Soap
Personally, I really dig charcoal soap. Considering my favorite color is black and most of them smell amazing, I'm going to take a fair wager that men everywhere would love this bar of soap. Smells great and looks manly? I'm sure the dude in your life would gladly say "Sign me up!".
Aesop Departure Travel Kit
Once again, I come prepared for the man that travels! This nifty little kit here has everything from lip cream to mouthwash. Every item in this kit is high quality and smells terrific!
Phillips Sonicare Rechargeable Toothbrush
Every guy needs a reliable toothbrush, right? Ever since I switched to an electric, I can't even fathom going back to a regular old toothbrush and this one is perfection! Rechargeable and sleek-looking, any dude is going to be thankful for this.
DUDE Products Body Powder
Now here's another product that a ton of men never consider: Something to keep them dry and smelling decent for the day. DUDE Products brings this cornstarch-based powder that includes Aloe and I can't forget about their self-advertised "Long-lasting stank protection"!
Well, there you have it! Those are 20 of the finest grooming products that you're going to find for men and you've got my personal guarantee that any man receiving these gifts is going to be absolutely overjoyed when they try them out. Maybe you're secretly checking out this list for cool stuff to buy? I won't tell on you, but if you are, feel free to give us a shout and let us know how you liked some of the products on Twitter (@ugifter) or Instagram (@uniquegifter) and thanks for checking out 20 Gifts For Well-Groomed Men!