Disclosure of Material Connection: Some of the links in this post may be "affiliate links." This means if you click on the link and purchase an item, I will receive an affiliate commission. Disclosure in accordance with the Federal Trade Commission's 16 CFR, Part 255. This site is a participant in the Amazon Services LLC Associates Program, an affiliate advertising program designed to provide a means for sites to earn advertising fees by advertising and linking to Amazon.
Buying a gift for your housekeeper for Christmas might be a tough thing. How do you show them your appreciation, while also making the gift not that big of a deal? Check out these ideas to get for them for the holiday.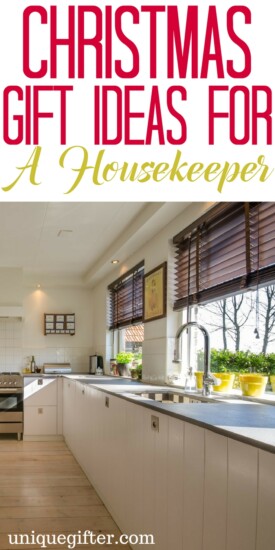 Christmas Gifts for a Housekeeper
"Everything I touch sparkles & shines" Coffee Mug
Your housekeeper makes everything sparkle and shine as she cleans.
"Irony, the opposite of wrinkly" Shirt
They iron the clothes and that's the opposite of leaving the clothes wrinkly, which is ironic!
Starbucks Daybreak Gourmet Coffee Gift Basket
If she is a coffee lover, she will absolutely adore receiving this Starbucks gourmet coffee gift basket.
Red Rose Print Apron
Help her keep her clothes in pristine condition as she cleans and cooks with a beautiful red rose print apron.
"Not your housekeeper" Wood Sign
To keep their own house clean, they expect their family to help, which makes this "Not your housekeeper" wood sign perfect for them.
Foot Peel Mask Set
They spend a lot of time on their feet and need to pamper them!
Iron Necklace with Initial
While maybe not the most beautiful necklace, they will really love the thought behind this necklace and the fact that their initial is on it.
Mary Kay Satin Hands Pampering Set
Since they use their hands a lot, cleaning and dealing with water and cleaning liquids, they need to pamper their hands once in awhile so those hands don't suffer.
"Housekeepers make everyday sparkle" Tote Bag
Your housekeeper makes everyday sparkle because they take the worry and stress away from you!
"World's most appreciated housekeeper ever" Travel Mug
Since they do all that work for you, all the time, they are the most appreciated housekeeper ever.
"If you can read this, please bring me wine" Socks
When they are not cleaning other people's houses, they need to put their feet up and relax. These socks are the perfect way for them to let their family know to bring them wine.
"Housekeeper just because a full time multitasking ninja is not an actual job title" Shirt
They are definitely like a multitasking ninja, they get things done so fast!
Minion Housekeeper Retractable Badge Holder
If they wear an ID for their company, let them have more fun wearing it with a Minion housekeeper badge holder.
Strawberry Shortcake Soy Candle
Help them make their house smell delicious and welcoming with this awesome strawberry shortcake soy candle.
Willow Tree Thank You Figurine
Such a sweet way to say thank you for all her hard work is this Willow Tree thank you figurine!
Rainbow Tree Glass Pendant Necklace
Make their life more colorful with this rainbow tree glass pendant necklace.
Uplifting Aromatherapy Gift Set
Give them the gift of uplifting aromatherapy spray set to keep their mood up while they're cleaning, or not.
"There's always a time for a glass of wine" Wine Stopper
Your housekeeper needs to make time for a glass of wine to wind down after a hard day of cleaning.
"You are a star" Makeup Bag
Remind your housekeeper that she is a star, and give her somewhere to store all of their makeup at the same time.
"Home is where the dog is" Wooden Magnet
If they're a dog owner, then their home is where their dog is!
Any one of these gifts will be a wonderful and thoughtful Christmas gift for your housekeeper, to show them how much you appreciate the fact that they keep your house clean!