Disclosure of Material Connection: Some of the links in this post may be "affiliate links." This means if you click on the link and purchase an item, I will receive an affiliate commission. Disclosure in accordance with the Federal Trade Commission's 16 CFR, Part 255. This site is a participant in the Amazon Services LLC Associates Program, an affiliate advertising program designed to provide a means for sites to earn advertising fees by advertising and linking to Amazon.
Your nanny (or manny) is someone you depend on when it comes to your most precious cargo…your kids! You may want to give her a birthday cash bonus, but it's also a wonderful idea to give her some real birthday gifts for my nanny or au pair! You can let your kids pick it out and deliver the gift – they'd love that! Here are some great options to celebrate your nanny and show appreciation for them and for their dedicated service to your family!

Gifts They'll Thank You For
Besides alone time that is!
BOOK: Year of Yes: How to Dance It Out, Stand In the Sun and Be Your Own Person
This book by TV mastermind, Shonda Rimes, is sincere and enlightening! It's a memoir that might inspire your nanny to try some different things in her life!
Workout Pants/Leggings
Long leggings like this are great for an active nanny! She can wear them to the gym or while chasing the kids!
Fitness Trackers
Nannies are always chasing kids around, so they probably get a lot of physical activity in during their days with your kids!
Trader Joes Essential Everyday Seasoning and Spices Gift Set
If your nanny is a whiz in the kitchen, seasonings and spices are always a great gift for her kitchen! And while you're at it, get her some cute DIY tea towels too!
An Amazing Set of Mixing Bowls
For the nanny who loves baking cookies or cakes, a set of high-quality mixing bowls is necessary!
An E-Reader
If your nanny loves to read, an e-reader is a great gift to unwrap!
A Perfume or Scent They'd Love
If you aren't sure what her favorite scents are, Demeter makes blending trios and random scents of all kinds for all palettes.
Garland Jumbo Kitchen Compost Caddy
For the nanny looking for more ways to be eco-friendly, a kitchen compost caddy is an ideal way to get started.
Tile Mate & Slim Combo Pack, Key/Wallet/Item Finder, 4-pack
This is great for people who seem to lose little things like keys or wallets! Attach one of these squares to an item and when you can't find it, open the app to get a rough idea of where they might be! Useful and very tech-savvy!
Aromatherapy & Diffuser Set
An aromatherapy set like this is a warm addition to any home. Fill her home with pleasant and relaxing scents.
Dr. Teal's Mineral Soak Bath Salts Gift Set
A relaxing soak in the tub with epsom salts is an excellent opportunity for your nanny to relax!
Car Detailing Service
If your nanny is using her personal car to take your kids around, this is a wonderful gift! No matter how many times she's vacuumed it to get the food out and wiped the windows, the kids will have left a permanent mark on the car. Let her have a professional worry about it!
A Fun T-Shirt Like This One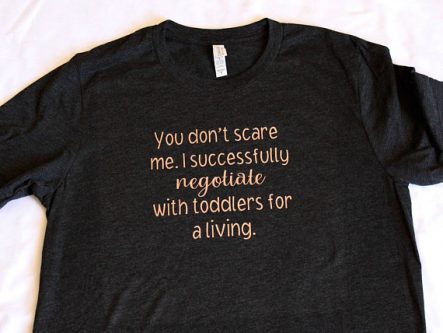 The phrase, "You don't scare me. I successfully negotiate with toddlers for a living," adorns this shirt! Anyone who works with the tiny humans will absolutely identify with this statement!
Wine Club Membership
If your nanny is a fan of wine, having a box of wine delivered to her doorstep is always a fantastic idea.
A Sturdy Phone Case
If your nanny loves her phone and often sends you photos of the kids, she'd likely appreciate a phone case that'll stand up to the kids and day-to-day life.
BOOK: You Are a Badass: How to Stop Doubting Your Greatness and Start Living an Awesome Life
This book is great for motivating people! It's empowering and easy to read!
Nespresso Machine
It's highly likely that your nanny is juggling a lot of projects besides watching your kids. She could be in school, chasing creative pursuits, or working another job! Caffeine may be her saving grace!
A New Bag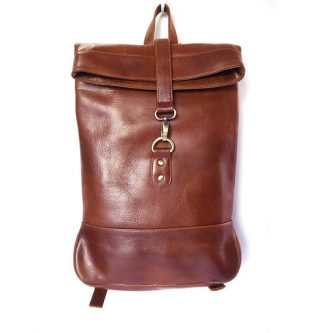 Whether your nanny is a student or just someone on-the-go, a high-quality backpack with room for all of her things, is a great idea!
A Gift Basket
If your nanny loves coffee, wine, art supplies, bath products, etc., it's super easy to create a gift basket/box of some items she'd certainly love! We have created the ultimate of DIY gift basket ideas so never fear.
A gift for your nanny's birthday doesn't have to be terribly complicated! Be thoughtful, original, and show her just how much you appreciate their efforts!