Disclosure of Material Connection: Some of the links in this post may be "affiliate links." This means if you click on the link and purchase an item, I will receive an affiliate commission. Disclosure in accordance with the Federal Trade Commission's 16 CFR, Part 255. This site is a participant in the Amazon Services LLC Associates Program, an affiliate advertising program designed to provide a means for sites to earn advertising fees by advertising and linking to Amazon.
Do you know someone who's really into Fortnite, and all they want as a gift is Fortnite V-Bucks? You're going to have to figure out how to gift Fortnite V-Bucks, which is a little more complicated than you think.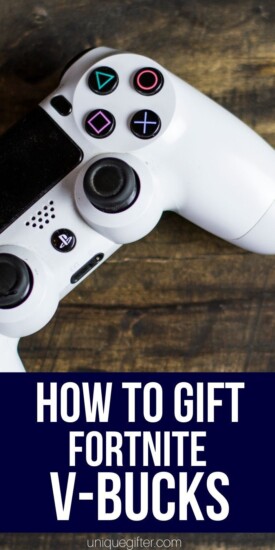 How to gift Fortnite V-Bucks
You can't gift Fortnite V-Bucks in game, nor can you buy a V-Bucks gift card. But you can still find ways to give V-Bucks as a gift by giving them a gift card that they can use to buy V-Bucks instead.
The first thing you're going to need to do is find out what platform they play Fortnite on. You can use a Visa Gift card, but they charge a service fee to load, so it's really not the best option.
Fortnite V-Bucks on the Nintendo Switch
If you want to buy someone V-Bucks on Nintendo switch, you need to buy them a Nintendo eShop gift certificate. These can be purchased at most game stores or online. All they need is the code. Once they add the card to their Nintendo account, they can use the points on anything, including V-Bucks in Fortnite.
Fortnite V-Bucks on the Playstation
For PS4 Fortnite players, you can gift V-Bucks in the same was as the Nintendo Switch. First, pick up a Playstation Store gift card. Then they can add the funds to their Playstation wallet and use that to buy V-Bucks in Fortnite.
V-Bucks on the Xbox One
The Xbox One has multiple ways you can gift funds for Fortnite V-Bucks. First of all, if you're gifting to your child and your Microsoft accounts are connected, you can use the account features to add money to your child's account. They can use this money to buy V-Bucks.
Or, you can always pick up an Xbox gift card that they can use in the same way as the PS4 and Switch gift cards.
In order to play Fortnite online with the Xbox, you also need Xbox Live Gold. An online subscription isn't required on any other version of the game, just on Xbox. If you're gifting V-Bucks to an Xbox Fortnite player, you might want to also give them a gift certificate to play online.
Gifting Fortnite V-Bucks on iOS
You can also play Fortnite on the iPhone! Just like the game consoles, mobile phone gift certificates like iTunes or Android gift cards can be used to purchase V-Bucks.
Giving Fortnite V-Bucks on PC or Android
Unfortunately, there's no way to gift Fortnite V-Bucks to PC gamers or Android users. If you don't want to give cash (and they don't have a credit card) or make the purchase for them, the only way to give Fortnite V-Bucks is by Visa or Mastercard gift card.
All V-Bucks are purchased in the game in Fortnite. The Battle Pass is usually 950 V-Bucks, and 1000 V-Bucks cost USD 9.99.