Disclosure of Material Connection: Some of the links in this post may be "affiliate links." This means if you click on the link and purchase an item, I will receive an affiliate commission. Disclosure in accordance with the Federal Trade Commission's 16 CFR, Part 255. This site is a participant in the Amazon Services LLC Associates Program, an affiliate advertising program designed to provide a means for sites to earn advertising fees by advertising and linking to Amazon.
Administrative Professionals are the back bone of most companies and deserve to be shown how appreciated they are! That's why every April we celebrate them with Administrative Professionals Day! This day covers many job titles such as: secretaries, administrative assistants, executive assistants, personal assistants, receptionists, client services representatives, and other administrative support professionals (Apologies if I missed any!), ensure you get them the prefect gift by checking out this list of administrative professional day gifts below.
Perfect Administrative Professionals Day Gift Ideas
Sentimental, appreciative, and down right funny. This list covers all types of gift styles. Every admin professional will love getting a gift that fits their personality so make sure you take time to decide which gift you'll go with! Maybe a nice fancy travel tumbler, personalized pens, or a really nice snack package.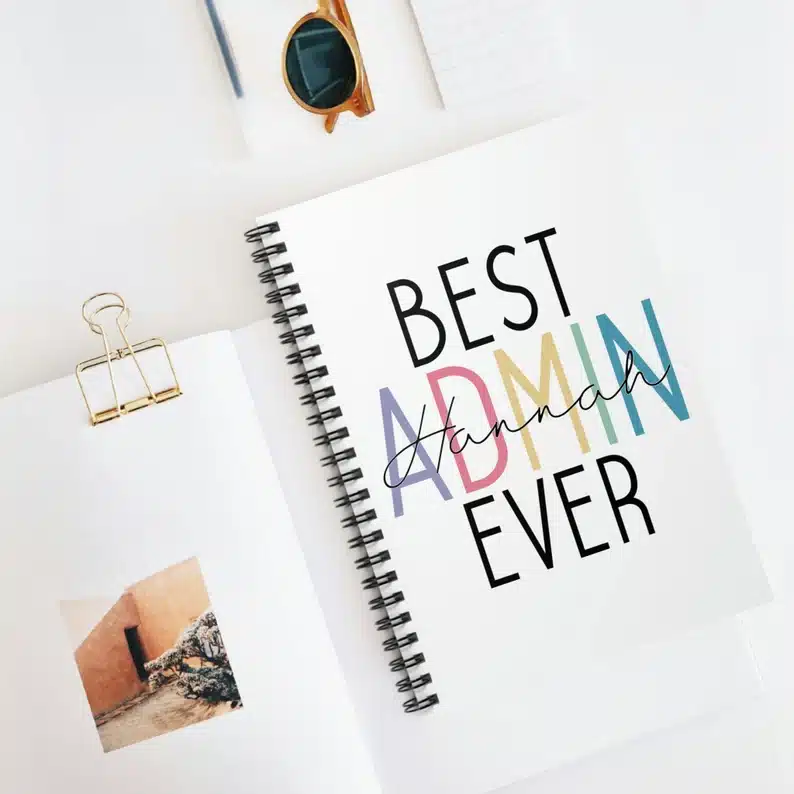 Personalized Notebook
Every Administrative professional needs a good notebook to help keep track of everything. SO why not get them this personalized one with their name on it AND one that tells them how amazing they are.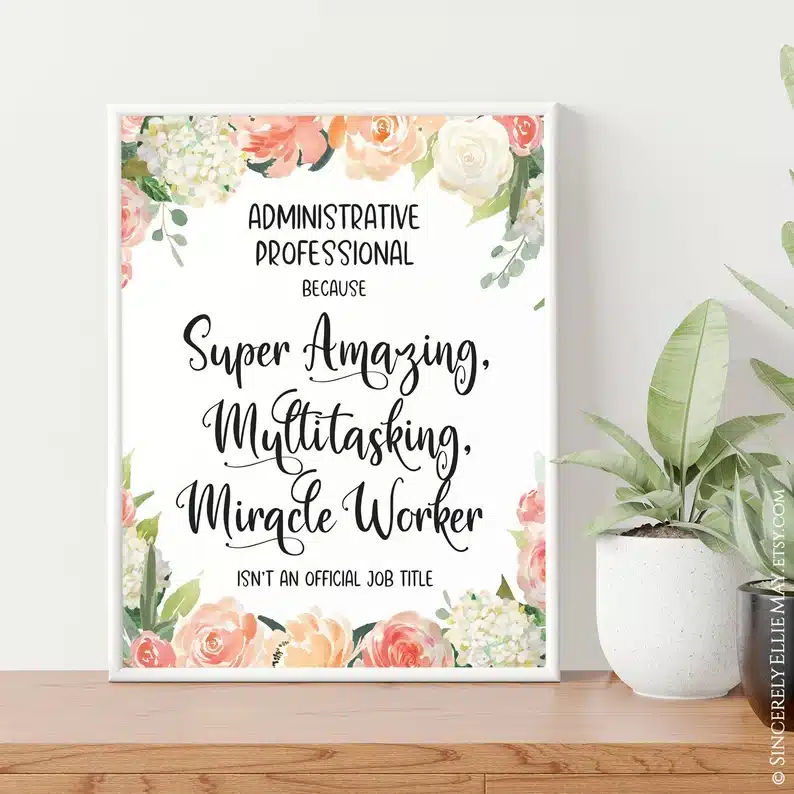 Administrative Professional Appreciation Wall Art
Every office space needs this beautiful sign as a reminder of how amazing your administrative professional is.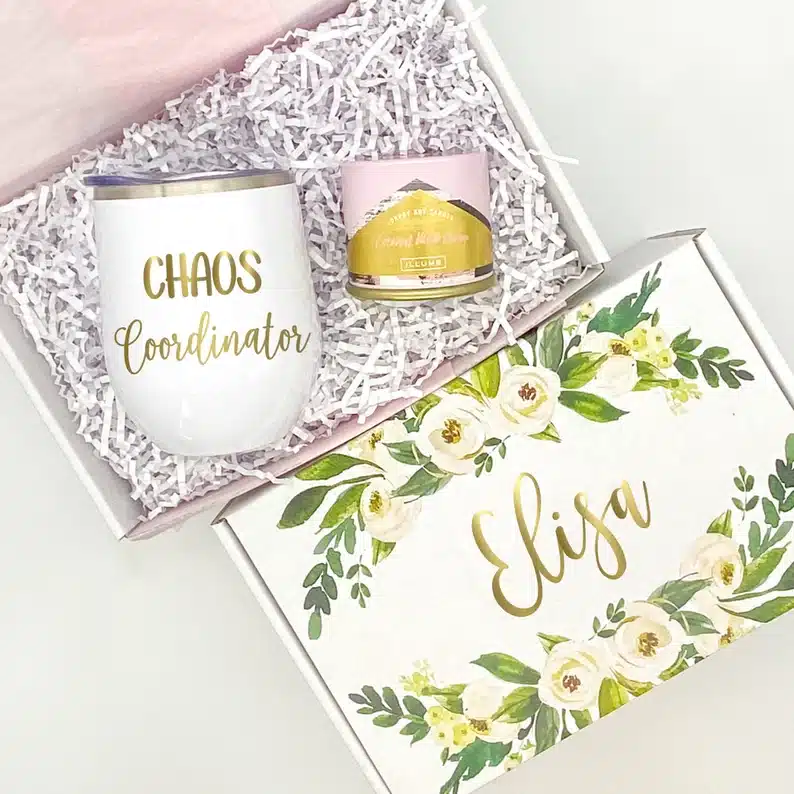 Administrative Professionals Day Gift Box
Administrative professionals go by many different job titles but one should be highlighted; Chaos coordinator! It's a funny little gift but also really nice at the same time. Wine glass tumbler and a scented candle with a few add on options available in the link.
Make Up Pouch
Finding the perfect Administrative professional is like seeing a unicorn! So once you find one you make sure you show them how appreciated they are. This funny make up bag (or pencil bag) would make a hilarious perfect gift.
Snarky Coloring Book
Coloring books are always a fun gift to give. It's a known fact coloring reduces stress and everyone could use that in their life. This snark coloring book will help with stress while also providing some laughs.
Coffee Mug Warmer
Admin's can be so busy I'm sure their coffee has gotten cold a few times too many, let's be honest warming it up in the microwave is never as good. So why not get them this coffee mug warmer they can have at their desk!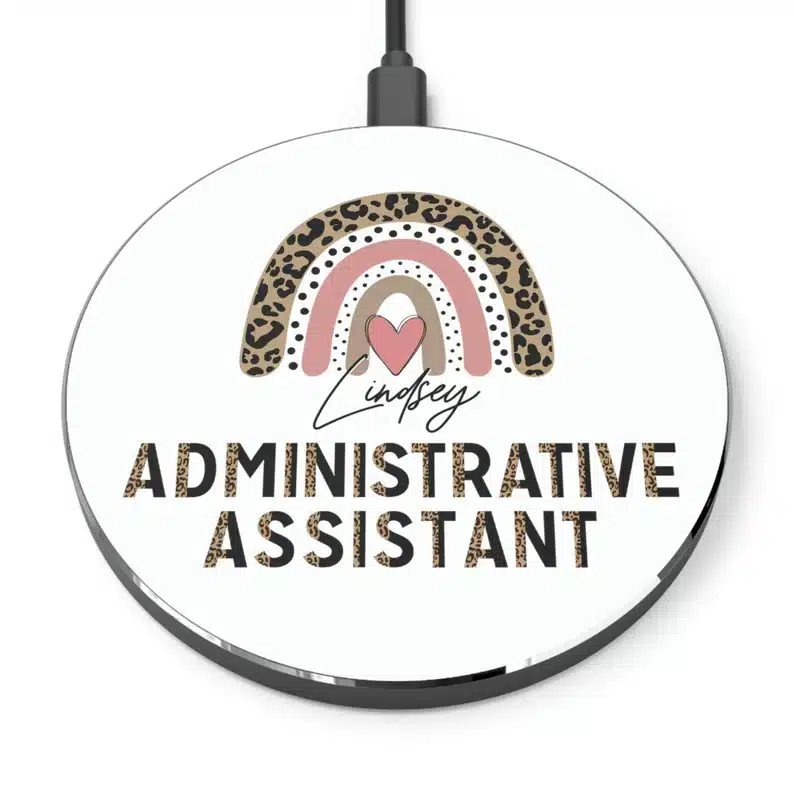 Personalized Phone Charger
In this day and age everyone has a cellphone, that most likely needs to be charged as you are reading this. Check out this amazing personalized phone charger that can be on their desk for easy access to charge.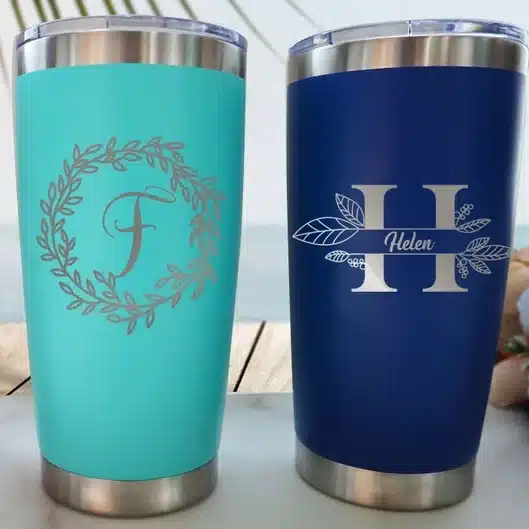 Personalized Travel Mug
Everyone needs at least one travel mug to keep your coffee or tea hot while you drive to work. These personalized travel mugs can have their name, job, or a funny saying added to it. Best part? There is over 12 different colors to choose from!
Laser Engraved Three Piece Pen
Everyone needs a good pen at work, so why not three laser engraved pens that come in a beautiful wooden box. Have them custom made with their name or professional on them so no one can accidently walk away with one of them!
Snack Box
Are you really an office worker if you don't have a drawer in your desk dedicated to snacks! grantee your admin professional has some snacks hidden somewhere. Gift them this amazing 100 piece snack box to keep their supply fully stocked at all times!
Bath and Body Gift Basket For Women and Men
Every hard worker needs a good spa evening to truly unwind after a long day. This Nine piece vanilla coconut home spa set is perfect! It includes lotions, bath bombs, oil, bath towel, and more!
Admin Assistant Mug
It's really not a true gift idea list without at least one funny coffee mug! This one is sure to bring a few laughs around the office.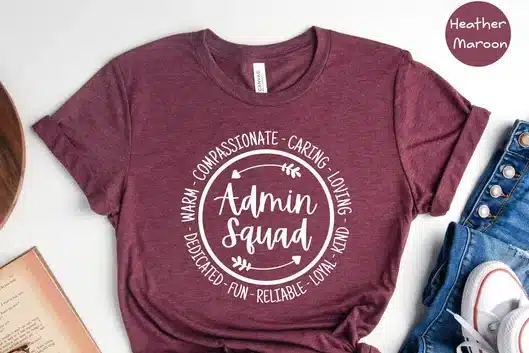 Admin Squad T-Shirt
These t-shirts would make a great gift if you have a couple admin workers to gift! They come in 16 colors to choose from and a few different style shirts as well (Sweatshirt, long sleeve, t-shirt, and V-neck style).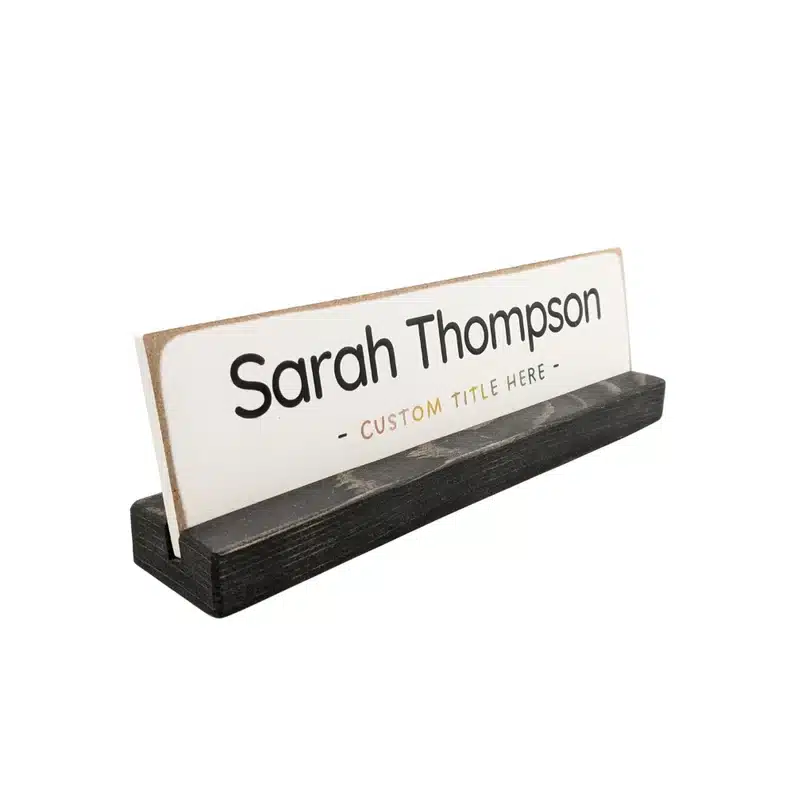 Custom Name Plate
Every office worker deserves to have their name and title boldly displayed so everyone knows just how important they are! This custom name plate would be a great gift to show them how important they are to the office.
Flower Bouquet with Vase
Always a nice choice is flowers with a nice vase. Add a splash of bright colors to their desk and since it comes with a vase they can easily take it home with them or leave it there.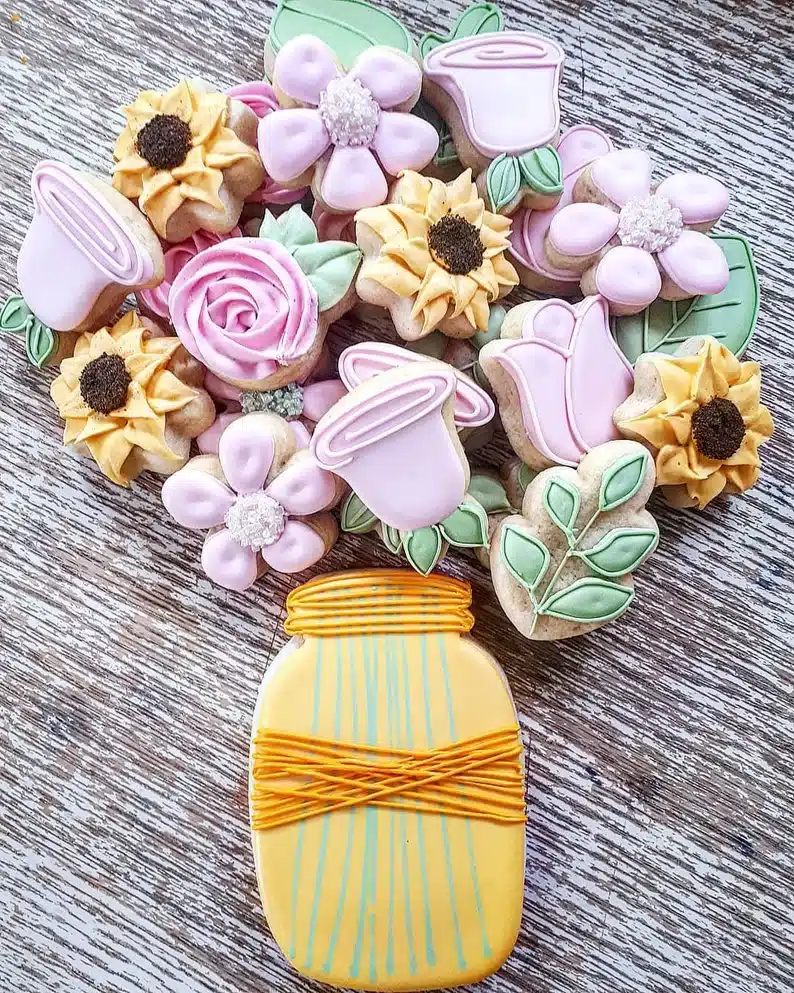 Cookie Flower Bouquet
If they aren't into real flowers consider this cookie flower bouquet! It's a unique way of giving flowers that they can enjoy with their cup of coffee.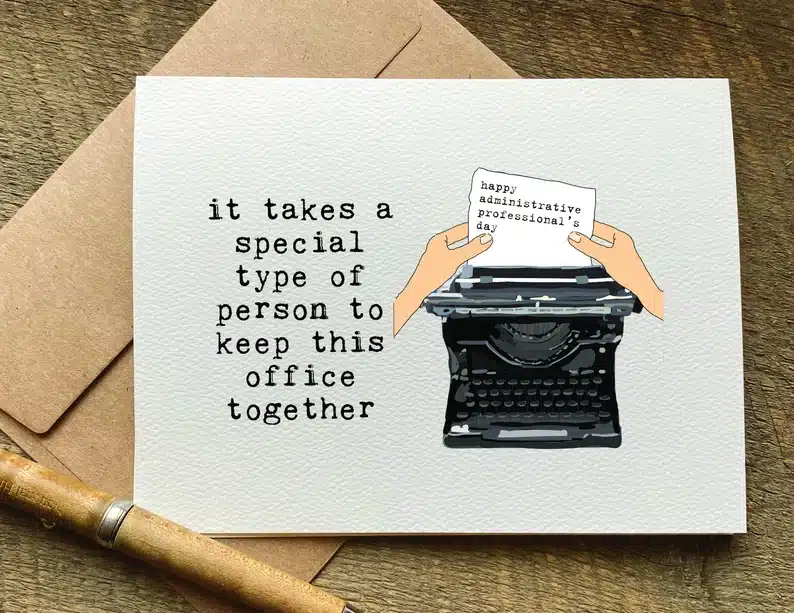 Administrative Professionals Day Card
A card is always a nice gift option. There's so many to choose from but getting one that's designed for their job title is even better. This ones simple but shows how appreciative you are. Add this to one of the other gifts shown here and you have the perfect gift.
Thank You Candle
Who doesn't love a nice candle? This one is simple yet sweet. With a nice saying that shows you are truly appreciated for what you do. Scented with lavender which is known to relax you.
Two Bottle Wine Bag
You know what's better than one bottle of wine…TWO! This amazing Administrative professionals themed thank you bag not only holds one bottle of wine but it can hold two. Who doesn't like receiving some wine as a thank you gift.
Amazon Gift Card
Gift cards are always a welcome gift! Amazon has some really nice ones too. This flower bouquet is just one of many options you have. Put whatever amount of money on there and give away! You can also purchase an e-gift card and have it e-mailed directly to them (Just in case you somehow forgot about this special day).
There you have it! Some really awesome Administrative Professional Day Gifts. If you are looking for other gift ideas for office co-workers check this gift guide out!